Stuckey: Who Wants the Other Side of These 7 Bets?
The Highlights
Think the Patriots will win one of the next three Super Bowls? Stuckey is willing to give you 3-1 odds.
Stuckey wants -125 odds that another 16-seed will beat a 1-seed in the NCAA Tournament by 2030.
---
One of the most entertaining things we recently started doing at The Action Network is making side bets each night among our staff. Well, that got me thinking about other side bets with a more long-term focus that aren't offered anywhere. Take a look at the seven side bets I would love to wager on — well, actually six since I already found a taker for one, which you'll see below.
Hit me up on Twitter if you want some action.
NBA
My Side: I can outshoot the Rockets and Jazz
Odds Wanted: +200
You heard me. Houston and Utah combined to shoot 17-for-67 (25.4%) from 3-point range in Game 4, which, by the way, didn't help my second-half over wager. I think I can equal or surpass that output on 67 attempts from behind the official NBA line. If anybody wants to give me 2-1, I'll stream the event live within a month of entering into the wager.
What you get: A washed-up white ex-suburban high school football player who made basketball teams when I was younger only for my defense. I was basically Rajon Rondo — minus the tens of millions of dollars, fame, real talent and NBA championship ring. However, we do have the common bond of never leading Kentucky to a Final Four.
What I get: The chance to embarrass myself in front of the entire internet.
NFL
My Side: Patriots will not win one of the next three Super Bowls
Odds Wanted: -300
Bold, I know. But Tom Brady is not too far away from selling his avocado ice cream full time, and Gronk will eventually get stuck in a loop at a Caribbean carnival.
Hope you're having as much fun as Gronk is this weekend. #Patriots pic.twitter.com/i3jpw36sqP

— Evan Lazar (@ezlazar) May 5, 2018
With no long-term solution under center (no offense to Brian Hoyer), I'm willing to pay out three times what I'd receive in return. The end is near for the Patriots' dynasty, or at least that's the lie I tell myself as a jealous Ravens fan.
What you get: The duo of Brady and Bill Belichick, who have appeared in eight of the past 17 Super Bowls, winning five. If the Pats can win a sixth Super Bowl since 2002 by 2021, you get a 3-1 payout.
What I get: The field, which includes New England's Kryptonite: the elite Joe Flacco and the NFC East.
Update: Since the article posted, I agreed to the bet above with Brian G.
NHL
My Side: Flyers will win a Stanley Cup before the Penguins
Odds Wanted: +300
Who wants a little Keystone State prop action? The Penguins have won three of the past nine Stanley Cups and five since the Flyers last won in 1975, but the league has started to catch up to them from a speed perspective. I also think the Flyers have a bright future, especially with how much flexibility they should have this offseason. General manager Ron Hextall could have close to $25 million in cap space to work with in free agency. Hopefully, the Flyers find a long-term solution in net. John Tavares would also look immaculate in black and orange.
What you get: Sidney Crosby. Evgeni Malkin. Matt Murray. The back-to-back Stanley Cup champions who still have a shot to win one this year, which would count for the bet.
What I get: To add to the torment of being a lifelong Flyers fan. I'm still bitter about that Patrick Kane Stanley Cup-clinching goal I saw live in Philly — with a Flyers futures ticket in my back pocket.
COLLEGE BASKETBALL

My Side: A No. 16 seed will beat a No. 1 seed by 2030
Odds Wanted: -125
As some of you may know, I bet a college friend in 2007 that this would happen by 2020 at even odds. After striking out year after year, it finally happened this past season when Virginia went down to UMBC. If not for that historic upset, I would have had only eight more shots at it.
Well, I'm willing to roll with the little guys again, this time paying $125 for every $100 wagered. Remember, before this year's historic upset, a No. 16 seed hadn't defeated a No. 1 seed since the tournament expanded to 64 teams in 1985.
What you get: The heavy favorite in the next 48 meetings between a No. 1 and No. 16 seed — through the 2030 NCAA Tournament. You get the Dukes and Kentuckys of the world and one epic annual sweat for two days every March for the next 12 years.
What I get: Baltimore County, baby.
Update: Since the article posted, Derek G. and I agreed to a tweaked bet to what I outlined above: +140 odds that a 16-seed will beat a 1-seed by 2025.
COLLEGE FOOTBALL

My Side: An SEC team — and not a Big Ten team — will win the national championship
Odds Agreed To: Even money
Those who listened to the latest episode of the Degen & Juice podcast know that Collin Wilson (@_collin1) and I entered into this side bet. He gets the entire Big Ten, while I take the SEC. If a team from another conference wins it all, it's a push. Although I will gladly lose this wager for a Michigan State future hit.
What Collin gets: Not Alabama.
What I get: Alabama.
TENNIS
My Side: Daria Kasatkina will win a major before Serena Williams
Odds Wanted: 10-1
This might look crazy on the surface (and probably is), but Serena is trying to return from having a kid and, at age 36, won't continue to dominate forever. Meanwhile, I'm a huge believer in Kasatkina, who I think will eventually win multiple French Opens — hopefully starting this year. If neither wins one from here on out, the bet will obviously be graded as a push.
What you get: A 23-time Grand Slam champion and one of the greatest tennis players and overall athletes of our generation.
What I get: A 21-year-old Russian who has never made it past the fourth round at a major.
MLB
My Side: The Mariners will not win the World Series
Odds Wanted: -3000
Honestly, I'm just throwing this out there in an attempt to get out of the 30-1 Mariners World Series future I bet while in Vegas after convincing myself that Shohei Ohtani would sign with Seattle.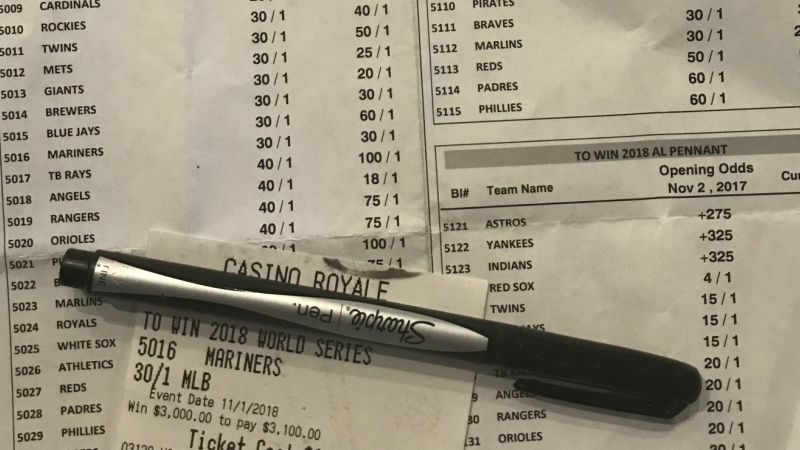 What you get: A 30-1 futures ticket on a team that has a King (Felix Hernandez) and the smoothest player in the game, Robinson Cano. Eventual toilet paper.
What I get: My $100 back and not the Mariners.
---
Photo via Tom Szczerbowski-USA TODAY Sports