Wilson: How I Got My Start Handicapping College Football
Credit:
DFW to SEA via @_Collin1
My buddy Ronan leaned over and whispered, "Here's $819, bet that thick rugger bugger over there."
It was 2002 (I think), and Ronan and I were at the Cubby Bear in the Chicago suburb of Lincolnshire. The "rugger bugger" was a Chicago Northside meatball who thought he knew about Gaelic football. I was an up-and-coming SAP Consultant paired with Ronan, who was on loan from SAP Ireland.
Ronan liked to spend his free time ditching the Irish accent to troll local bars that showed Gaelic football. Westmeath won their only game of the entire season against Cork that day, which gave Ronan and me extra pocket money for our flights from O'Hare back to our respective homes. Not only did I enjoy acting as a "beard" for my Irish cohort, I started to learn a few airport tricks from my frequent travel schedule.
Wiseguys in the Family
Gambling is in my blood. When I was just 9 years old, Uncle Tim taught me to fold or jam a house poker pot (and to never check). I also still remember Grandpa rumbling about the "fishy as f–k" Cardinals -110 line with John Tudor on the hill in Game 7 of the 1985 World Series. Tudor, who threw a complete game shutout for the Redbirds in Game 4, faced Kansas City's Bret Saberhagen for all the marbles. Spoiler alert: Grandpa nailed it, and the Royals won their first World Series title.
By the time I made it to the University of Arkansas to study engineering in 1995, I mastered a hustle in three areas:
College football betting
EA Live 96 on Sega
StarCraft
Yes, StarCraft. Feel free to throw jabs my way for that one. My parents even caught wind of this degeneracy at my college graduation after a few people chased me down to pay debts.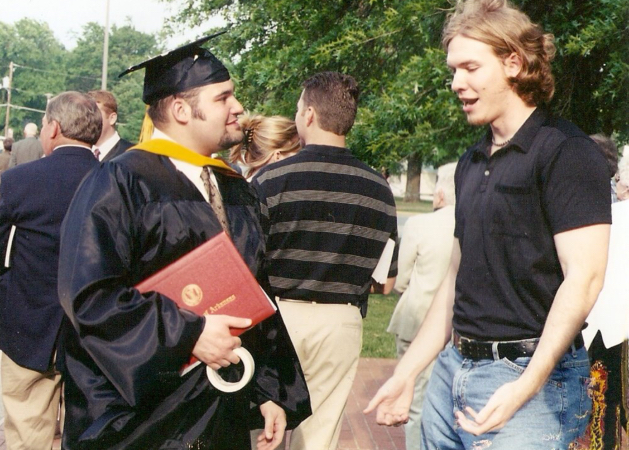 @_Collin1 collecting payouts outside of Bud Walton Arena in 2000
Balancing Career and Passion
Ronan confirmed that with the exception of fatherhood, betting on sports was one of the best highs in the world. While sports had my heart, my career started to take off. I consulted for a number of Fortune 500 companies, primarily in the fields of aerospace and defense, oil and gas, and consumer packaged goods. Yet, I still spent every second of the 200 annual American Airlines segments making college football numbers.
The lifestyle of a road warrior parallels everything you see in the movie "Up in the Air." Perks of the job include free upgrades, meals and drinks — in addition to a few new flight attendant "friends." But the best perk to me was direct access to public square sports opinions at every Admiral's Club at airports across the world. Nothing like a good Saturday fade!
True Love
Around 2009, I essentially gave up trying to seriously handicap every sport except the one I had the most success in: college football. It was always a natural fit for me, as I played a decade of football and grew up with family dinners dominated by complaints about the Razorbacks leaving the Southwest Conference for the SEC.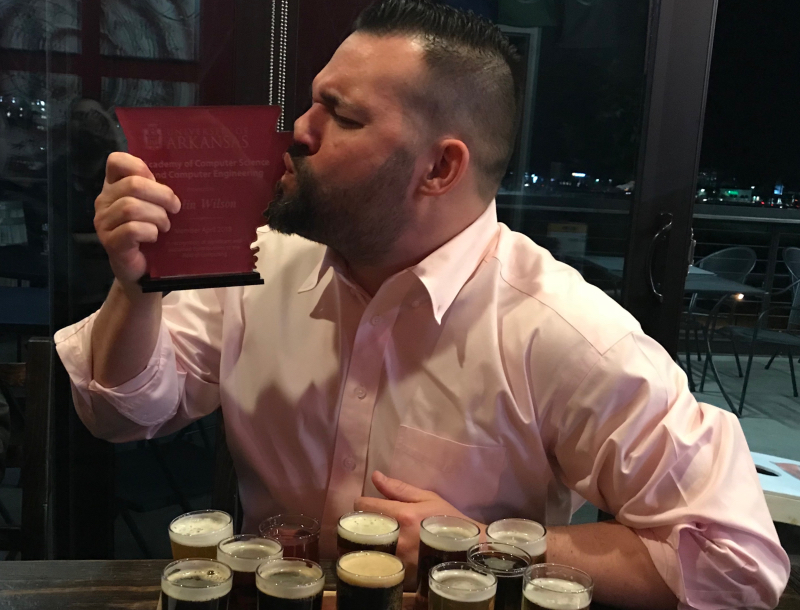 In April of 2018, I was accepted to the Arkansas Academy of Engineering. My acceptance speech included advice on Arkansas under 5.5 wins.
I wanted to understand the thinking of bookmakers and risk managers. Making power ratings, adjusting totals for pace and digging through UTEP-Rice box scores became my obsession. My lifestyle involved pivoting business trips to make it to Las Vegas on the weekend to bet on college football — and to run an occasional half-marathon.
Thank You Tickets
After years of producing my own college football betting previews through Google Docs and Twitter posts, I have plenty of people to thank for giving me a platform. Sharing the pot of Stuckey's college football survivor contest in 2013 snowballed into producing content in the early days of the Sports Action App — which is now The Action Network.
I was well-prepared to tackle a college football writing role after years of learning from local Las Vegas bookmakers and the sharps who go against them. Those gentlemen taught me how to build point spreads, win totals and futures. I could not be more excited about producing content and picking college football winners for The Action Network, starting with team previews on all 130 FBS schools.
And last but certainly not least, I must thank my Uncle Tim and Grandpa. Both passed from cancer in recent years, but remain responsible for lighting the ever-burning gambling torch in my life. My uncle left this world way too early at the age of 42 due to a sudden parabolic embolism, which happened before the Kansas City Royals' World Series runs. In their honor, I wear his hat proudly in my Twitter avatar and always prioritize family first — and college football numbers a close second.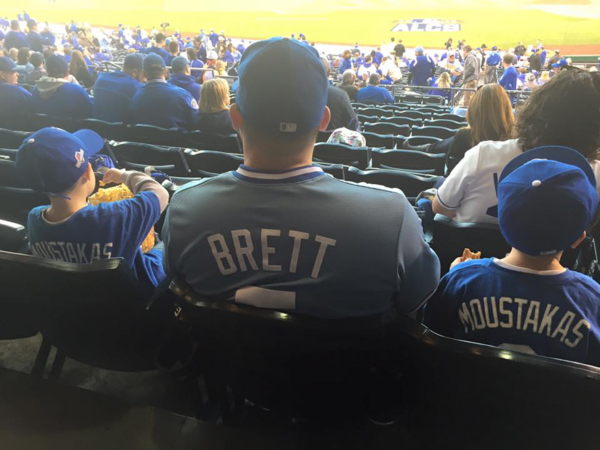 @_Collin1 with his sons at the 2015 ALCS