Rovell: Why I Joined The Action Network and Went All-In on Sports Betting
Credit:
Kirby Lee-USA TODAY Sports
ONE MORNING IN early September, my train pulled up to my stop on the way to New York City.
It was the same train I had taken hundreds of times, having rarely noticed much of its exterior except for the New Jersey Transit logos and the rust marks that matched the tracks below.
But the old train wasn't the same that day.
It was freshly wrapped like I'd never seen before.
"FanDuel SportsBook…Sports Betting Reimagined."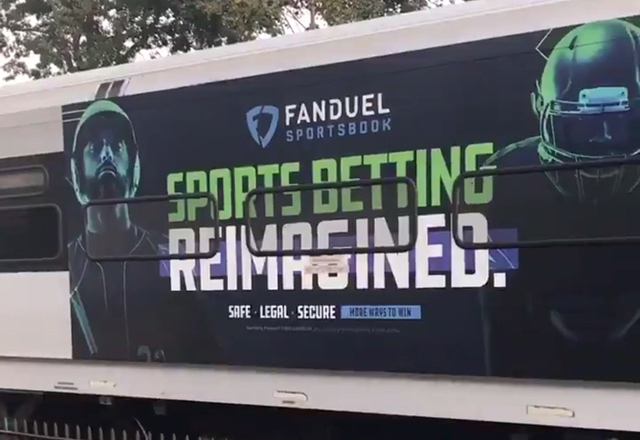 I had seen sportsbook advertisements over the past couple months, as my home state had been the impetus behind the Supreme Court's overturning of the sports betting law that gave states the right to make their own decisions on the matter.
There were local ads inserted in national sports broadcasts. There were ads on billboards along the major highways. I even got pieces of mail encouraging me to download mobile betting apps.
But this was different.
A train wrapped with an ad seemed more in-your-face to me. It reminded me of what you see when walking the streets of English towns, where signs of sports betting are an unavoidable part of life.
It hit me then: This was only the beginning.
---
I HAVE NEVER been a big sports bettor, but I've always loved covering it. I got the bug after the 2004 NCAA semifinal game between Duke and UConn.
I hadn't been prepared to write a story that night. I was in a bar in New York City. At the end of the game, Duke guard Chris Duhon launched a 38-foot shot off of one leg that went in.
A man to my right reacted in a way that made me look at him. He was upset. But there was something strange about this. He was wearing a UConn jersey. Duhon's shot didn't change the outcome of the game. UConn still won by one. It took me a beat to realize. He had bet on UConn.
I quickly took a cab to my brother's New York City apartment and made a call to a bookmaker in Vegas. Sure enough the spread was in between two and three, depending on when you got it.
Estimates were that $100 million could've swung in illegal market from that one shot. The story was so well read that it stayed on ESPN's homepage for two days.
Not only did I love covering gambling, but people loved reading about it. I monitored how my gambling stories did; they were always popular. When I got into Twitter and I ramped up my coverage of gambling, it was similarly enjoyed.
Turns out, gamblers loved reading stories about the 800-1 parlays they dreamed of hitting — and the you-can't-made-this-stuff-up bad beats.
Turns out, gamblers loved being heard.
---
ON MAY, 14, 2018, I was on my last day of vacation eating breakfast with my family. My computer was opened to the Supreme Court blog when the decision came in. Parts of PASPA had been overturned. Sports gambling was going to be a real business in the U.S.
Since that day, I have written more gambling stories than I ever have and had more conversations with sports executives about the space.
"Darren, you won't believe how much of my day is about gambling and how much fresh money is coming in," one top-ranking sports exec told me.
I was at press conferences where the NBA, NHL and MLB all announced MGM as an official gaming partner, watched as Monmouth Park turned a sports bar into a sportsbook and reported on the New Jersey Devils selling two gambling sponsorships in a matter of days that included takeovers of bar spaces inside the Prudential Center.
A New Jersey resident since 2006, I had been given the gift of seeing up close how the state became the East Coast's answer to Las Vegas less than six months after legalization.
We're only eight states in, and with those being in various stages, the full maturation of sports betting is at least three years away. But so far, the response has been incredible: We've seen an estimated $700 million worth of bets flow through Jersey in six months.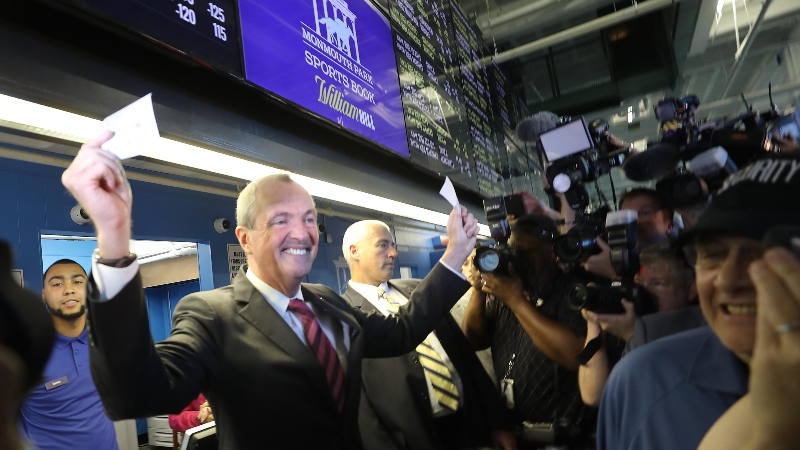 So when I walked into that train on that day in September and I was greeted with more betting ads (these ones for William Hill), I decided in that moment that I was going to make the move.
Eighteen years ago, I made the move into the niche of sports business reporting. Well, sports gambling — the business of bets, sportsbooks, bettors, sponsorships, data, leagues — was now going to be big enough to cover every day.
So where would I go? There was truly only one place: Action, a sophisticated, best-in-class operation, founded back in October 2017 after rolling up three data companies into one with the intention of giving sports bettors the best investing tools.
The site and the app operate on a freemium model, giving bettors a small peek behind the curtain of the awesome goodies they can pay for.
(Quick plug on this: The promotion we're running is for 50% off your first month — just $3.99. That's less than the price of your morning coffee. When you bet on sports, embracing data is so much a part of the game. Sure, you can choose to be alone on your decisions, but why would you want to be? Also, if you haven't downloaded the app, stop what you're doing now and check it out. I promise you won't be disappointed.)
No organization can be evaluated without the people. Not only is Action's Chief Content Officer Chad Millman a dear friend, but he's an awesome mind. He gets it.
I remember at ESPN when I was having trouble getting approved to go to Leicester City to cover the greatest gambling story of all time. At the eleventh hour, Chad said "Just go. I don't care what it costs." And I delivered the greatest video I've ever shot on my phone to ESPN.
Then there's Patrick Keane, the CEO. I won't bore you with his bio, but I'm convinced he can run any organization. He has a business sophistication and experience that very much matches the new age of sports gambling business.
And finally, the majority owners of Action are the Chernin Group, led by Peter Chernin (a man I used to send mail to as an intern with Fox Sports in 1998) and Mike Kerns, whom I have known for 15 years.
Chernin also owns Barstool Sports. Many of you know the back and forth I have with Big Cat at Barstool, but that tit for tat comes from my respect for what he has helped build.
I have felt so welcomed by the gambling community over the past couple days. Here's how you can help me cover this business like a shutdown corner.
Sportsbooks: Let us know your stories. Give us details on the action you're taking. Show us your tickets when someone cashes a massive parlay. Help us talk to the bettor.
Bettors: We want to see your verified winners. The amazing covers. The horrible beats. We'll consider taking them all.
Teams: We want to know your sponsorship deals with betting companies.
Politicians: We want to hear from you. We hear so much on how close states are to legalization. What's true, what's not?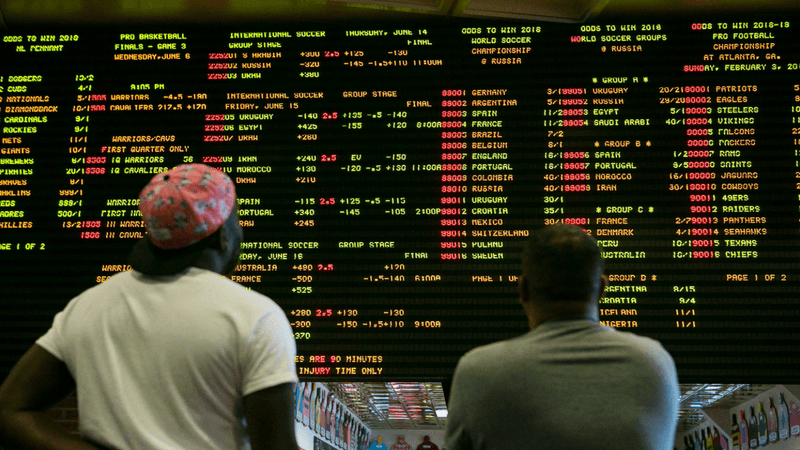 Companies: With legalization, there will surely be new businesses that pop up. We're looking to profile companies that are innovators in this space.
Movers & Shakers: As the business of betting expands, we want to profile the biggest and best players. Some are obvious, some are not. We want to know who these people are — and who will be the next big things in betting.
And finally, an open invitation…
Notice something interesting in the gambling space? Something offbeat? Does your home mancave look like a sportsbook? (If it's amazing, I might actually show up.) Send me some pics.
Have you uncovered some unorthodox betting trend that has been working (betting against NBA teams that are coming off rough road back to backs comes to mind)? Break it down for us and show us your math.
We have a lot of stats here at The Action Network, but is there something uncanny you've noticed in betting a certain team that you are willing to share?
I can't wait to hear from all of you.
My email box is open and it's Darren@ActionNetwork.com.
How would you rate this article?
This site contains commercial content. We may be compensated for the links provided on this page. The content on this page is for informational purposes only. Action Network makes no representation or warranty as to the accuracy of the information given or the outcome of any game or event.