The End of the Future: Our Best and Worst Future Bets That Are Now in Jeopardy
Credit:
Ezra Shaw/Getty Images. Pictured: Stephen Curry, Steve Kerr.
One of sports gambling's best opportunities to make money is the future bet: They usually present good value if you know what to look for, they keep you invested in a team's performance over the course of the season and, when they succeed, they pay handsomely.
With the NBA and NHL seasons suspended, the MLB expected to shorten their season and the NCAA tournament canceled, many of those future bets will end up marked as "no action." Our staff reviews some of their best futures that won't cash … and some of their worst that they may be able to recover.
The Best Future Bets That May Not Cash
Warriors to miss the playoffs +400: I max bet this at three different books. This bet mathematically cannot lose even if the rest of the regular season were canceled today. The bet will likely be canceled because it says in clear, bold print: 82 games must be played for action. Just awesome stuff. — Rob Perez
Warriors under 49.5 wins: I think everyone in The Action Network NBA land had this prop, and it looked like a beauty. Golden State currently sits dead last in the league with a 15-50 record. It did hit easier because of Steph Curry's injury, but this was a terrible number even with him playing. We'll see what happens. — Bryan Mears
Spurs to miss playoffs (+200): The year is 1996-97. I was 9 years old. That was the last time San Antonio missed the playoffs and you're telling me I'm not going to be able to cash my 'Spurs to miss the playoff' ticket? Forget actually cashing the ticket, now that it might be void, I'm probably going to frame it (next to my losing Spurs tickets from the previous 20 years). — Evan Abrams
Utah State 250-1 to win national title: RIP Sam Money Merrill. — Stuckey
Utah State 170-1 to win national title: I forgot about this one until now, Stuck. So many sobbing emojis. — Scott T. Miller
Red Wings to miss the playoffs -450: At their current pace, the Red Wings would need about 175 games — more than two full seasons — to reach the 97 or so points required to make the playoffs in the Eastern Conference.
It doesn't feel all that impressive missing out on a bet where I had to lay -450, but this is the worst NHL team in the last 20 years. I was onto something, I think. — Steve Petrella
Red Sox Under 94 Wins / PointsBet Under 93 Wins: These were my first two win total bets of the 2020 season, back in January.
Then Mookie Betts got traded, people remembered that Chris Sale is prone to serious injuries, and it became evident that the Rays have a better chance of surpassing the Yankees than the Red Sox do. Heck, I'm confident that the Blue Jays can finish ahead of the Red Sox.
Boston's win total is down to as low as 83.5 wins in some places – and I'm still not interested in playing a 10 win middle, because I project them as a .500 club.
Ten wins of CLV turned into no-action if the season is shortened? I'm broken! — Sean Zerillo
Dayton 125-1 to the Final Four: This bet was placed in late November, right before Dayton lost a tough overtime game to then No. 1 Kansas that put likely Naismith Player of the Year Obi Toppin and the Flyers on the map. I thought they would be a No. 5 or No. 6 seed in the tournament if they ran through the Atlantic 10 conference, but I never expected Dayton to be a projected No. 1 or No. 2 seed heading into Selection Sunday. This one hurts. — Dominic DiLeo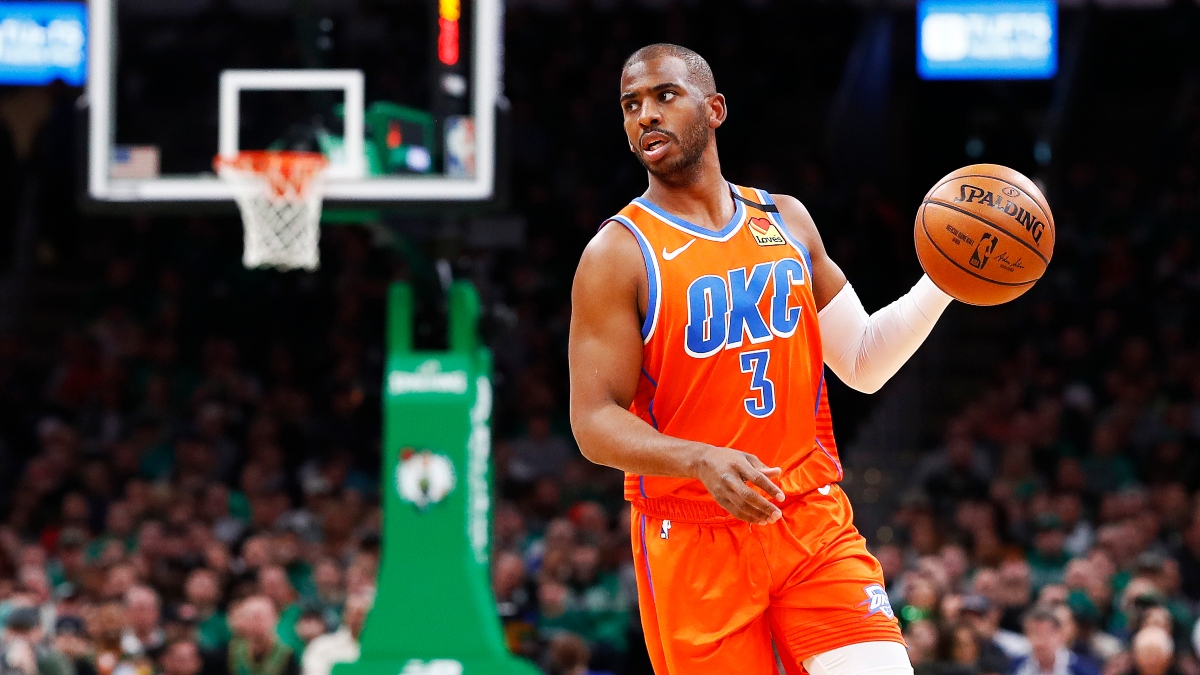 The Worst Future Bets That We Might Get Away With
OKC Thunder Under 38.5 Wins: I still contend FanDuel hung an awful line here in the wake of the Paul George trade to the Clippers. I mean, this bad boy closed in the low 30s … and yet, it seemingly never had a prayer from the start. The Thunder had 33 wins at the All-Star break and currently sit at 40 with 18 games still left on the schedule. — Scott T. Miller
Rangers to win the Cup 80-1: I don't think I've ever bet on one of my favorite teams (Mets, Jets, Rangers) to win a title because those clown shows that masquerade as professional sports organizations don't often contend for championships.
But when the team signed Artemi Panarin and added Jacob Trouba this summer, I felt they addressed their two biggest weaknesses, and the rest of a young core would take a step forward. At 80-1, their odds felt a little long.
I was wrong. This team, while making a playoff push in the last month, is still incredibly flawed defensively and a few years away from truly competing for anything meaningful. The high-end talent and goaltending is there, but the other 16 or so rosters spots leave a lot to be desired. That's not a Stanley Cup-winning team. – Steve Petrella
San Diego State to win national title 25-1: See Stuckey and Scott Miller above. At the peak of San Diego State hype, the 25/1 looked like great value on a team that was destined to get a #1 seed. With a loss to UNLV and a miraculous comeback against Colorado State, the shine had worn off the Aztecs. A loss to Utah State in the Mountain West Conference Tournament showed just how vulnerable this squad was. This team was not going to win 6 in a row at the dance. — Collin Wilson
Islanders to win Stanley Cup 20-1: During a November trip to Reno I was hit up by the Action Network's own Michael Leboff. The NY Islanders are his lifeblood and upon his advice I sought out a future. His direct message to me was "Anything 20-1 or better is great". The Islanders are currently 9th in points in the Eastern Conference. If the playoffs started today, Leboff wouldn't be attending a postseason game and I would eat my Reno ticket. — Collin Wilson
Victor Hovland 135-1 to win Masters: The Masters has not been cancelled, so this ticket may live. A refund of the Hovland money, however, would be considered a win. This number was purchased at Circa Sports last summer with hopes Hovland would earn his tour card and finish top 50 in the World Golf Ranking.
Heading into The Players, Hovland is 58th. Hovland won a PGA tour event recently, but because it was opposite a WGC event there was not an auto pass to Augusta. He was low amateur at last year's Masters, finishing just 10 strokes off the winner Tiger Woods. Right now Hovland has not qualified and his iron game is struggling. His recent form has a low GIR percentage of 61.7. If Masters futures are refunded, it could be a victory in my futures department. — Collin Wilson
How would you rate this article?
This site contains commercial content. We may be compensated for the links provided on this page. The content on this page is for informational purposes only. Action Network makes no representation or warranty as to the accuracy of the information given or the outcome of any game or event.