Indiana Sports Betting Offers: Win $100 if Rory McIlroy Makes ONE Birdie This Weekend!
Credit:
Rob Carr/Getty Images. Pictured: Rory McIlroy
The PGA TOUR is fully back in the swing of things, as the Travelers Championship marks the third straight week with a tournament.
PointsBet, one of our highest-rated sportsbooks in New Jersey and Indiana, is running a no-brainer promotion for it this weekend: Win $100 if Rory McIlroy (or any golfer you bet on!) makes a single birdie!
DraftKings also has an offer users can take advantage of through Sunday — 30% profit boosts for all four days of the tourney!
---
PointsBet Sportsbook
Offer: Win $100 if Rory McIlroy Makes Just ONE Birdie This Entire Week
Bet now: Click here
Available States: New Jersey and Indiana
Who's it for: New customers
World No. 1 Rory McIlroy wasted no time getting off to a hot start at the Travelers, shooting a 7-under 63 in a round that featured seven birdies or eagles.
So this PointsBet promotion — which offers $100 in free bets if Rory (or whichever golfer you choose) makes just ONE birdie in his final three rounds — seems pretty darn good.
Here's how to take advantage of this offer at any point before Sunday's final round tees off:
Step 1: Sign up through this link and deposit at least $50 into your account.
Step 2: Place your FIRST wager at PointsBet (at least $50) on any golfer to win this week's Travelers Championship. We've used Rory as an example here, but yes, you can pick ANY golfer for this promo, so long as it's your first bet.
That's it. Seriously. As long as your golfer has at least one birdie after you place your bet, you'll have $100 in free bets deposited into your PointsBet account. Those free bets only need to be put back into play once before you can withdraw them.
No matter whether you choose Rory or a different golfer, he will almost surely make one birdie, so view this as a $50 free roll. If you win, you'll take home a nice stack of cash + the $100 in free bets. If you don't win, you'll get your $100 in free bets, assuming the golfer you choose makes at least one birdie this week.
Good luck!
DraftKings Sportsbook
Offer: Get one 30% profit boost to use on each round of the Travelers Championship
Bet now: Click here
Who's it for? New and existing users
Taking advantage of this promo is pretty simple. If you haven't signed up at DraftKings yet, click this link to sign up and deposit.
After that, click the green 'Opt-In' button for the promo, which you can find on the Sportsbook home page.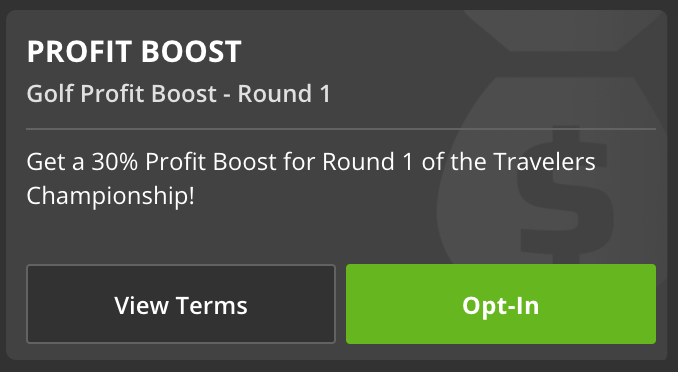 Each morning at 8 a.m. ET, the 30% profit boost for that day will be posted. You'll need to opt-in each time and select the profit boost in your odds slip when making the bet.
Here's a couple of examples of how you could use your boosts:
Bet $20 on Jordan Spieth (+4000) to win
Normal payout: $800
Boosted payout: $1,040 (800 x 1.3)
Bet $50 (the max bet) on Gary Woodland (-110) over Paul Casey
Normal payout: $45.45
Boosted payout: $59.09
There's clearly some strategy to use on these and different bettors will surely take different approaches. You could bet on a standard -110 matchup each day, go 2-2, and make money in a situation that you normally wouldn't.
These boosts handsomely reward those who hit on longshots, but note that the max additional winnings you can earn on a single profit boost is $250, which you could get with an original payday of $833.33. You can still make bets that would pay out higher than this, but you'll cap out at $250 extra from the profit boost.
If your boss offered you a 30% raise, would you take it? This is sort of the betting equivalent, so what are you waiting for?!
How would you rate this article?