Millman: Who Would Be the First Inductees into the Sports Betting Hall of Fame?
The best debate in all of sports isn't whether or not Colin Kaepernick should play or who should be the NBA MVP or how should (insert cheating, video-taping champion here) be punished.
It's who should be in the Hall of Fame, no matter what the sport.
Eli Manning. Two Super Bowl wins, two Super Bowl MVPs. But a regular-season career defined by mediocrity and sad face memes.
Maurice Cheeks, one of my favorite NBA players of all time, made just four All-Star teams in 16 seasons while averaging 11 points and fewer than seven assists per game, made the Hall of Fame. Ben Wallace, meanwhile, is perhaps the greatest undrafted player in NBA history, a four-time defensive player of the year as a 6-9 center who also helped the Pistons win a title. He battled bigger names and bodies like Kevin Garnett and Tim Duncan in their primes. He has not been invited to Springfield.
Barry Bonds, Mark McGwire, Roger Clemens? Were they worthy Hall of Famers before they pumped up their bodies and their stats?
A Hall of Fame's value is defined not just by who is in, but by who is not. Pete Rose finished his baseball career with more hits, at-bats, singles and outs than anyone in baseball history. He played in 17 All-Star games, won three World Series' and was an MVP. But he bet on baseball, so he is banned from its Hall of Fame.
Paul Hornung was a golden boy running back for Notre Dame and won a Heisman when Notre Dame mattered. He became an NFL MVP and helped turn the Green Bay Packers into the NFL's first dynasty. He was also suspended from the league for a season for gambling. But he was a no-brainer for the Pro Football Hall of Fame.
The beauty is in how arbitrary admission is. NFL replay rules for pass interference are more consistent than how judges decide who gets enshrined and who doesn't. Admission is an unpredictable stew of opinions, ever-changing rules, cherry-picked stats and evolving analytics.
There will never be a right answer, only a result.
In other words, it's a lot like betting. In fact, am I crazy, or does this all sound like the ingredients for a Sports Betting Hall of Fame? Opinionated experts sure of their position, unwavering in their beliefs, ready to dismiss anyone else's ideas with side-eye, manipulated numbers and narrowly-selected precedent?
Bowling has a Hall of Fame (I've been!). Frisbee does, too. So does Sprint Car and Midget Auto Racing. Teachers have a hall of fame (this building closes from 10:30-11:30 am the second Tuesday of every April and November for parent conferences). The sports betting industry is newly legalized, generating billions of dollars in handle and, as my boss Patrick Keane says, may be the biggest opportunity in sports since the Internet began. Those who have built the industry are worthy of their own, overly ornate building on The Strip, not just some column no one will read.
I know just the place. The site of the dearly departed Stardust Hotel, on the north end of The Strip. Once upon a time, this was the grandest of all sportsbooks, with bettors lining up before ticket takers unlocked the machines at 8 a.m. No one had more influence or sway in the biz than a Stardust bookmaker. Blue hairs played the tables, Wayne Newton played the theater next to the book and legends made numbers that moved markets.
Even better, The Stardust was across the street from The Peppermill, probably the greatest all-night diner in America. Even today, you are just as likely to run into a blackjack dealer off of an all-night shift digging into a hub-cap-sized plate of eggs as you are an old school swinger leaving the Fireside Lounge, which is tucked away in the back.
But who should be our first entrants? Who deserves to be remembered as the pioneers of this world? Sports betting will revolutionize how fans watch, how owners imagine their businesses, how media companies broadcast the games, how rules are written. There are derivative impacts we can't even envision yet. No pressure on these initial inductees, who have to represent a Jobsian, Gatesian, Newtonian, Einsteinian shift in the world.
Since I have anointed myself the industry's primary historian, expert and media pioneer, I am pulling a Kim Jon-Un and unilaterally deciding who belongs in the inaugural class. Disagree? You're welcome to send me suggestions (contact info at the bottom of the column).
Here we go!
---
Check out FanDuel, where Action Network users get a risk-free bet up to $500.
---
The Sports Betting Hall of Fame
The "I'll bet you $20 I can get you gambling before the end of the day!?" Bookmaker Wing
–Jim Carrey as Lloyd Christmas in "Dumb and Dumber"
Charles McNeil, Bookmaker
Start from the beginning. Without McNeil there is no point spread. That enough for you? Without McNeil we are stuck betting on baseball, calculating moneylines, wondering how much we win if we bet on Gerrit Cole as a -240 favorite over the Rays. Or we are still focused on boxing, or horse racing.
McNeil, a math teacher (who taught JFK when he was in prep school) who became a commodities trader in Chicago and ultimately a bookmaker, invented the point spread in the 1940s. If modern sports betting starts with him, it's because he was the most modern of sports bettors and bookmakers, more reflective of the quants running the industry today than the sweat-suited, cigar-chomping bettors who came immediately after him.
The point spread fundamentally changed the business, it was the dot-com-boom of betting. It turned football into the most popular sport in the world, relegating baseball to second-class status. You think it's a coincidence that the NFL began to sprout wings just as the point spread spread across the nation? That's cute if you don't. But betting, specifically the easy-to-understand-betting-on-the-point-spread has been the primary driver for pro football's seemingly endless capacity for increasing popularity.
Thank McNeil for all of it.
Bob Martin, Bookmaker
If you follow all the lines in The Action Network app you may notice how little difference there is between what you see at Draft Kings or FanDuel or Bet365. Packers -4.5 against the Bears will blanket your screen, no matter what book you choose. Well, you can thank Martin for that. He is the Godfather of the consensus line.
Martin was so good at bookmaking, everyone else decided it was easier to follow him rather than do the guesswork themselves. As I wrote in The Odds, Martin started booking when he was in high school in Brooklyn in the 1940s, continued booking through World War II and eventually moved to Vegas, where he ran one of the original sports books, Churchill Downs. It was commonplace, when Martin opened his doors, for the line of people to snake around the corner, with bettors and bookmakers alike. They all wanted to know what Martin knew.
Lefty Rosenthal, Casino Executive
You may know him as Ace Rothstein from Casino.
The fictionalized De Niro character wasn't all that far from the truth. Rosenthal was a jack-of-all-trades mobster and gambler who, like so many, decided to reinvent himself in Vegas.
The hotel he ran, as the "Food & Beverage" manager? The Stardust. If McNeil invented the point spread and Martin invented the consensus line, then Lefty commercialized them both. By the time I landed in Vegas in 1999 to spend six months tracking bookmakers Bob "Scooch" Scucci and Joe Lupo at The Stardust, it was the market-setting book for the entire world. It had a radio show, "The Stardust Line," it had bettors lined up every morning for opening numbers. It had flair, mystique, nostalgia and credibility. All thanks to Lefty. I'll let Scooch tell it.
"This was one of the first big hotels to have a sports book on the property and it was the biggest and the best for nearly 30 years. He had a tunnel that went from the executive office on the second floor under neat the property onto The Strip. The logic was, in case he got raided or a mob group was coming after him, he could make a quick getaway. I know it existed, I've seen it. It was a dangerous world they lived in back then, a lot of treachery. But he invented the big sportsbook experience we all know today."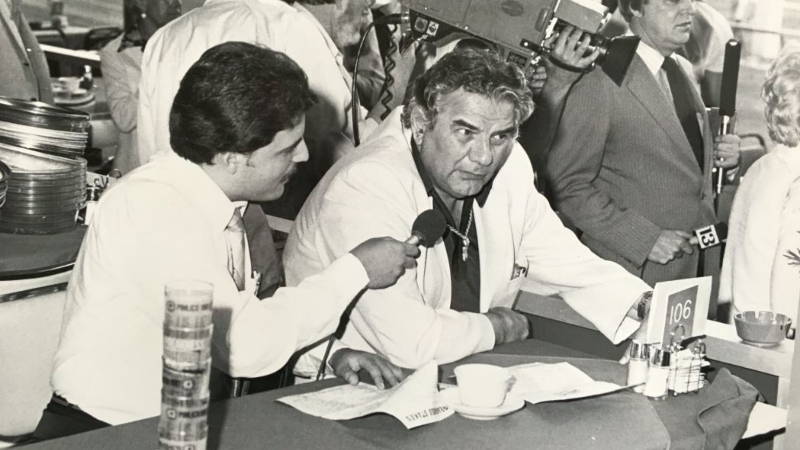 The "This Extra Point Means A Lot To Some People" Wing
–Al Michaels as Al Michaels in every NFL game he's ever broadcast
Jimmy The Greek. TV Commentator
What is a Hall of Fame without a controversial induction? The Greek had the biggest perch a gambler has ever had, and he had it long before sports betting was legal. In the 1980s, he sat alongside Brent Musburger on the NFL equivalent of TNT's NBA studio show. It was must-see TV for football fans, and The Greek was Shaq. Part comic-relief, part indecipherable. He dressed in dark glasses, a gold chain and went through his segments with a knowing wink and a nod, the gambling analyst who didn't talk about gambling.
He allegedly earned his first bankroll by betting $10K at 17-1 odds that Harry Truman would win the 1948 presidential election. Eventually, he moved to Vegas and started booking NFL games. But, it was as a sidekick on The NFL Today that The Greek went from famous with insiders to famous insider, allegedly earning $750,000 a year. He didn't offer advice on spreads, he casually mentioned what he thought the final score would be, and for some reason those scores always landed on these odd numbers, just one point more or less than the listed point spread. He became so beloved he made appearances in movies, was name-checked by Muhammed Ali, and was parodied on Saturday Night Live.
Of course, he also had a 30 for 30 made about him. That's because, as famous as he became for his gambling expertise, he had become infamous for how his career fizzled. Early in 1988, CBS canned The Greek after he made racist comments about black athletes.
---
The "I'm Not Going To Lose It, I'm Going To Gamble It" Wing
–James Caan as Axel Freed in "The Gambler"
Billy Walters, Gambler
What do you get the most famous and successful bettor ever? Induction into a fake Hall of Fame, emblematic of the shadow world every sports bettor needed to exist in before it became legal early last year.
But Walters refused to live quietly. He was brash, well known and operated a syndicate that was three dozen people deep and stretched across the country. He moved point spreads with impunity, bet tens of millions of dollars in a year, won even more and, no matter how much the authorities chased him, he never stopped. As Mike Fish of ESPN wrote in 2015: "For almost four decades, Walters is thought to have bet more money more successfully than anyone in history, earning hundreds of millions of dollars. Federal and state investigators sniff around his operation regularly."
Most professional bettors like to stay quiet. Their secrets stay secret, their bankrolls expand and no one is the wiser. But Walters had a private jet. He owned golf courses, car dealerships, homes around the world. Instead of hiding, he flaunted his success, like when he was profiled by 60 Minutes.
Of course, the Feds eventually did catch the 73-year-old Walters. In April of 2017 he was convicted of insider trading. Later that year he began serving a five-year prison sentence.
And there you have it. A HOF with mobsters, felons, infamous TV personalities and legendary historical figures. I dare you to find a tribute with more color, flavor, controversy and import than this one. Except, of course, the midget car HOF. We can't compete with that.
---
We'd Like To Hear From You
However, like all Halls of Fame, this one is incomplete. I have a second class ready to roll. It will include athletes, famous, modern-day innovators and even more bookmakers. But, I need to know: Who would be on your list?
Shoot me a note, chad.millman@actionnetwork.com. Or DM me on the Twitter, @chadmillman. Let's fill this baby!
How would you rate this article?