Top 10 Things a Sports Bettor Should Do in Las Vegas
Credit:
Kirby Lee-USA TODAY Sports
The Vegas virgins can use this list and our recently published FAQ as a first-time sports bettor's guide to Vegas. And the Vegas veterans can treat this as a checklist and/or argue about what I forgot to include. Cool? Let's get to it.
---
Make It for March
Every sports bettor should experience Sin City during opening weekend of the NCAA tournament at least once. A mixture of sports bettors, spring breakers, and bachelor parties create a circus on the strip. However, I'd recommend making a habit of coming back for Conference Tournament weekend. The weekend before the first round of the tourney has more betting action, better deals, and fewer crowds. You can also watch a team punch their ticket to the dance in one of the three conference tournaments played in Vegas that weekend (Pac 12, MWC, WAC). You also can't beat the Vegas weather in March, especially if you live somewhere cold. I'll see you all on March 7th. Drinks on me.
---
Migrate to Mobile
Speaking of crowds, avoid waiting in line to make a bet by simply downloading one of the many mobile betting apps available in Las Vegas. Once you fund your account, you won't have to worry about getting to the book before a 9 am kick or about misplacing your physical ticket. Also, if you miss a start time or spread you wanted, just keep your eye on the live betting screen. In my opinion, Will Hill has the best app (easy setup, user friendly, best live screen), but they all should continue to improve.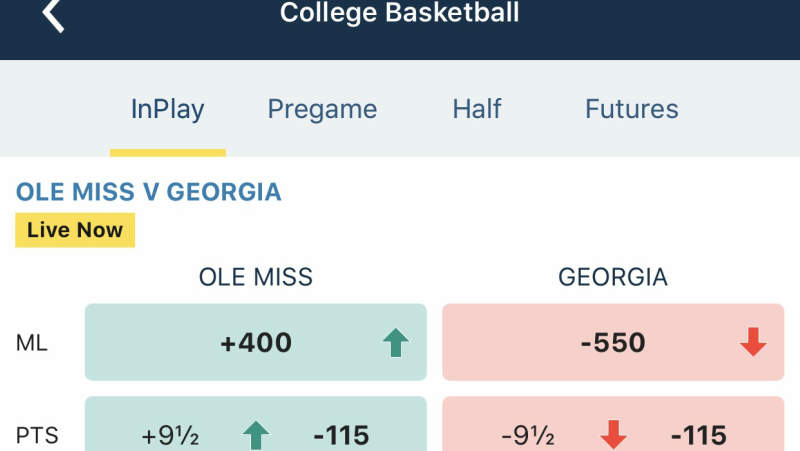 ---
Win at the Westgate
Take a short cab or Uber ride (or even the monorail) off the strip to visit one of Las Vegas' most iconic books at least once. The Westgate, previously known as The Hilton and even LVH for a short period, opened in 1969 as the International Hotel. Their race and sports book operation runs the famous annual NFL SuperContest, and they always have the most widespread offering of lines in town. Want to get down on the first NFL openers in town? Head over to the Westgate.  Want to bet a h2h prop on William Byron for the Daytona 500 in December? Head over to the Superbook. It's also one of the best places in town to watch your action.
---
Parlay Some Puck
As the only professional team in town (for now), the locals have fully embraced the Knights.  It doesn't hurt that they also own the best record in the NHL. The atmosphere is absolutely electric. You will see a decent number of fans from other cities who use the game as an excuse for a Vegas trip (can you blame them?). Put some money down on the Knights (or fade the "Vegas flu" at your own risk) and visit T-Mobile Arena to check out the toast of the town. You can't do that for any other professional sports team in the US (because sports betting is illegal and none of us bet outside of Nevada, of course). If visiting during the NHL offseason, you can check out the NBA Summer League or grab a tee time at one of Vegas' many beautiful golf courses.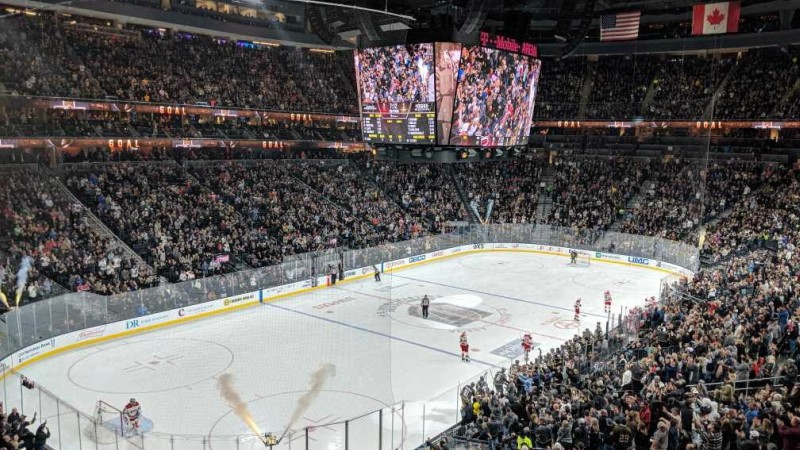 ---
Ball Out on Beef
Outside of the sports betting scene, I love visiting Las Vegas for the food and beverage scene. Have a big day at the book? Cash your tickets and splurge on a spectacular steak dinner. Here are three recommendations:
Bazaar Meat at SLS –  Not your typical steakhouse menu. Huge selection of meats, from your traditional steaks, to wild boar sausage, several kinds of wagyu, whole suckling pig, abalone, caviar flights, and even sloppy joe. Try the cotton candy foie gras and ball out with the A5 Kobe eye of the rib at $50/oz.
Echo & Rig off the strip – Butcher shop downstairs and steakhouse upstairs. Offers butcher cuts at very affordable prices. Get the amazing Ribeye cap or go wild with the daily selection.
Carnevino at Venetian – Only place you can get steaks aged up to 9 months (all aged a minimum of 90-120 days). They also cure their own prosciutto. Ball out with the 9 month dry aged ribeye at $115/inch.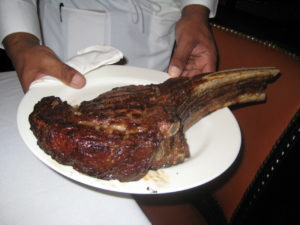 ---
Shoot Your Shot
On every Vegas trip, I stop at a sports book on my way out to grab a sheet from the kiosk to decide on a future wager. Holding on to the ticket for a year may prove just as difficult as cashing the future, but it's tradition. On my most recent trip, I threw $100 on the Seattle Mariners at 30/1 because I apparently hate money. Also, don't worry if you have no plans to return, as you can always mail in the ticket if it cashes.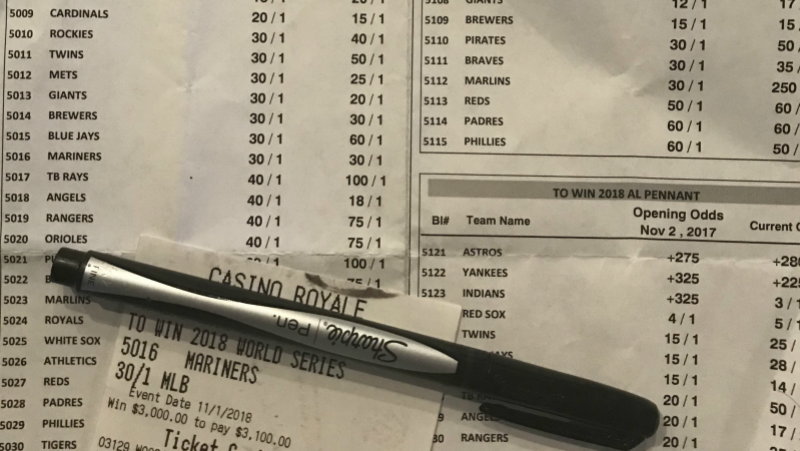 ---
Double Down Downtown
Frequent visitors or those staying for an extended vacation may want to get away from the insanity of the strip for a day. If so, you can head way off the strip to check out the local sports book scene at either Red Rock or Green Valley Ranch. I personally prefer Red Rock so I can grab some tacos and tequila at Libre Mexican Cantina. You could also head to the casinos downtown if you are looking to bet on a budget, take a picture with a million dollars at Binion's, or reenact scenes from Swingers. Always double down, baby.
---
Laugh at the Losers
When I visit with friends, we try to hang on to all of our losing tickets. We then share war stories over a beer and food in the airport before leaving town. Whoever holds a ticket with the biggest moose eats for free. My Iowa State/Texas under that lost in overtime paid for my brew and fries. Extra salty. Feel free to light the losers on fire after you get home.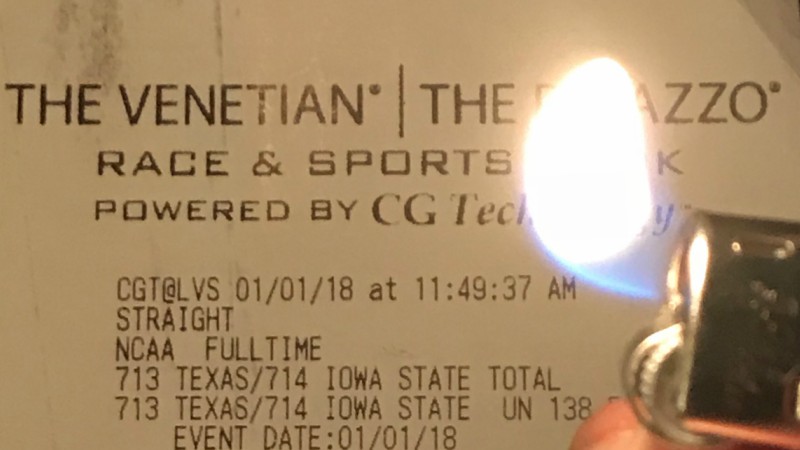 ---
Meet the Mob
Go downtown to check out the National Museum of Organized Crime and Law Enforcement, also known as The Mob Museum. Even if you have a deep understanding of the connection between Las Vegas, organized crime, and sports betting, you should still check out the fascinating exhibits and artifacts from both sides of the law.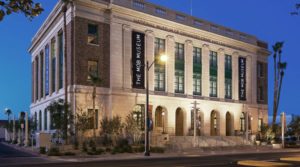 ---
Check Your Chalk
I have to end with practical advice. Don't ever walk away from the counter without verifying your wagers. You might have said the wrong rotation number or the ticket writer could have misheard you. Mistakes happen, but they can be easily corrected if you simply double check your tickets. Don't spend your precious time in Vegas sweating out a winner, only to find out you have a losing ticket. We already deal with enough tilt as sports bettors. Also, always ask the ticket writer for drink tickets. Depending on your bet size and the drink minimum at the property, you could grab a few free drinks. Just make sure you tip your ticket writers. Good luck out there!
---