NASCAR Pocono 400 Matchup Odds, Picks: 2 Undervalued Underdogs
Credit:
Jasen Vinlove-USA TODAY Sports. Pictured: NASCAR Cup Series driver Kevin Harvick
Sunday's Pocono 400 has a 2 p.m. ET Green Flag, with Kyle Busch going off as the betting favorite (+250 odds).
Nick Giffen analyzes two head-to-head driver matchups: Brad Keselowski vs. Kevin Harvick and Kurt Busch vs. Erik Jones
Today's Monster Energy NASCAR Cup Series race at Pocono Raceway is slated for 160 laps — or 400 miles — starting at 2 p.m. ET on FS1, but with inclement weather possible, this race could be a sprint to the 250- or 300-mile mark.
Typically, rain-shortened races add an element of randomness, as strategy and aggression take priority over long-run speed. However, there's also a possibility that the race is simply washed out and runs on Monday, when they should get all 400 miles in.
As such, I'll write this article expecting the full 400 miles, with the possibility of a rain-shortened race. That means my picks are underdogs that I like in the event of a rain-free race, and who also benefit in the case of added randomness.
Here's how I'm playing today's top head-to-head matchups and prop bets independent of weather. If things look either quite dicey or completely clear, I may add some pre-race updates to this article with other picks geared in the direction of the expected weather.
A quick primer on the odds below: A $100 bet at +110 odds would profit $110, while a $150 wager at -150 odds would pay out $100.
---
Brad Keselowski +110 over Kevin Harvick
As I noted in my futures article, I think Keselowski is likely a top-two pick to win the race, behind only Kyle Busch, because practice at Pocono cannot be ignored. Keselowski out-dueled Harvick in every practice metric this weekend, and starts ahead of Harvick by six spots.Yes, Harvick has an advantage over Keselowski in Pocono track history, but not enough of an advantage for me to think this is anything more than a coin flip.
While Harvick has won six of the past 10 head-to-head matchups where both drivers avoided major incident, past finishes at Pocono aren't the only story.
We need to consider overall 2019 performance, as well, and the two come out evenly matched once again. Harvick has an average driver rating of 101.5, while Keselowski sits at 100.2 — a negligible difference. They both have an average finish of 10.1 this year, another wash.
Add in the weather element, and that's just another evening factor. I'd bet Keselowski down to even money in this matchup.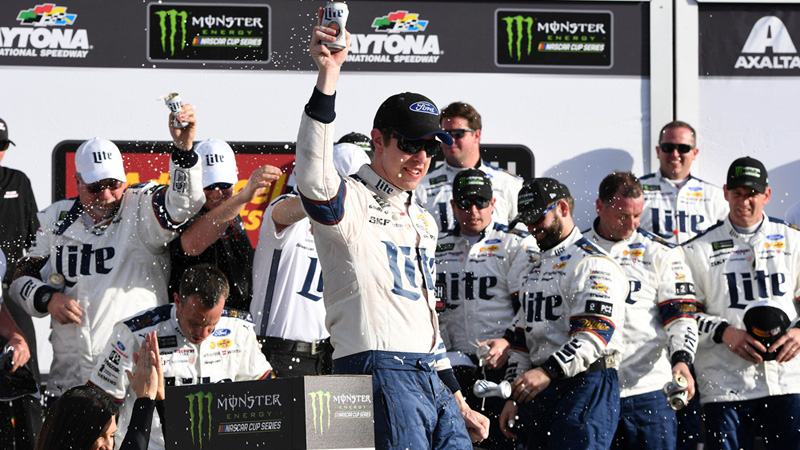 Kurt Busch +130 over Erik Jones
I bet Busch as a dog against Jones last weekend and it paid off, and I'm going back to the well for Pocono.
Busch certainly trails Jones in recent Pocono history, but a look farther back will tell you that Kurt is exceptionally strong at Pocono when a high-downforce aero package is used, like it is this year.
From 2013-15, Busch had an average driver rating of 114.3 in his five incident-free Pocono races, with a minimum driver rating of 105.4. That easily eclipses Jones' low-downforce average driver rating of 100.2 over four Pocono races.
Busch was also ranked better than Jones in every practice metric:
14 vs. 16 in single-lap speed in opening practice
1 vs. 8 in single-lap speed during Happy Hour
13 vs. 17 in 10-lap speed during Happy Hour
Jones' Happy Hour 10-lap time is certainly an aberration, since he ran 5.5 mph slower than the car ranked front of him, but that still doesn't explain why he failed to put up a solid 10-lap time. It's quite possible the car didn't have the comfort to run 10 fast laps, or it had trouble getting around traffic, both of which would be concerns.
I like Busch at this price independent of the weather element, but that's just another potential equalizing factor. I'd bet Busch down to +115.
---
Sunday Additions
It looks like the race should get started but rain is still possible later, so a rain-shortened race is a real possibility. With the added potential randomness, I like adding a few more head-to-head and group underdogs.
Aric Almirola +130 over Jimmie Johnson: I'd bet this down to +110
Alex Bowman +130 over Jimmie Johnson: I'd bet this down to +110
Chase Elliott +129 over Denny Hamlin: I'd bet this down to EVEN
Ryan Blaney +380 to win Group B over Chase Elliott, Joey Logano, Denny Hamlin: I'd bet this down to +320
How would you rate this article?