3-Pointers Made Props
| Player | Best Odds | | | | | | | | |
| --- | --- | --- | --- | --- | --- | --- | --- | --- | --- |
| | | | | | | | | | |
| | | | | | | | | | |
| | | | | | | | | | |
| | | | | | | | | | |
| | | | | | | | | | |
Three-point field goals made are a popular prop in NBA circles due to their increasing significance in the sport. The 3-point shot has become a core part of the modern NBA, and players who are able to make a high number of 3-pointers can have a big impact on their team's success. If you bet Steph Curry to make 5+ 3-pointers, you're getting a lot of entertainment value since he can fire away at any time.
3-pointers can also be unpredictable on any given night, due to the small sample size -- many NBA players will make between 30-40% of his 3-pointers in a given season, but in a single night, it could be 0% or it could be 100%.
What Do the Edges Mean?
If there's blue text next to a player, that means our statistical models show an edge worth betting compared to the posted line. Click the "See Projection" button to find out which side you should bet (Action PRO members only).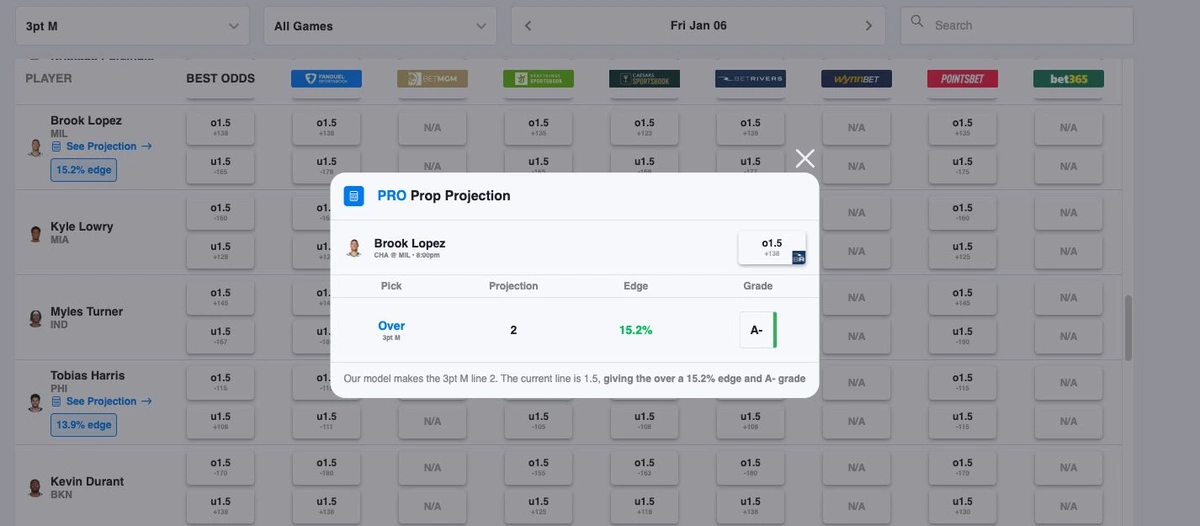 How to Use Our 3-Point Prop Comparison
So how does this page work? We'll display every available 3-pointer line, so you can always get the best value. Our "best odds" column displays the most favorable price, factoring in both the line and the juice.
Take Blazers' guard Damian Lillard for his game against the Indiana Pacers. At FanDuel, he's priced at 3.5 with the over at -170. That means if he hits four or more 3-pointers, a $100 bet will win about $59. The over is priced so high because sportsbooks expect him to score more than 3.5.
However, PointsBet has him posted at 4.5, with the under at -160 and the over at +130. His projection is somewhere between 3.5 and 4.5, which is why you have the disparity in juice.
How Should I Handicap 3-Point Props?
There isn't any publicly-available data that the sportsbooks and betting market doesn't have. But there are still some statistics to look at to try to beat the 3-point prop market.
3-point volume. Sounds obvious, but the only way to make 3-pointers is if you're taking them. Look for players who are getting more looks from 3-pointer due to an increased or decreased role, or scheme change.
Ignore small samples, at least in terms of how many they're making. If a player is 2-12 from 3-point range over their last three games, that might be a sign you should buy low, not a sign that the player has "gone cold." NBA players are too talented to simply forget how to shoot.
3-point location. Many NBA teams design offenses around high-efficiency corner 3-pointers. If you've noticed that teams are starting to design plays for a certain shooter in the corner, that's a good sign their volume will be high.
Understand how many 3-pointers players actually make. If you quizzed a random NBA fan on how many games Steph Curry made 5+ 3-pointers in the 2022-23 season, they'd probably guess higher than the 14/26 games. Even the most elite shooters are still averaging just 3-4 triples per game.