Jackie Robinson, Michael Jordan, Tiger Woods Debut Tickets Go Up for Auction
Credit:
Tom Berg/WireImage. Pictured: Michael Jordan.
The past two years have seen new categories of collectibles including sealed video games and VHS Tapes, but perhaps none have seen a faster trajectory than tickets.
The market expects to see more affirmation as Heritage in Dallas launched an auction Saturday morning with 50 tickets that includes the highest graded Jackie Robinson debut, the only Michael Jordan full debut that has ever come to market and the highest-graded Tiger Woods PGA TOUR debut.
"Tickets are items that take you to a time and place, whether it's a specific moment or a debut, which is being seen like a rookie card," said Chris Ivy, director of sports auctions at Heritage. "Whether it's a stub or a full, there's a limited number of them, they are authenticated and verified and they are slabbed like a card, which allows them to be commoditized and understood."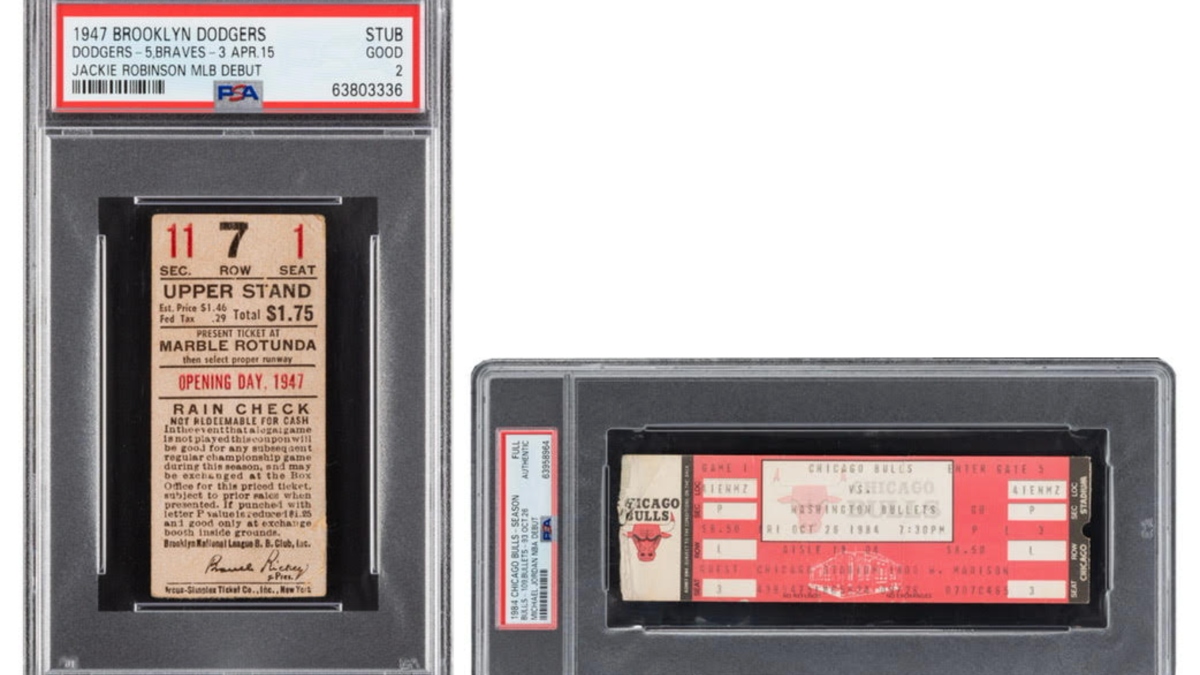 The official estimate of the Robinson is $100,000, though it's expected to end on a multiple of that. The Jordan estimate is $300,000, loosely based on the $264,000 sale of the highest stub by auctioneer Huggins & Scott last month.
For a long time, tickets didn't have a place to reside like cards did in sheets or in cases. For those that luckily saved them, they often found themselves in envelopes, drawers, bulletin boards and shoe boxes. That changed when, a few years ago, PSA, the leader in card grading, decided to slab tickets.
The excitement over the market can be seen by looking at how many more tickets PSA graded. In the five-month period from August-December 2021, PSA graded 8,248 tickets, 31% more than the previous five month period, according to Gem Rate, a market tracking company that scrapes PSA data.
Recent prices that have been paid have certainly been key to getting attention of collectors. In October, a Mickey Mantle debut stub sold for $141,395. Fractional share companies have also gotten in on the action. Rally recently listed it will IPO a Michael Jordan rookie debut ticket in a PSA 5 at a valuation of $150,000. Collectable offered the second highest grade of a Tom Brady debut ticket at a valuation of $107,500.
How would someone still have a full stub of the Jordan debut? Ivy said the consignor was a freshman at Northwestern in October 1984. He was a Bullets fan and someone from the front office left him two tickets to the game. Unable to find someone else to go, he tucked away the unused ticket and kept it in a drawer for 37 years until he heard about the rise of tickets in value.
"Once you start getting prices like this, people start seeing the stories and realize, 'Wait, I might have been to that game and held onto that ticket,'" Ivy said.
There are seven total tickets that have been graded from Robinson's debut. Five are graded authentic, the lowest possible grade. Only two are graded 2, as is this one, and there are none higher.
The Heritage Auction ends Feb. 26 and 27.
"This is a real market," Ivy said. "It's a snowball rolling downhill."
How would you rate this article?
This site contains commercial content. We may be compensated for the links provided on this page. The content on this page is for informational purposes only. Action Network makes no representation or warranty as to the accuracy of the information given or the outcome of any game or event.