The Highlights
President Donald Trump will announce his pick for the next Supreme Court Justice tonight at 9 p.m. ET
Brett Kavanaugh — a White House lawyer under George W. Bush and a current U.S. Court of Appeals judge — closed as the favorite at +125
Amy Coney Barrett, a U.S. Court of Appeals judge for the Seventh Circuit, closed with the second-best odds at +150
Late sharp money hammered Thomas Hardiman, a U.S. Court of Appeals judge for the Third Circuit, pushing him from +2500 to +250
---
Ever since Justice Anthony Kennedy announced his retirement on June 27, we've been tracking the odds on who will be the next Supreme Court Justice. The long wait is over. Tonight at 9 p.m. ET President Trump will make his announcement in a primetime address to the nation.
I have long heard that the most important decision a U.S. President can make is the selection of a Supreme Court Justice – Will be announced tonight at 9:00 P.M.

— Donald J. Trump (@realDonaldTrump) July 9, 2018
Early this morning, Bovada took the lines off the board. Here are the closing odds for every candidate.
As you can see, late sharp money hammered Thomas Hardiman over the weekend. Since Friday, he moved from +2500 to +250. This translates to an implied probability increase from 3.8% to 28.6%.
Brett Kavanaugh opened as the favorite (+175) and closed as the favorite (+125), although over the weekend his odds dipped from -130 to +125.
Amy Coney Barrett also improved over the final weekend, rising from +300 to +150. She closed with the second-best odds overall.
No one fell further than Raymond Kethledge. After steadily rising for two weeks straight, he seemingly fell out of the running, dipping from +130 to +600.
Hardiman rising with Trump, per three people close to the process @nytmike @adamliptak and me https://t.co/UlZVP2gfM7

— Maggie Haberman (@maggieNYT) July 8, 2018
Trump appears to be going back and forth between two candidates, Judge Kavanaugh and Judge Hardiman, for the seat of retiring Justice Anthony Kennedy https://t.co/HVoDy4pUnR

— The New York Times (@nytimes) July 9, 2018
still a real push in some GOP circles today to go w Barrett. the argument her supporters are making: Democrats will focus on threat to Roe regardless, so why not have her there, calmly walking thru her views. Trump hearing out the case, but he remains coy, per person close to him

— Robert Costa (@costareports) July 8, 2018
While Bovada has taken the lines off the board, 5Dimes is still posting candidate vs. field odds. Kavanaugh is a -260 favorite vs. the field. Hardiman is +160 and Barrett is +260.
Updated #SCOTUS Odds @5Dimes #Kavanaugh -260
Field +180#Hardiman +160
Field -210#Barrett +260
Field -380https://t.co/GQLBqqZU4j pic.twitter.com/hGREfgdveD

— Action Appelbaum (@Josh_Insights) July 9, 2018
At PredictIt, it appears to be a clear two-person race between Kavanaugh and Hardiman, with Kavanaugh the overall favorite. Barrett has tanked in recent days.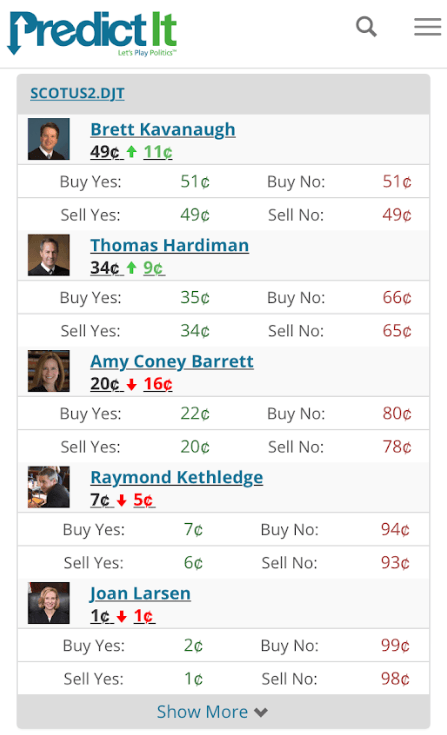 Smarkets gives Kavanaugh a 56.18% change of winning the nomination. Interestingly, Hardiman is only given an 8% chance and doesn't appear among the top 3 most likely candidates.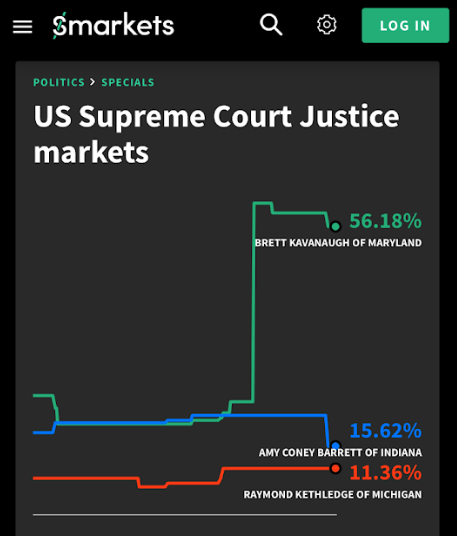 What do you think?
Will you be tuning in tonight at 9 p.m. ET? Will Trump choose Kavanaugh? Is Barrett still the sharp play? Were you lucky enough to get down on Hardiman when he was +2500? Will Trump select a wild-card that no one is considering?
You can find me on Twitter @Josh_Insights.