Watch "I'll Take That Bet" – Episode 12: MLB, World Cup, NFL Win Totals, More
Episode 12 of our sports betting show "I'll Take That Bet" is live just in time for Wednesday's MLB action, the World Cup, NFL win totals, and much more.
Watch the full episode on ESPN+ here.
If you missed the last episode, here's the gist of the show: Two analysts — in today's case, Chad Millman and Paul Lo Duca — draft their favorite picks of the day from a board of 10 bets, plus a bonus side action bet. These are real wagers you can make across the gambling universe.
Here's Wednesday's board: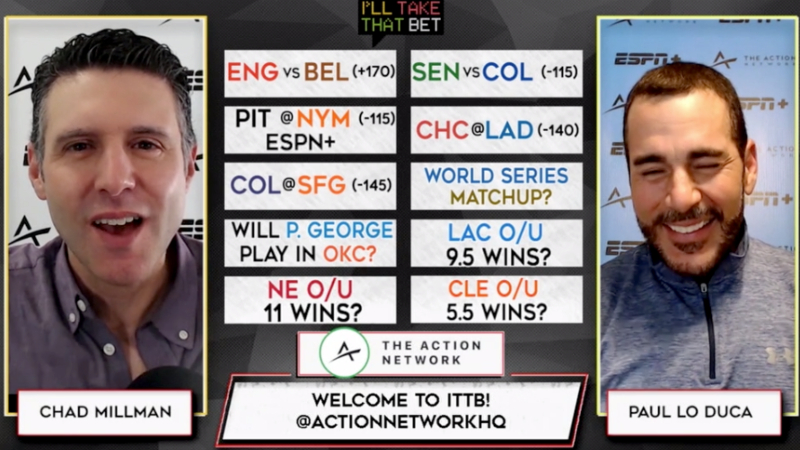 Here's how the picks played out in today's show. You can watch the full episode exclusively on ESPN+. You'll want to stick around to the end for Chad and Paul's side bet on Magic Johnson and the Los Angeles Lakers.
PICK NO. 1 (LO DUCA): Pirates and Mets under 8 runs (-110)
PICK NO. 2 (MILLMAN): Dodgers over Cubs (-140)
PICK NO. 3 (LO DUCA): Belgium and England to draw (+220)
PICK NO. 4 (MILLMAN): Senegal over Colombia (+340)
PICK NO. 5 (LO DUCA): Cleveland Browns under 5.5 wins in 2018 (+120)
PICK NO. 6 (MILLMAN): Rockies over Giants (+135)
PICK NO. 7 (LO DUCA): New England Patriots under 11 wins in 2018 (+110)
PICK NO. 8 (MILLMAN): Los Angeles Chargers over 9.5 wins in 2018 (-105)
PICK NO. 9 (LO DUCA): Paul George not to start 2018-19 season with Oklahoma City Thunder (-240)
PICK NO. 10 (MILLMAN): Atlanta Braves and Houston Astros matchup in 2018 World Series (+2700)