Watch "I'll Take That Bet" – Episode 17: NFL Props, NBA Win Totals, Home Run Derby, Tiger vs. Phil, More
Episode 17 of our sports betting show "I'll Take That Bet" is live discussing topics like NFL playoff props, Eastern Conference NBA win totals, Bryce Harper and the Home Run Derby, Tiger vs. Phil and much more.
Watch the full episode on ESPN+ here.
If you missed the last episode, here's the gist of the show: Two analysts — in today's case, Geoff Schwartz and Chris Raybon — draft their favorite picks of the day from a board of 10 bets, plus a bonus side action bet. These are real wagers you can make across the gambling universe.
Here's Wednesday's board: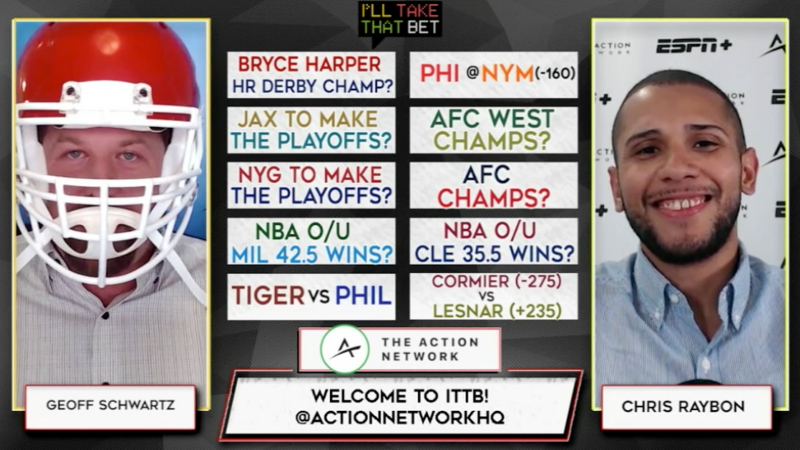 Here's how the picks played out in today's show. You can watch the full episode exclusively on ESPN+. You'll want to stick around to the end for Geoff and Chris' side bet on the first death in Season 8 of Game of Thrones.
PICK NO. 1 (RAYBON): New England Patriots to win the AFC in 2018 (+240)
PICK NO. 2 (SCHWARTZ): Jacksonville Jaguars to not make the playoffs in 2018 (+130)
PICK NO. 3 (RAYBON): Milwaukee Bucks to win more than 42.5 games in 2018-19 (-110)
PICK NO. 4 (SCHWARTZ): New York Giants to make the playoffs in 2018 (+300)
PICK NO. 5 (RAYBON): Philadelphia Phillies over New York Mets (+145)
PICK NO. 6 (SCHWARTZ): Kansas City Chiefs to win AFC West in 2018 (+300)
PICK NO. 7 (RAYBON): Bryce Harper not to win the 2018 Home Run Derby (-350)
PICK NO. 8 (SCHWARTZ): Cleveland Cavaliers to win less than 35.5 games in 2018-19 (-110)
PICK NO. 9 (RAYBON): Daniel Cormier over Brock Lesnar (-275)
PICK NO. 10 (SCHWARTZ): Phil Mickelson over Tiger Woods in $10 million head-to-head (+100)