Watch "I'll Take That Bet" – Episode 33: NFL Preseason, NFL Over/Unders, MLB Props and Odds
Episode 33 of our sports betting show "I'll Take That Bet" is live discussing Thursday night NFL preseason action, NFL season win totals, MLB division props and two MLB games tonight.
Watch the full episode on ESPN+ here.
If you missed the last episode, here's the gist of the show: Two analysts — in today's case, Blackjack Fletcher and Paul Lo Duca — draft their favorite picks of the day from a board of 10 bets, plus a bonus side action bet. These are real wagers you can make across the gambling universe.
Here's tonight's board: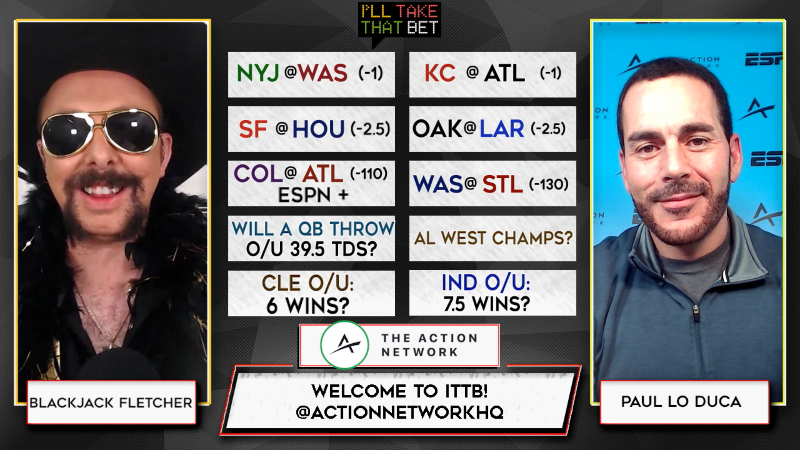 Here's how the picks played out in today's show. You can watch the full episode exclusively on ESPN+ . You'll want to stick around to the end for Blackjack and Paul's side bet on Patrick Mahomes performance against the Atlanta Falcons tonight.
PICK NO. 1 (LO DUCA): New York Jets (+1) over Washington Redskins (-110)
PICK NO. 2 (BLACKJACK): Houston Texans (-2.5) over San Francisco 49ers (-110)
PICK NO. 3 (LO DUCA): Kansas City Chiefs (+1) over Atlanta Falcons (-110)
PICK NO. 4 (BLACKJACK): Colorado Rockies (+100) over Atlanta Braves
PICK NO. 5 (LO DUCA): Oakland Athletics to win the AL West (+225)
PICK NO. 6 (BLACKJACK): Cleveland Browns to win fewer than 6 games in 2018 (-110)
PICK NO. 7 (LO DUCA): Indianapolis Colts to win more than 7.5 games in 2018 (+110)
PICK NO. 8 (BLACKJACK): Leader in NFL Passing Touchdowns throws fewer than 39.5 in 2018 (+100)
PICK NO. 9 (LO DUCA): San Diego Padres-Arizona Diamondbacks under 8 (-110)
PICK NO. 10 (BLACKJACK): Oakland Raiders (+2.5) over Los Angeles Rams (-110)
How would you rate this article?