Watch "I'll Take That Bet" – Episode 38: College Football Week 1 Show
Episode 38 of our sports betting show "I'll Take That Bet" is live discussing Week 1 of College Football, dissecting and selecting 7 different games, including prop bets and a National Champion pick.
Watch the full episode on ESPN+ here.
If you missed the last episode, here's the gist of the show: Two analysts — in today's case, Geoff Schwartz and Dan Rubenstein — draft their favorite picks of the day from a board of 10 bets, plus a bonus side action bet. These are real wagers you can make across the gambling universe.
Here's tonight's board: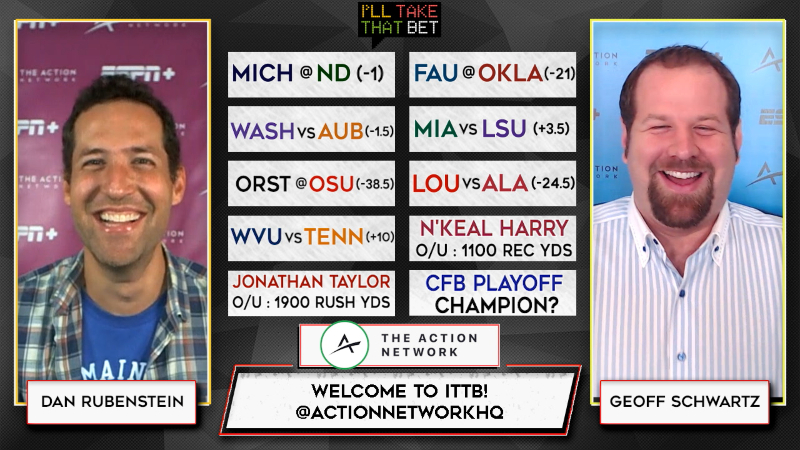 Here's how the picks played out in today's show. You can watch the full episode exclusively on ESPN+ . You'll want to stick around to the end for Geoff and Dan's side bet on the West Virginia Mountaineers and Tennessee Volunteers game this weekend.
PICK NO. 1 (SCHWARTZ): Notre Dame Fighting Irish and Michigan Wolverines under 47 (-110)
PICK NO. 2 (RUBENSTEIN): Washington Huskies (+1.5) over Auburn Tigers (-110)
PICK NO. 3 (SCHWARTZ): Ohio State Buckeyes (-38.5) over Oregon State Beavers (-110)
PICK NO. 4 (RUBENSTEIN): Alabama Crimson Tide (-24.5) over Louisville Cardinals (-110)
PICK NO. 5 (SCHWARTZ): Wisconsin Badgers RB Jonathan Taylor to run for more than 1,900.5 rushing yards in 2018 (-110)
PICK NO. 6 (RUBENSTEIN): Oklahoma Sooners and Florida Atlantic Owls under 69 (-110)
PICK NO. 7 (SCHWARTZ): Miami Hurricanes (-3.5) over LSU Tigers (-110)
PICK NO. 8 (RUBENSTEIN): Arizona State Sun Devils WR N'Keal Harry under 1,100.5 receiving yards in 2018 (-110)
PICK NO. 9 (SCHWARTZ): Tennessee Volunteers (+10) over West Virginia Mountaineers (-110)
PICK NO. 10 (RUBENSTEIN): Georgia Bulldogs (+600) to win National Championship