Watch "I'll Take That Bet" – Episode 4: NBA Finals, Belmont Stakes, MLB, More
Episode 4 of our sports betting show "I'll Take That Bet" is live just in time for a great weekend of sports — NBA Finals Game 4, a possible Triple Crown at the Belmont and more.
Watch the full episode on ESPN+ here.
If you missed the last episode, here's the gist of the show: Two analysts — in today's case, Paul Lo Duca and Blackjack Fletcher — draft their favorite picks of the day from a board of 10 bets, plus a bonus side action bet. These are real wagers you can make across the gambling universe.
Here's Friday's board: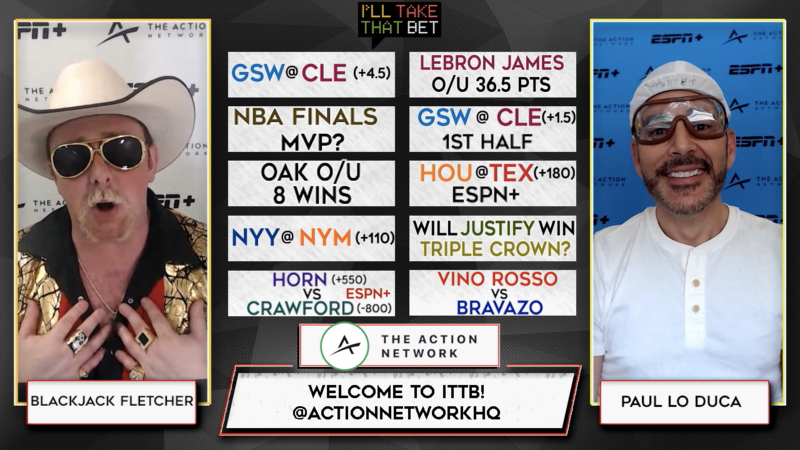 Here's how the picks played out in today's show. You can watch the full episode exclusively on ESPN+. You'll want to stick around to the end for Paul and Blackjack's side bet on a prop bet for the Belmont Stakes tomorrow.
PICK NO. 1 (LO DUCA): The Warriors (-4.5) over Cavaliers in Game 4 of the NBA Finals
PICK NO. 2 (BLACKJACK): The Cavaliers will cover the first half of Game 4 (+1.5)
PICK NO. 3 (LO DUCA): Houston Astros (-200) over Texas Rangers
PICK NO. 4 (BLACKJACK): Kevin Durant (-300) to win NBA Finals MVP
PICK NO. 5 (LO DUCA): Justify (+100) will win the Triple Crown
PICK NO. 6 (BLACKJACK): Jeff Horn vs. Terence Crawford total rounds under 9.5 (-135)
PICK NO. 7 (LO DUCA): New York Yankees and New York Mets under 7 runs
PICK NO. 8 (BLACKJACK): LeBron over 36.5 points in Game 4
PICK NO. 9 (LO DUCA): Vino Rosso (-125) over Bravazo in Belmont Stakes
PICK NO. 10 (BLACKJACK): Oakland Raiders over 8 wins (-130)