Watch "I'll Take That Bet" – Episode 7: NBA Free Agency, World Cup, NFL Props, MLB, More
Episode 7 of our sports betting show "I'll Take That Bet" is live just in time for Friday's MLB action, the World Cup, NBA free agency, NFL win totals and more.
Watch the full episode on ESPN+ here.
If you missed the last episode, here's the gist of the show: Two analysts — in today's case, Paul Lo Duca and Chris Raybon — draft their favorite picks of the day from a board of 10 bets, plus a bonus side action bet. These are real wagers you can make across the gambling universe.
Here's Friday's board: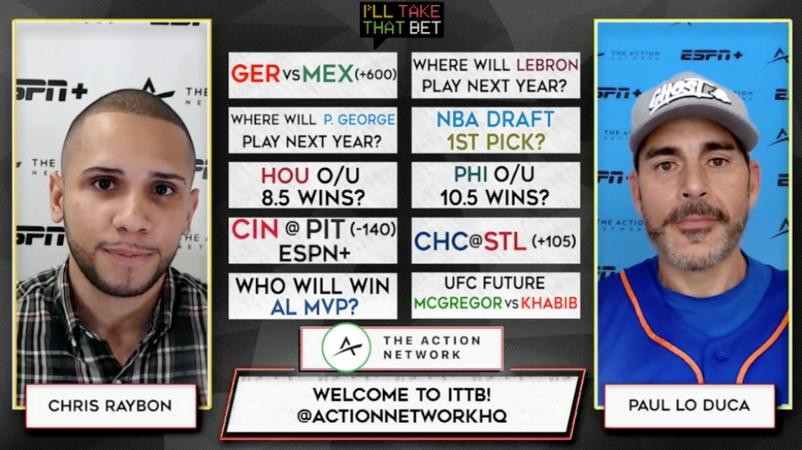 Here's how the picks played out in today's show. You can watch the full episode exclusively on ESPN+. You'll want to stick around to the end for Paul and Chris' side bet on a prop bet on LeBron James' free agency.
PICK NO. 1 (LO DUCA): Mexico-Germany to draw (+360)
PICK NO. 2 (RAYBON): LeBron James will play for Houston Rockets next season (+375)
PICK NO. 3 (LO DUCA): Pittsburgh Pirates (-140) over Cincinnati Reds
PICK NO. 4 (RAYBON): Houston Texans to win over 8.5 games (-140)
PICK NO. 5 (LO DUCA): J.D. Martinez to win AL MVP (+450)
PICK NO. 6 (RAYBON): Philadelphia Eagles to win over 10.5 games (+115)
PICK NO. 7 (LO DUCA): St. Louis Cardinals (+105) over Chicago Cubs
PICK NO. 8 (RAYBON): Paul George will play for Los Angeles Lakers next season (-220)
PICK NO. 9 (LO DUCA): Conor McGregor to defeat Khabib Nurmagomedov (-245)
PICK NO. 10 (RAYBON): DeAndre Ayton to be selected No. 1 overall in NBA Draft (-1000)