Watch "I'll Take That Bet" – Episode 8: NFL Win Totals, NBA Draft, MLB, World Cup, More
Episode 8 of our sports betting show "I'll Take That Bet" is live just in time for Monday's MLB action, the World Cup, NBA Draft, NFL win totals and more.
Watch the full episode on ESPN+ here.
If you missed the last episode, here's the gist of the show: Two analysts — in today's case, Blackjack Fletcher and Geoff Schwartz — draft their favorite picks of the day from a board of 10 bets, plus a bonus side action bet. These are real wagers you can make across the gambling universe.
Here's Monday's board: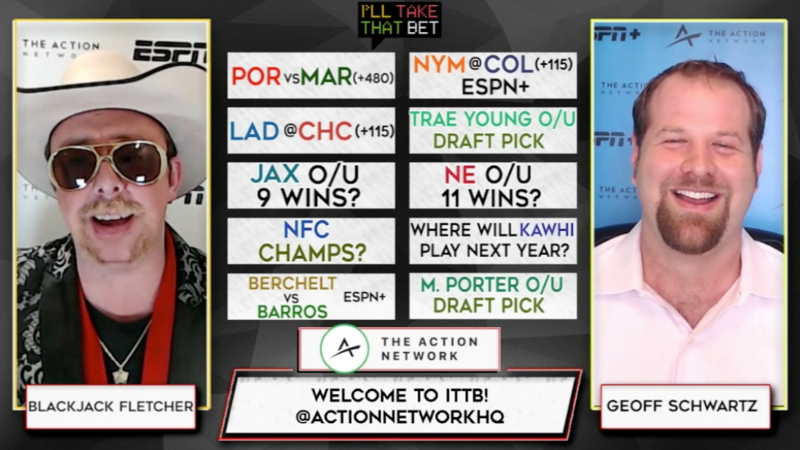 Here's how the picks played out in today's show. You can watch the full episode exclusively on ESPN+. You'll want to stick around to the end for Blackjack and Geoff's side bet on who will come out of the NFC in the NFL this season.
PICK NO. 1 (SCHWARTZ): New England Patriots to win over 11 games (-140)
PICK NO. 2 (BLACKJACK): Mets-Rockies 1st Five Innings under 5 runs (-105)
PICK NO. 3 (SCHWARTZ): Jacksonville Jaguars to win under 9 games (-105)
PICK NO. 4 (BLACKJACK): Portugal over Morocco (-160)
PICK NO. 5 (SCHWARTZ): Atlanta Falcons to win NFC Championship (+800)
PICK NO. 6 (BLACKJACK): Kawhi Leonard will play for the Boston Celtics in 2018-19 (+450)
PICK NO. 7 (SCHWARTZ): Trae Young to be selected over 6.5 pick in NBA Draft (-140)
PICK NO. 8 (BLACKJACK): Michael Porter Jr. to be selected over 6.5 pick in NBA Draft (-110)
PICK NO. 9 (SCHWARTZ): Cubs over Dodgers (+115)
PICK NO. 10 (BLACKJACK): Jonathan Victor Barros (+2200) over Miguel Berchelt on ESPN+ Boxing