Watch 'I'll Take That Bet' — Episode 106: NFL Playoffs Divisional Round, CFB National Championship Game, Super Bowl Matchup
Episode 106 of our sports betting show "I'll Take That Bet" is live, covering every game of the Divisional Round of the NFL Playoffs, talking College Football National Championship game and props, potential Super Bowl matchups, and so much more!
Watch the full episode on ESPN+ here.
If you missed the last episode, here's the gist of the show: Two analysts — in today's case, Geoff Schwartz and Chris Raybon — draft their favorite picks of the day from a board of 10 bets. These are real wagers you can make across the gambling universe.
Here's Monday's board: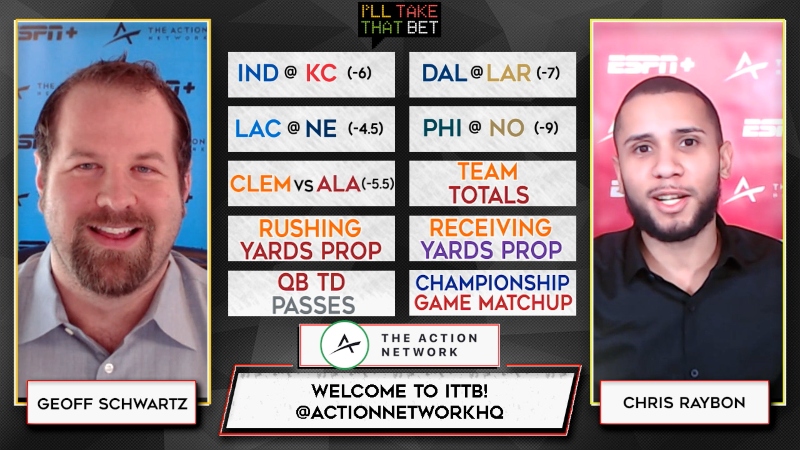 Here's how the picks played out in the show. You can watch the full episode exclusively on ESPN+.
PICK NO. 1 (CHRIS): Under 58 points between Clemson Tigers and Alabama Crimson Tide in the College Football National Championship Game (-110)
PICK NO. 2 (GEOFF): Indianapolis Colts (+6) over Kansas City Chiefs (-110)
PICK NO. 3 (CHRIS): Los Angeles Chargers (+4.5) over New England Patriots (-110)
PICK NO. 4 (GEOFF): New Orleans Saints Team Total Over 29.5 versus Philadelphia Eagles (-110)
PICK NO. 5 (CHRIS): Dallas Cowboys (+7) over Los Angeles Rams (-110)
PICK NO. 6 (GEOFF): Los Angeles Chargers quarterback Philip Rivers Over 1.5 passing touchdowns (-130)
PICK NO. 7 (CHRIS): Exact Super Bowl matchup between Los Angeles Chargers and Philadelphia Eagles (+4000)
PICK NO. 8 (GEOFF): Alabama tight end Irv Smith Jr. Over 24.5 receiving yards (-145)
PICK NO. 9 (CHRIS): Alabama running back Damien Harris Under 50.5 rushing yards (-110)
PICK NO. 10 (GEOFF): Clemson quarterback Trevor Lawrence Over 2 passing touchdowns (+120)