Watch 'I'll Take That Bet' — Episode 112: NFL Conference Championships, NFL Props, Super Bowl Halftime Prop
Episode 112 of our sports betting show "I'll Take That Bet" is live, covering every angle of the NFL Conference Championship games, some weird NFL props, talking through Super Bowl halftime bets, and so much more!
Watch the full episode on ESPN+ here.
If you missed the last episode, here's the gist of the show: Two analysts — in today's case, Blackjack Fletcher and Chris Raybon — draft their favorite picks of the day from a board of 10 bets. These are real wagers you can make across the gambling universe.
Here's Thursday's board: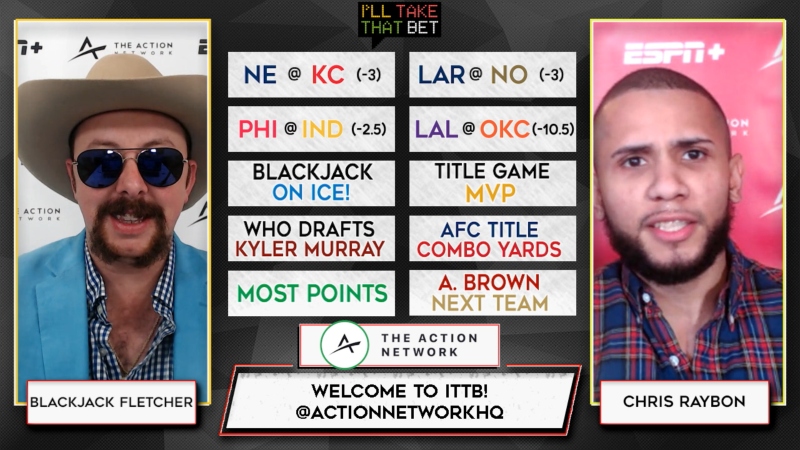 Here's how the picks played out in the show. You'll want to stick around to the end to see Chris breakdown if Big Boi will be join be Andre 3000 during the Super Bowl halftime show. You can watch the full episode exclusively on ESPN+.
PICK NO. 1 (CHRIS): Kansas City Chiefs (-3) over New England Patriots (-110)
PICK NO. 2 (BLACKJACK): New Orleans Saints (-3) over Los Angeles Rams (-110)
PICK NO. 3 (CHRIS): Indiana Pacers (-2.5) over Philadelphia 76ers (-110)
PICK NO. 4 (BLACKJACK): Toronto Maple Leafs moneyline over Tampa Bay Lightning (+125)
PICK NO. 5 (CHRIS): Kyler Murray to be drafted by Arizona Cardinals (+500)
PICK NO. 6 (BLACKJACK): Kansas City Chiefs duo Patrick Mahomes and Damien Williams to have more combined yards than New England Patriots duo Tom Brady and Sony Michel (-150)
PICK NO. 7 (CHRIS): Pittsburgh Steelers wide receiver Antonio Brown's next team to be The Field (+280)
PICK NO. 8 (BLACKJACK): Kansas City Chiefs to have the most points of Championship Weekend (+200)
PICK NO. 9 (CHRIS): Under 225.5 between Los Angeles Lakers and Oklahoma City Thunder (-110)
PICK NO. 10 (BLACKJACK): New Orleans Saints quarterback Drew Brees to win Super Bowl MVP (+200)