Watch 'I'll Take That Bet' — Episode 115: NBA Wednesday, Harden Points Prop, Durant's Next Team
Episode 115 of our sports betting show "I'll Take That Bet" is live, breaking down Wednesday night's NBA slate, debating the over/under on James Harden's points per game average, talking through Kevin Durant's next team, and so much more!
Watch the full episode on ESPN+ here.
If you missed the last episode, here's the gist of the show: Two analysts — in today's case, Matt Moore and Rob Perez — draft their favorite picks of the day from a board of 10 bets. These are real wagers you can make across the gambling universe.
Here's Wednesday's board: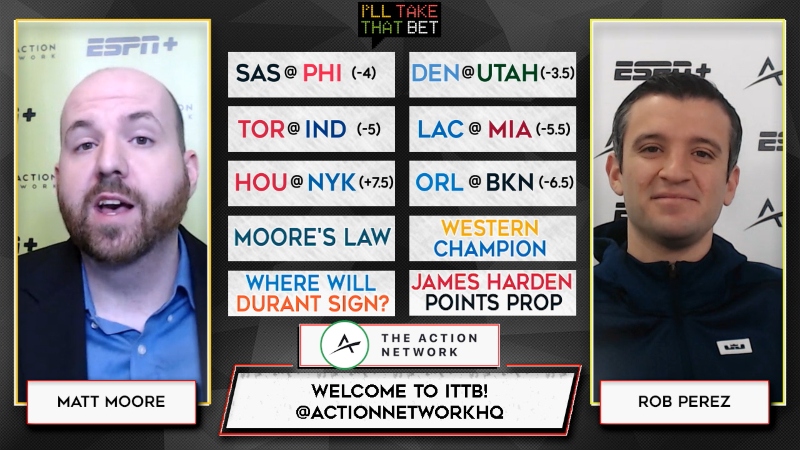 Here's how the picks played out in the show. You can watch the full episode exclusively on ESPN+.
PICK NO. 1 (ROB): Denver Nuggets to win the Western Conference (+1100)
PICK NO. 2 (MATT): Houston Rockets guard James Harden to finish the season with Under 37.1 points per game (-130)
PICK NO. 3 (ROB): Forward Kevin Durant to resign with the Golden State Warriors (+200)
PICK NO. 4 (MATT): Charlotte Hornets (-1.5) over Memphis Grizzlies (-110)
PICK NO. 5 (ROB): Under 226 between San Antonio Spurs and Philadelphia 76ers (-110)
PICK NO. 6 (MATT): Denver Nuggets (+3.5) over Utah Jazz (-110)
PICK NO. 7 (ROB): New York Knicks (+7.5) over Houston Rockets (-110)
PICK NO. 8 (MATT): Toronto Raptors (+5) over Indiana Pacers (-110)
PICK NO. 9 (ROB): Orlando Magic (+6.5) over Brooklyn Nets (-110)
PICK NO. 10 (MATT): Miami Heat (-5.5) over Los Angeles Clippers (-110)