Watch 'I'll Take That Bet' — Episode 120: Super Bowl LIII Betting Odds, Totals, Props, and More
Episode 120 of our sports betting show "I'll Take That Bet" is live, breaking down every angle of Super Bowl LIII between the Patriots and Rams, including sides, totals, props for players, the halftime show, the national anthem, and so much more!
Watch the full episode on ESPN+ here.
If you missed the last episode, here's the gist of the show: Two analysts — in today's case, Matt Moore and Rob Perez  — draft their favorite picks of the day from a board of 10 bets. These are real wagers you can make across the gambling universe.
Here's Wednesday's board: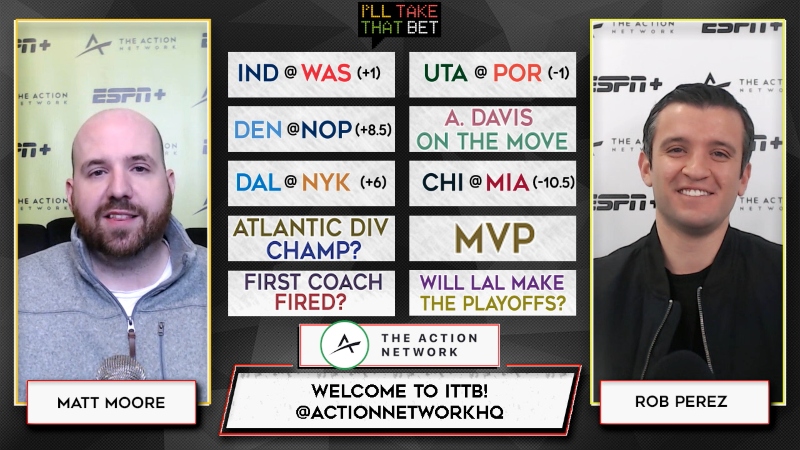 Here's how the picks played out in the show. You'll want to pay special attention at the beginning of the show when Matt and Rob talk through Anthony Davis trade destinations. You can watch the full episode exclusively on ESPN+.
PICK NO. 1 (MATT): New England Patriots (-2.5) over Los Angeles Rams in Super Bowl LIII (-110)
PICK NO. 2 (ROB): Over 56.5 points between Patriots and Rams in Super Bowl LIII (-110)
PICK NO. 3 (MATT): New England Patriots running back Sony Michel to be named Super Bowl MVP (+1500)
PICK NO. 4 (ROB): New England Patriots quarterback Tom Brady Over 37.5 passing attempts (-110)
PICK NO. 5 (MATT): New England Patriots running back James White Over 78.5 combined rushing and receiving yards (-110)
PICK NO. 6 (ROB): Gladys Knight to wear a Dress or Skirt during her rendition of the National Anthem (-250)
PICK NO. 7 (MATT): New England Patriots tight end Rob Gronkowski Over 4.5 receptions (+105)
PICK NO. 8 (ROB): Maroon 5 frontman Adam Levine to Not wear a hat during the Super Bowl Halftime Show (-300)
PICK NO. 9 (MATT): No team to be down more than 10 points in the Fourth Quarter of Super Bowl LIII (-110)
PICK NO. 10 (ROB): Gisele Bundchen to be shown on air Over 1.5 times (+125)