Watch 'I'll Take That Bet' — Episode 122: NBA Action, MLB Free Agents, NC State-UNC
Episode 122 of our sports betting show "I'll Take That Bet" is live, breaking down NBA games and future bets, talking destinations for the major MLB free agents, hitting on NC State-UNC, and so much more!
Watch the full episode on ESPN+ here.
If you missed the last episode, here's the gist of the show: Two analysts — in today's case, Blackjack Fletcher and Evan Abrams  — draft their favorite picks of the day from a board of 10 bets. These are real wagers you can make across the gambling universe.
Here's Tuesday's board: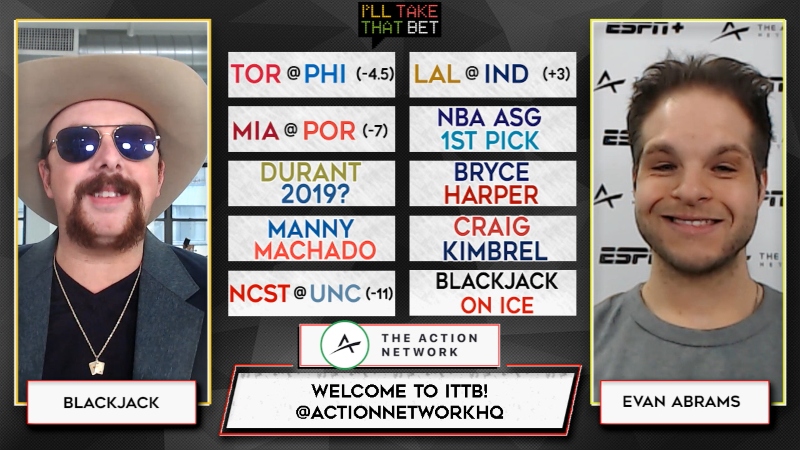 Here's how the picks played out in the show. You can watch the full episode exclusively on ESPN+.
PICK NO. 1 (EVAN): Philadelphia 76ers (-4.5) over Toronto Raptors (-110)
PICK NO. 2 (BLACKJACK): Golden State Warriors forward Kevin Durant signs with the Golden State Warriors (+180)
PICK NO. 3 (EVAN): Portland Trail Blazers (-4) over Miami Heat in the first half (-110)
PICK NO. 4 (BLACKJACK): Vegas Golden Knights moneyline over Tampa Bay Lightning (+130)
PICK NO. 5 (EVAN): Bryce Harper to sign with the Philadelphia Phillies (+175)
PICK NO. 6 (BLACKJACK): Manny Machado to sign with the Philadelphia Phillies (+120)
PICK NO. 7 (EVAN): North Carolina Tar Heels (-11) over North Carolina State Wolfpack (-110)
PICK NO. 8 (BLACKJACK): Boston Celtics point guard Kyrie Irving to be the first overall selection in the NBA All Star Draft (+550)
PICK NO. 9 (EVAN): Craig Kimbrel to sign with the Philadelphia Phillies (+300)
PICK NO. 10 (BLACKJACK): Indiana Pacers (+3) over Los Angeles Lakers (-110)