Watch 'I'll Take That Bet' — Episode 126: NBA on ESPN, Conference Champion Futures, Knicks Next GM
Episode 126 of our sports betting show "I'll Take That Bet" is live, breaking down Wednesday night's slate of NBA games, betting on conference championship futures, and so much more!
Watch the full episode on ESPN+ here.
If you missed the last episode, here's the gist of the show: Two analysts — in today's case, Matt Moore and Evan Abrams  — draft their favorite picks of the day from a board of 10 bets. These are real wagers you can make across the gambling universe.
Here's Wednesday's board: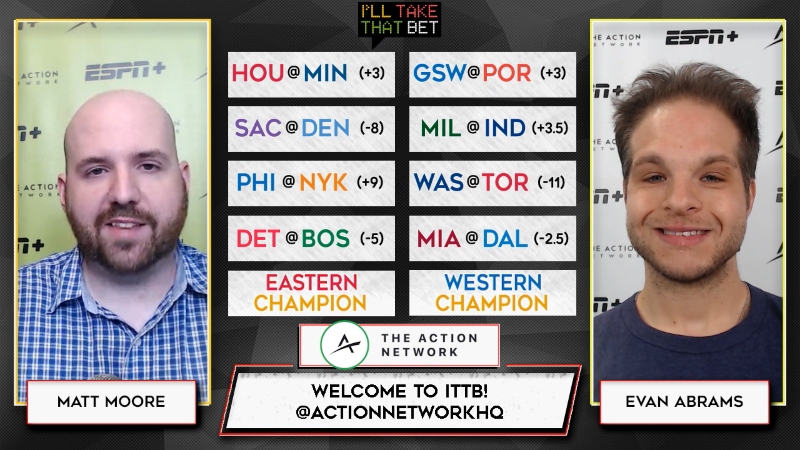 Here's how the picks played out in the show. You'll want to stick around to the end to hear Matt and Evan debate if Kevin Durant's manager Rich Kleiman will be the next GM of the Knicks. You can watch the full episode exclusively on ESPN+.
PICK NO. 1 (EVAN): Portland Trail Blazers first half (+1.5) over Golden State Warriors (-110)
PICK NO. 2 (MATT): Denver Nuggets (-8) over Sacramento Kings (-110)
PICK NO. 3 (EVAN): Under 220.5 between Milwaukee Bucks and Indiana Pacers (-110)
PICK NO. 4 (MATT): Milwaukee Bucks to win the Eastern Conference (+250)
PICK NO. 5 (EVAN): Detroit Pistons (+5) over Boston Celtics (-110)
PICK NO. 6 (MATT): Philadelphia 76ers (-9) over New York Knicks
PICK NO. 7 (EVAN): Dallas Mavericks (-2.5) over Miami Heat (-110)
PICK NO. 8 (MATT): Toronto Raptors (-11) over Washington Wizards (-110)
PICK NO. 9 (EVAN): Minnesota Timberwolves (+3) over Houston Rockets (-110)
PICK NO. 10 (MATT): Oklahoma City Thunder to win the Western Conference (+1600)