Watch 'I'll Take That Bet' — Episode 128: NBA All Star Weekend, AAF Week 2, Kentucky Derby
Episode 128 of our sports betting show "I'll Take That Bet" is live, betting props for NBA All Star Weekend, handicapping the second week of AAF football, looking at early Kentucky Derby lines, and so much more!
Watch the full episode on ESPN+ here.
If you missed the last episode, here's the gist of the show: Two analysts — in today's case, Chris Raybon and Paul lo Duca  — draft their favorite picks of the day from a board of 10 bets. These are real wagers you can make across the gambling universe.
Here's Friday's board: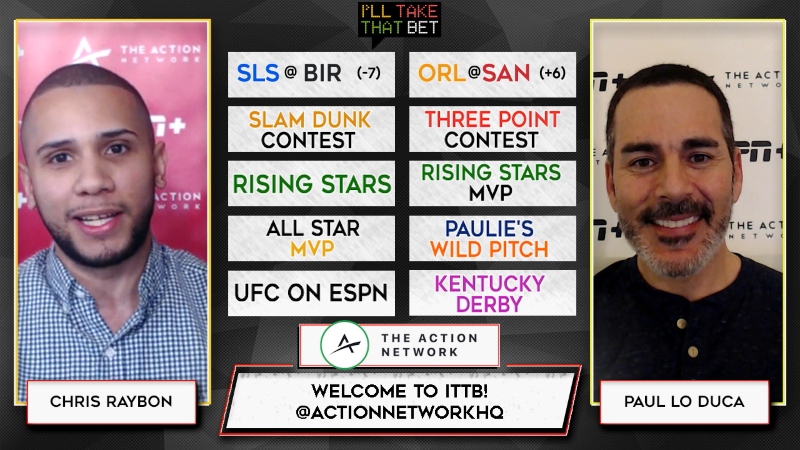 Here's how the picks played out in the show. You'll want to stick around to the end to hear Chris and Paul place their bets on what seed the Duke Blue Devils will receive in the 2019 March Madness tournament. You can watch the full episode exclusively on ESPN+.
PICK NO. 1 (RAYBON): San Antonio Commanders (+6) over Orlando Apollos (-110)
PICK NO. 2 (LO DUCA): New York Knicks guard Dennis Smith Jr. to win the NBA Dunk Contest (+150)
PICK NO. 3 (RAYBON): Team USA moneyline over Team World in the NBA Rising Stars Challenge
PICK NO. 4 (LO DUCA): Game Winner to win the 154th Kentucky Derby (+450)
PICK NO. 5 (RAYBON): Houston Rockets guard James Harden to win NBA All Star Game MVP (+1000)
PICK NO. 6 (LO DUCA): Portland Trail Blazers guard Seth Curry to win NBA 3 Point Shooting Contest (+600)
PICK NO. 7 (RAYBON): Utah Jazz guard Donovan Mitchell to win NBA Rising Stars Challenge MVP (+900)
PICK NO. 8 (LO DUCA): Davidson Wildcats (-10) over Saint Joseph's Hawks (-110)
PICK NO. 9 (RAYBON): Francis Ngannou over Cain Velasquez in UFC (+160)
PICK NO. 10 (LO DUCA): Salt Lake Stallions (+7) over Birmingham Iron (-110)