Watch 'I'll Take That Bet' — Episode 129: College Hoops, NFL Offseason Props, Maple Leafs-Blues
Episode 129 of our sports betting show "I'll Take That Bet" is live, breaking down the night in college basketball, betting on some offseason NFL props, hitting on the St. Louis Blues ten-game winning streak, and so much more!
Watch the full episode on ESPN+ here.
If you missed the last episode, here's the gist of the show: Two analysts — in today's case, Dan Rubenstein and Blackjack Fletcher  — draft their favorite picks of the day from a board of 10 bets. These are real wagers you can make across the gambling universe.
Here's Tuesday's board: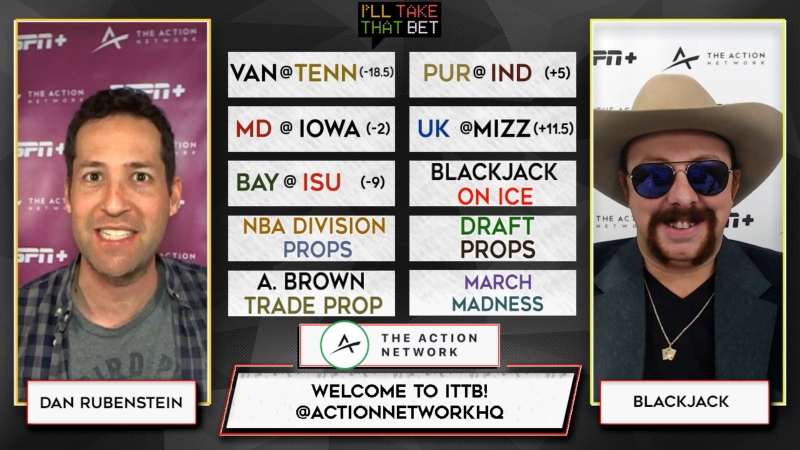 Here's how the picks played out in the show. You'll want to stick around to the end to hear Dan and Blackjack place their bets on what team will feature in the 2019 edition of Hard Knocks on HBO. You can watch the full episode exclusively on ESPN+.
PICK NO. 1 (BLACKJACK): Vanderbilt Commodores (+18.5) over Tennessee Volunteers (-110)
PICK NO. 2 (DAN): Purdue Boilermakers (-5) over Indiana Hoosiers (-110)
PICK NO. 3 (BLACKJACK): Kentucky Wildcats (-11.5) over Missouri Tigers (-110)
PICK NO. 4 (DAN): Under 147.5 between Maryland Terrapins and Iowa Hawkeyes (-110)
PICK NO. 5 (BLACKJACK): Under 3.5 Pac-12 teams will make the NCAA March Madness basketball tournament (-120)
PICK NO. 6 (DAN): Miami Heat to win the NBA's Southeast Division (+175)
PICK NO. 7 (BLACKJACK): St. Louis Blues moneyline over Toronto Maple Leafs (-120)
PICK NO. 8 (DAN): Former Oklahoma Sooners quarterback Kyler Murray to be drafted by the Washington Redskins (+1200)
PICK NO. 9 (BLACKJACK): Iowa State Cyclones (-9) over Baylor Bears (-110)
PICK NO. 10 (DAN): Pittsburgh Steelers wide receiver Antonio Brown will play for the Indianapolis Colts Week 1, 2019 (+700)