Watch 'I'll Take That Bet' — Episode 130: UNC-Duke, NBA Playoff Props, San Diego Padres Win Total
Episode 130 of our sports betting show "I'll Take That Bet" is live, breaking down the UNC-Duke game, betting on some NBA playoff props, hitting on the San Diego Padres win total, and so much more!
Watch the full episode on ESPN+ here.
If you missed the last episode, here's the gist of the show: Two analysts — in today's case, Chris Raybon and Geoff Schwartz  — draft their favorite picks of the day from a board of 10 bets. These are real wagers you can make across the gambling universe.
Here's Wednesday's board: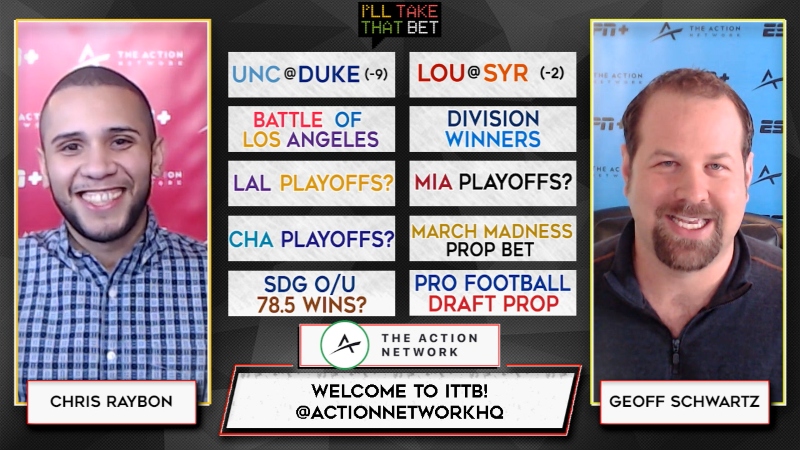 Here's how the picks played out in the show. You can watch the full episode exclusively on ESPN+.
PICK NO. 1 (GEOFF): Former Oklahoma Sooners quarterback Kyler Murray to be drafted before the 10th pick (-200)
PICK NO. 2 (CHRIS): North Carolina Tar Heels (+9) over Duke Blue Devils (-110)
PICK NO. 3 (GEOFF): Louisville Cardinals (+2) over Syracuse Orange (-110)
PICK NO. 4 (CHRIS): San Diego Padres Under 78.5 total 2019 wins (-110)
PICK NO. 5 (GEOFF): Los Angeles Lakers to finish above Los Angeles Clippers (+125)
PICK NO. 6 (CHRIS): Miami Heat to make the NBA Playoffs (-120)
PICK NO. 7 (GEOFF): Charlotte Hornets to miss the NBA Playoffs (+110)
PICK NO. 8 (CHRIS): Denver Nuggets to win the NBA's Northwest Division (-130)
PICK NO. 9 (GEOFF): Los Angeles Lakers to make the NBA Playoffs (+110)
PICK NO. 10 (CHRIS): No #16 seed advances in the 2019 March Madness Tournament (-1600)