Watch 'I'll Take That Bet' — Episode 136: Thursday's NBA Slate, Maple Leafs-Islanders, UFC 235
Episode 136 of our sports betting show "I'll Take That Bet" is live, breaking down the evening in the NBA, getting ready for John Tavares' return to Nassau Coliseum, talking through the undercard of UFC 235, and so much more!
Watch the full episode on ESPN+ here.
If you missed the last episode, here's the gist of the show: Two analysts — in today's case, Blackjack Fletcher and Rob Perez  — draft their favorite picks of the day from a board of 10 bets. These are real wagers you can make across the gambling universe.
Here's Thursday's board: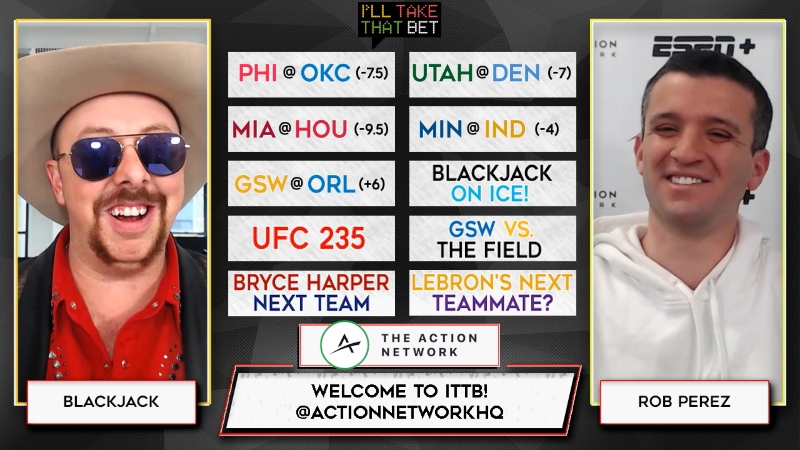 Here's how the picks played out in the show. You can watch the full episode exclusively on ESPN+.
PICK NO. 1 (ROB): Oklahoma City Thunder (-7.5) over Philadelphia 76ers (-110)
PICK NO. 2 (BLACKJACK): New York Islanders moneyline over Toronto Maple Leafs (-115)
PICK NO. 3 (ROB): Denver Nuggets (-7) over Utah Jazz (-110)
PICK NO. 4 (BLACKJACK): The Field to win the 2019 NBA Championship over the Golden State Warriors (+192)
PICK NO. 5 (ROB): Orlando Magic (+6) over Golden State Warriors (-110)
PICK NO. 6 (BLACKJACK): Free agent outfielder Bryce Harper to sign with the San Francisco Giants (+916)
PICK NO. 7 (ROB): Indiana Pacers (-4) over Minnesota Timberwolves (-110)
PICK NO. 8 (BLACKJACK): Ben Askren over Robbie Lawler in UFC 235 (-255)
PICK NO. 9 (ROB): Houston Rockets (-9.5) over Miami Heat (-110)
PICK NO. 10 (BLACKJACK): None of the following players – Kawhi Leonard, Anthony Davis, Kevin Durant, or Klay Thompason – join the Los Angeles Lakers this offseason (-120)