Watch 'I'll Take That Bet' — Episode 137: MLB Futures, NBA on ESPN, UFC 235
Episode 137 of our sports betting show "I'll Take That Bet" is live, betting a variety of MLB futures, hitting on tonight's two NBA games on ESPN, talking through the undercard of UFC 235, and so much more!
Watch the full episode on ESPN+ here.
If you missed the last episode, here's the gist of the show: Two analysts — in today's case, Chris Raybon and Paul lo Duca  — draft their favorite picks of the day from a board of 10 bets. These are real wagers you can make across the gambling universe.
Here's Friday's board: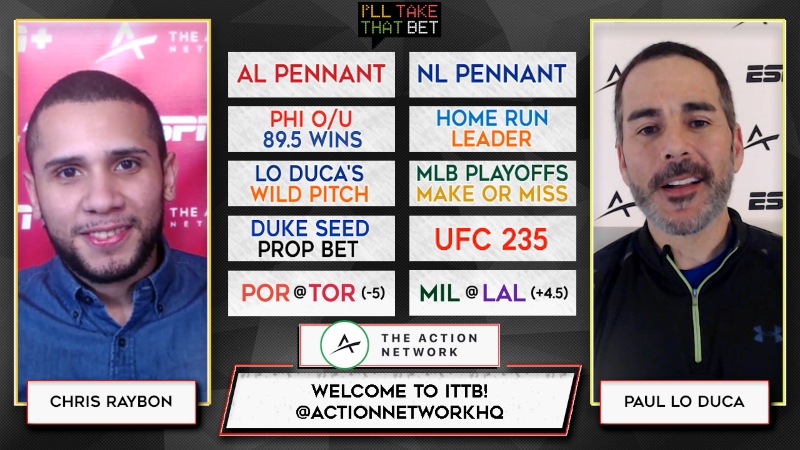 Here's how the picks played out in the show. You'll want to stick around to the end to hear Chris and Paul discuss a few props surrounding Blue Jays minor league phenom Vlad Guerrero Jr. You can watch the full episode exclusively on ESPN+.
PICK NO. 1 (PAUL): Boston Red Sox outfield J.D. Martinez to lead the league in home runs (+1800)
PICK NO. 2 (CHRIS): New York Yankees to win the American League pennant (+300)
PICK NO. 3 (PAUL): Washington Nationals to win the National League pennant (+900)
PICK NO. 4 (CHRIS): Cincinnati Reds to make the playoffs (+400)
PICK NO. 5 (PAUL): Duke Blue Devils to earn a #1 seed in the 2019 NCAA Basketball Tournament (+100)
PICK NO. 6 (CHRIS): Portland Trail Blazers (+5) over Toronto Raptors (-110)
PICK NO. 7 (PAUL): Milwaukee Bucks (-4.5) over Los Angeles Lakers (-110)
PICK NO. 8 (CHRIS): Kamaru Usman over Tyron Woodley in UFC 235 (+150)
PICK NO. 9 (PAUL): Quinnipiac Bobcats (-1.5) over Saint Peter's Peacocks (-110)
PICK NO. 10 (CHRIS): Philadelphia Phillies Under 89.5 wins in 2019 (+100)