Watch 'I'll Take That Bet' — Episode 160: Final Four, NFL Win Totals, MLB on ESPN+
Episode 160 of our sports betting show "I'll Take That Bet" is live, breaking down the sides and totals for Saturday night's Final Four, taking the best value with NFL win totals, betting on some regular season baseball, and so much more!
Watch the full episode on ESPN+ here.
If you missed the last episode, here's the gist of the show: Two analysts — in today's case, Geoff Schwartz and Paul lo Duca — draft their favorite picks of the day from a board of 10 bets. These are real wagers you can make across the gambling universe.
Here's Thursday's board: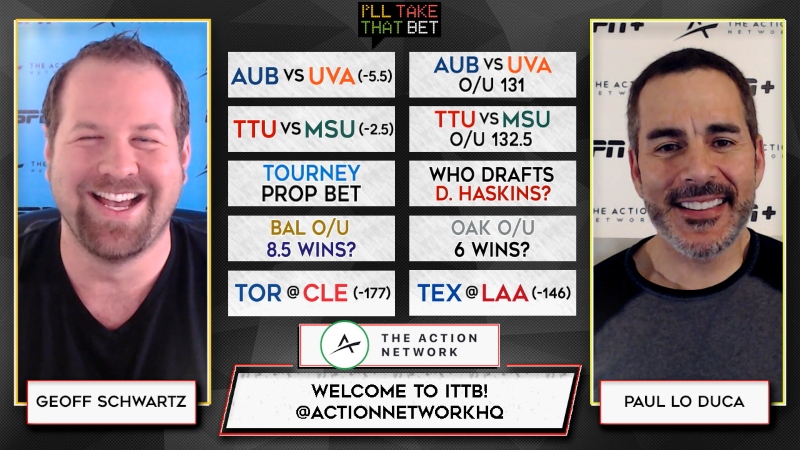 Here's how the picks played out in the show. You'll want to stick around until the end to hear Geoff and Paul bet on who will cut down the nets in Minneapolis. You can watch the full episode exclusively on ESPN+.
PICK NO. 1 (PAUL): #2-seed Michigan State Spartans (-2.5) over #3-seed Texas Tech Red Raiders (-110)
PICK NO. 2 (GEOFF): #1-seed Virginia Cavaliers (-5.5) over #5-seed Auburn Tigers (-110)
PICK NO. 3 (PAUL): First Five Innings Under 3.5 between Toronto Blue Jays and Cleveland Indians (-115)
PICK NO. 4 (GEOFF): Baltimore Ravens to win Under 8.5 games in the 2019 NFL Season (-110)
PICK NO. 5 (PAUL): Under 132.5 between Texas Tech Red Raiders and Michigan State Spartans (-110)
PICK NO. 6 (GEOFF): Over 131 between Auburn Tigers and Virginia Cavaliers (-110)
PICK NO. 7 (PAUL): Los Angeles Angeles moneyline over Texas Rangers (-146)
PICK NO. 8 (GEOFF): Former Ohio State Buckeyes quarterback Dwayne Haskins to be drafted by the Miami Dolphins (+700)

PICK NO. 9 (PAUL): Oakland Raiders to win Under 6 games in the 2019 NFL Season (-115)
PICK NO. 10 (GEOFF): Virginia Cavaliers guard Kyle Guy to be named Most Outstanding Player (+375)