Watch 'I'll Take That Bet' — Episode 163: Masters Preview, NFL Win Totals, NBA Futures
Episode 163 of our sports betting show "I'll Take That Bet" is live, giving you our best bets for The Masters, taking early value on NFL Win Totals, making our picks on some NBA Futures, and so much more!
Watch the full episode on ESPN+ here.
If you missed the last episode, here's the gist of the show: Two analysts — in today's case, Blackjack Fletcher and Jason Sobel — draft their favorite picks of the day from a board of 10 bets. These are real wagers you can make across the gambling universe.
Here's Tuesday's board: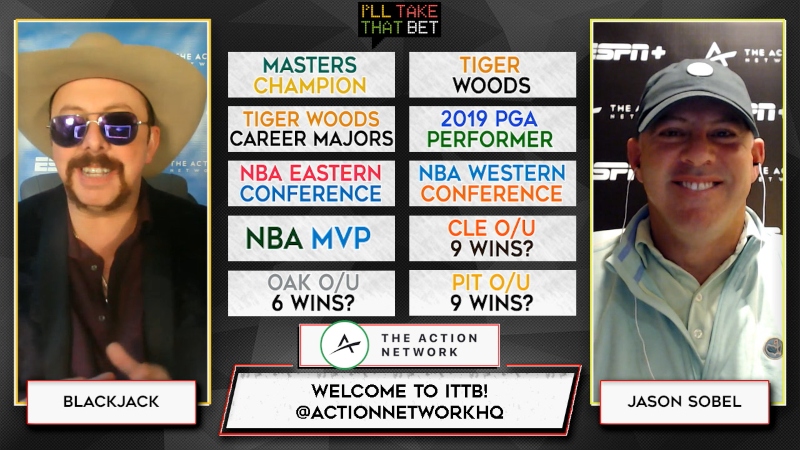 Here's how the picks played out in the show. You can watch the full episode exclusively on ESPN+.
PICK NO. 1 (JASON): Rickie Fowler to win The Masters (+1600)
PICK NO. 2 (BLACKJACK): Houston Rockets guard James Harden to be named NBA MVP (+250)
PICK NO. 3 (JASON): Tiger Woods to win a Major Tournament in 2019 (+450)
PICK NO. 4 (BLACKJACK): Oakland Raiders Over 6 wins in the 2019 NFL Season (-115)
PICK NO. 5 (JASON): Tiger Woods to finish his career with Over 14.5 Major Wins (-150)
PICK NO. 6 (BLACKJACK): Philadelphia 76ers to win the NBA Eastern Conference (+350)
PICK NO. 7 (JASON): Justin Thomas to Finish Top-20 in All 4 Major Tournaments (+650)
PICK NO. 8 (BLACKJACK): Refusing to bet the Cleveland Browns Win Total at Over/Under 9 Wins (¯_(ツ)_/¯)

PICK NO. 9 (JASON): Pittsburgh Steelers Under 9 wins in the 2019 NFL Season (-115)
PICK NO. 10 (BLACKJACK): Golden State Warriors to win the NBA Western Conference (-358)
How would you rate this article?