Watch 'I'll Take That Bet' — Episode 165: NBA End of Season Show
Episode 165 of our sports betting show "I'll Take That Bet" is live, celebrating the end of the NBA regular season with bets on awards, postseason props, what the Lakers will do next, and so much more!
Watch the full episode on ESPN+ here.
If you missed the last episode, here's the gist of the show: Two analysts — in today's case, Matt Moore and Rob Perez — draft their favorite picks of the day from a board of 10 bets. These are real wagers you can make across the gambling universe.
Here's Thursday's board: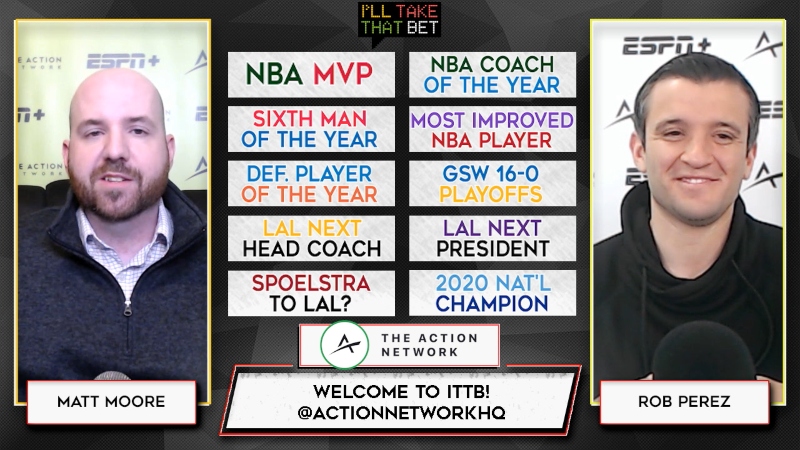 Here's how the picks played out in the show. You can watch the full episode exclusively on ESPN+.
PICK NO. 1 (ROB): Milwaukee Bucks head coach Mike Budenholzer to win NBA Coach of the Year (-2000)
PICK NO. 2 (MATT): Milwaukee Bucks forward Giannis Antetokounmpo to win NBA MVP (-400)
PICK NO. 3 (ROB): Los Angeles Clippers guard Lou Williams to be win NBA Sixth Man Award (-2500)
PICK NO. 4 (MATT): Lakers head coach Luke Walton to be the head coach of the Los Angeles Lakers in game 1 of the 2019/20 season (+600)
PICK NO. 5 (ROB): Toronto Raptors forward Pascal Siakam to win NBA Most Improved Award (-334)
PICK NO. 6 (MATT): Miami Heat team president Pat Riley to become the next president of the Los Angeles Lakers (+900)
PICK NO. 7 (ROB): Oklahoma City Thunder forward Paul George to win NBA Defensive Player of the Year (+250)
PICK NO. 8 (MATT): Golden State Warriors will Not go 16-0 in the NBA Playoffs (OFF BOARD)

PICK NO. 9 (ROB): Kansas Jayhawks to win the 2020 National Championship (+3000)
PICK NO. 10 (MATT): Erik Spoelstra to Not be the next head coach of the Los Angeles Lakers (-5000)
How would you rate this article?