Watch "I'll Take That Bet" – Episode 55: Monday Night Football, AL Wild Card, NFL Week 5
Episode 55 of our sports betting show "I'll Take That Bet" is live discussing Monday Night Football, the AL Wild Card Game, NFL Week 5, and so much more!
Watch the full episode on ESPN+ here.
If you missed the last episode, here's the gist of the show: Two analysts — in today's case, Blackjack Fletcher and Geoff Schwartz — draft their favorite picks of the day from a board of 10 bets, plus a bonus side action bet. These are real wagers you can make across the gambling universe.
Here's tonight's board: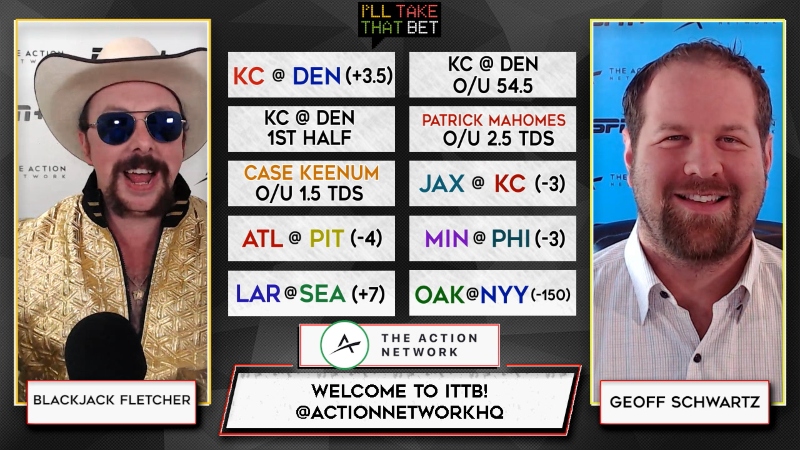 Here's how the picks played out in today's show. You can watch the full episode exclusively on ESPN+ . You'll want to stick around to the end for Geoff and Blackjack's side action on if Pat Mahomes will set the NFL single-season touchdown pass record.
PICK NO. 1 (GEOFF): Over 54.5 between Kansas City Chiefs and Denver Broncos (-110)
PICK NO. 2 (BLACKJACK): Case Keenum Over 1.5 passing touchdowns (-110)
PICK NO. 3 (GEOFF): Denver Broncos (+3.5) over Kansas City Chiefs (-110)
PICK NO. 4 (BLACKJACK): New York Yankees Money Line over Oakland Athletics (-150)
PICK NO. 5 (GEOFF): Patrick Mahomes Over 2.5 passing touchdowns (+115)
PICK NO. 6 (BLACKJACK): Jacksonville Jaguars (+3) over Kansas City Chiefs (-110)
PICK NO. 7 (GEOFF): Seattle Seahawks (+7) over Los Angeles Rams (-110)
PICK NO. 8 (BLACKJACK): Atlanta Falcons (+4) over Pittsburgh Steelers (-110)
PICK NO. 9 (GEOFF): First Half Denver Broncos (+3) over Kansas City Chiefs (-110)
PICK NO. 10 (BLACKJACK): Minnesota Vikings (+3) over Philadelphia Eagles (-110)