Watch 'I'll Take That Bet' — Episode 65: NFL Week 7, College Football Week 8, MLB Playoffs
Episode 65 of our sports betting show "I'll Take That Bet" is live, previewing the week ahead in the NFL, College Football, the MLB Playoffs, and so much more!
Watch the full episode on ESPN+ here.
If you missed the last episode, here's the gist of the show: Two analysts — in today's case, Blackjack Fletcher and Chris Raybon — draft their favorite picks of the day from a board of 10 bets, plus a bonus bet. These are real wagers you can make across the gambling universe.
Here's Thursday's board: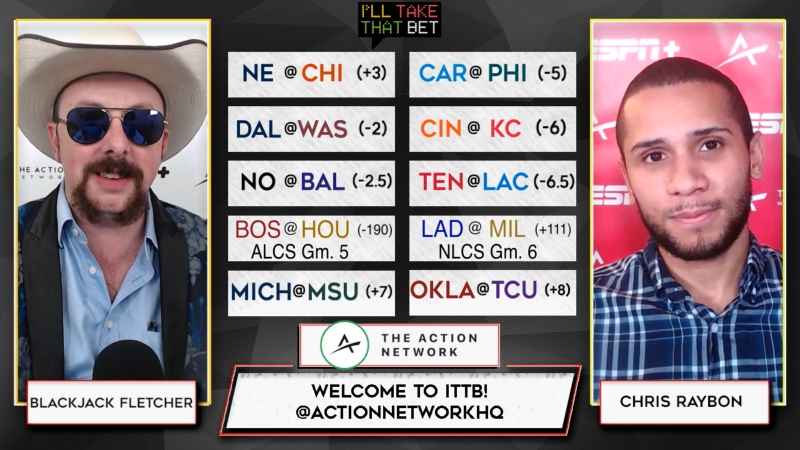 Here's how the picks played out in the show. You can watch the full episode exclusively on ESPN+. You'll want to stick around to the end for Blackjack and Raybon's survivor pool lock of the week.
PICK NO. 1 (CHRIS): Houston Astros Money Line over Boston Red Sox (-190)
PICK NO. 2 (BLACKJACK): New Orleans Saints (+2.5) over Baltimore Ravens (-110)
PICK NO. 3 (CHRIS): Philadelphia Eagles (-5) over Carolina Panthers (-110)
PICK NO. 4 (BLACKJACK): New England Patriots (-3) over Chicago Bears (-110)
PICK NO. 5 (CHRIS): Kansas City Chiefs (-6) over Cincinnati Bengals (-110)
PICK NO. 6 (BLACKJACK): Los Angeles Dodgers Money Line over Milwaukee Brewers (-121)
PICK NO. 7 (CHRIS): Los Angeles Chargers (-6.5) over Tennessee Titans (-110)
PICK NO. 8 (BLACKJACK): Michigan Wolverines (-7) over Michigan State Spartans (-110)
PICK NO. 9 (CHRIS): Oklahoma Sooners (-8) over Texas Christian Horned Frogs (-110)
PICK NO. 10 (BLACKJACK): Washington Redskins (-2) over Dallas Cowboys (-110)