BlackJack Fletcher's Royal Rumble Betting Extravaganza: Picks for Seven Matchups
Credit:
Pictured: Brock Lesnar, Becky Lynch, Seth Rollins
BlackJack Fletcher is here to help you cash some tickets for this weekend's Royal Rumble.
See his picks for Brock Lesnar vs. Finn Balor, Becky Lynch vs. Asuka and more.
This Sunday is one of the WWE's tentpole events: The Royal Rumble.
This year's event features three world title matches, and of course, the Royal Rumble match itself. Royal Rumble is always interesting because the WWE usually has surprise returns, new signings or call-ups as entrants in the 30-man battle royal.
This year should be no different.
In fact, the WWE is trying to drum up more interest in the product after a period of seriously declining ratings for Monday Night Raw and Smackdown Live. That could ensure some heavy surprises as the build to WrestleMania hits its fever pitch.
While the event is entertaining for fans, we're looking at it as yet another opportunity to make money and have some fun gambling on something while we wait for the Super Bowl.
The Miz & Shane McMahon (-175) v. The Bar (C)
This match is for the Smackdown Live tag team championships.
The Miz and McMahon have formed an unexpected alliance at the urging of the Miz. And somehow, it's actually working. McMahon has been underrated as an in-ring worker and can still go. Also, they've been pretty entertaining together as a team.
Sheamus and Cesaro have been in the tag title picture for a long time now, but it doesn't feel like McMahon and Miz would be paired together without the belts on them.
THE PICK: Miz and McMahon (-175)
Ronda Rousey (-1400) (C) v. Sasha Banks
The build to this one has given a little bit of life back to Banks after a rather slow 2018. She's been buried a bit by the arrival of Rousey, the emergence of Alexa Bliss and the continued excellence of Charlotte Flair and Becky Lynch.
That said, this is a match to stay away from, because Ronda simply isn't losing the title.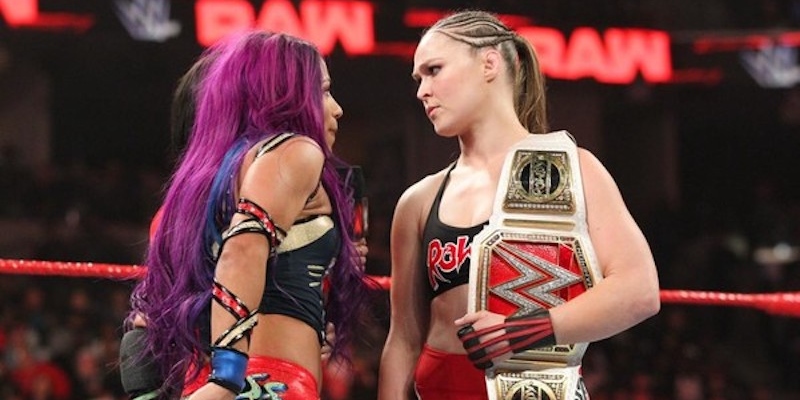 Sure, you could bet on Sasha and hope for a DQ victory, but it's too much of a long shot. Ronda is heading to WrestleMania with the Raw Women's Championship and is on a collision course for one of — if not both — Flair and Lynch.
THE PICK: Ronda Rousey (-1400)
Asuka (-200) (C) v. Becky Lynch
Asuka defends her Smackdown Live Women's Championship — which she won in a triple threat ladder match in December's TLC pay-per-view — against arguably the most over superstar in the entire company at the moment: Becky Lynch.
Even though Lynch is so incredibly over with the fans, she doesn't need this title. In fact, it could be more of a hindrance than anything. She is clearly pointed toward a WrestleMania feud with Rousey for her Raw Women's Championship.
So for the purposes of that feud, it might be better to have Lynch in the chasing position without gold around her waist.
Asuka retains here, likely with outside interference.
THE PICK: Asuka (-200)
Brock Lesnar (-400) (C) vs. Finn Bálor
Lesnar returns to the ring to defend his Universal Championship against Bálor in a bit of a surprise.
This match had been billed for a long time as Lesnar v. Braun Strowman, until Strowman was removed from the match by Vince McMahon. Bálor won a fatal four-way match on Raw two weeks ago to earn the spot, and WWE has been playing up a "David vs. Goliath" angle ever since.
Bálor is one of the most talented hands the WWE has, but I cannot envision Lesnar's reign of terror ending at the Royal Rumble when WrestleMania is around the corner.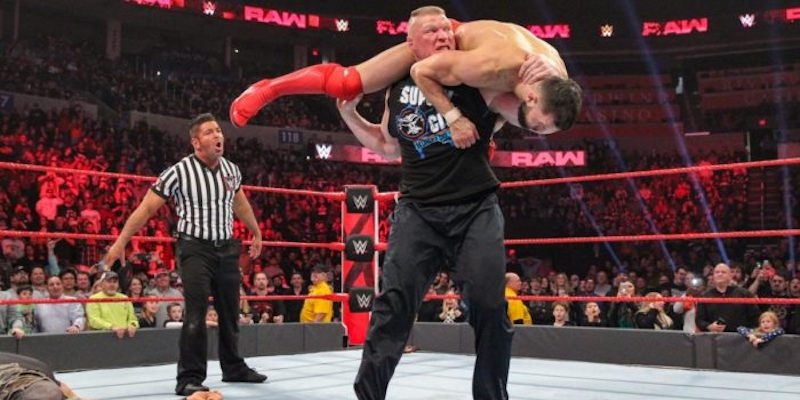 There's also the issue of outside interference.
Drew McIntyre and Strowman are prime candidates to cause mayhem here. I'll say McIntyre interferes as Bálor looks like he might prevail, setting up a WrestleMania feud for the two of them. And in that instance, Lesnar retains, but Bálor wins by DQ.
THE PICK: Finn Bálor (+250)
Daniel Bryan (-400) (C) v. AJ Styles
Bryan and Styles have been battling over the WWE Championship for months now, producing some quality matches in the process. This will be their biggest stage yet, and I expect their best effort.
This is a match that could go either way, and this feud likely continues and culminates in a big blow-off at WrestleMania.
---
>> Sign up for The Action Network's daily newsletter to get the smartest conversation delivered into your inbox each morning.
---
Bryan has generated some momentum with his "anti-consumerism" character of late, and I don't think that train slows down at the Rumble. I'm not sure we get a clean finish here; it's more likely we get Bryan cheating or Styles losing his temper again to set up the finale at WrestleMania.
THE PICK: Daniel Bryan (-400)
Men's Royal Rumble Match-Most Eliminations
This is a two-horse field in my opinion.
You will have two absolute monsters in this match who are getting — or are about to get — major pushes: Strowman and McIntyre.
McIntyre is the favorite at +125 and Strowman is at +250. Either is a good choice. These are guys who will enter the ring and start clearing bodies in a hurry.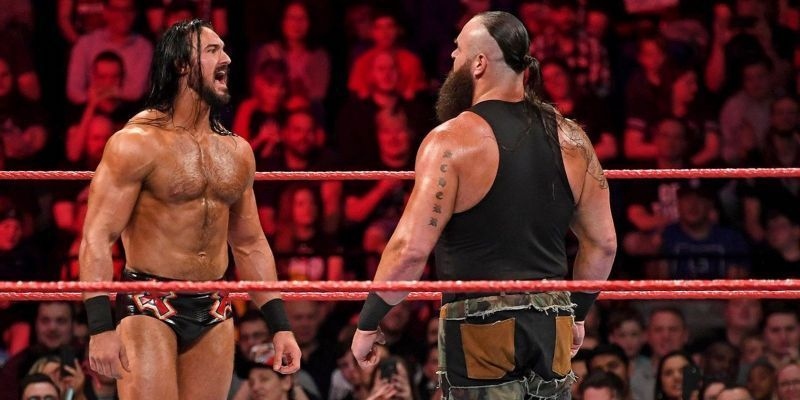 I'm going to take Strowman since I think McIntyre gets involved with Lesnar-Bálor earlier in the evening. And I think Vince McMahon will want to keep Strowman looking strong and have him wreak some havoc in the ring.
THE PICK: Braun Strowman +250
Men's Royal Rumble Match Winner
This is where things get a little tricky.
Everything on WWE TV over the past couple of months points toward the favorite, Seth Rollins, winning this match. He's had unbelievable matches, his promos have been on point and he dropped the Intercontinental Championship and ended his feud with former Shield member, Dean Ambrose.
Rollins is currently a man on an island, but he has been built incredibly strong leading into this event. If someone is going to end Lesnar's title run, it seems like Rollins could be the one to do it at WrestleMania.
The issue is, when something seems so obvious in WWE, you have to take a second look at it. Surprise is the lifeblood of the wrestling industry, and Vince McMahon knows that all too well.
With ratings in the toilet earlier in the year, there were heavy rumors that Vince was reaching out to The Rock to come back for a WrestleMania run with his cousin, Roman Reigns. With Reigns out of action battling Leukemia, those rumors have cooled considerably.
Still, if Vince wants to drum up the most possible interest in WrestleMania and build ratings, nobody on the planet could do it like The Rock.
THE PICK(s): Seth Rollins +130 with a hedge on The Rock at +2000
Let's get ready to rumble, baby!