WWE Royal Rumble: Picking Winners & An Optimal DFS Lineup
Credit:
AMER HILABI/AFP via Getty Images. Pictured: Kofi Kingston
2020 WWE Royal Rumble
Location: Minute Maid Park, Houston, Texas
Date & Time: Sunday, Jan. 26 7 pm ET
How to Watch: WWE Network
---
Odds as of Friday morning and via FanDuel, where Action Network users get a risk-free bet up to $500.
---
The Royal Rumble is an annual event held by the WWE to determine a main event competitor at Wrestlemania. There are 30 participants, with a new competitor entering the ring every two minutes.
A wrestler is eliminated when both feet hit the floor outside the ring. The point system and contest rules I discuss below are adopted from DraftKings.
Rules Roundup For The Royal Rumble Rookies
Minute Maid park will be rocking on Sunday night to the sound of "5, 4, 3, 2, 1 [alarmingly loud buzzer sound]."
Most wrestling fans will tell you Wrestlemania is the grand daddy of them all, but smarks like myself will tell you the storyboard starts in January. Nothing in the wrestling industry combines drama, chaos and last minute script writing like the Royal Rumble.
From the dirt sheets to Reddit, fans agree that plans for this year's Wrestlemania are up in the air. That leaves plenty of room for Vince McMahon and WWE Creative to hit consumers with something special.
The Royal Rumble rules are relatively simple. Competitors 'draw' numbers 1 through 30 for their sequence of entry. In the case of 1989, Demolition tag team partners went straight at each other's throats.
The event follows battle royale rules, meaning elimination comes when a wrestler is thrown over the top rope with both feet hitting the floor.  Wrestlers like Kofi Kingston have taken near exits to the most dramatic levels.
Assuming a wrestler does not pull a Stone Cold Steve Austin from 1997, last man standing in the ring wins the Rumble. It is a big night for writers, wrestlers and fans as the road to Wrestlemania is paved in January.
This article will focus on the daily fantasy aspect to wrestler selection on the men and women's event using DraftKings scoring system.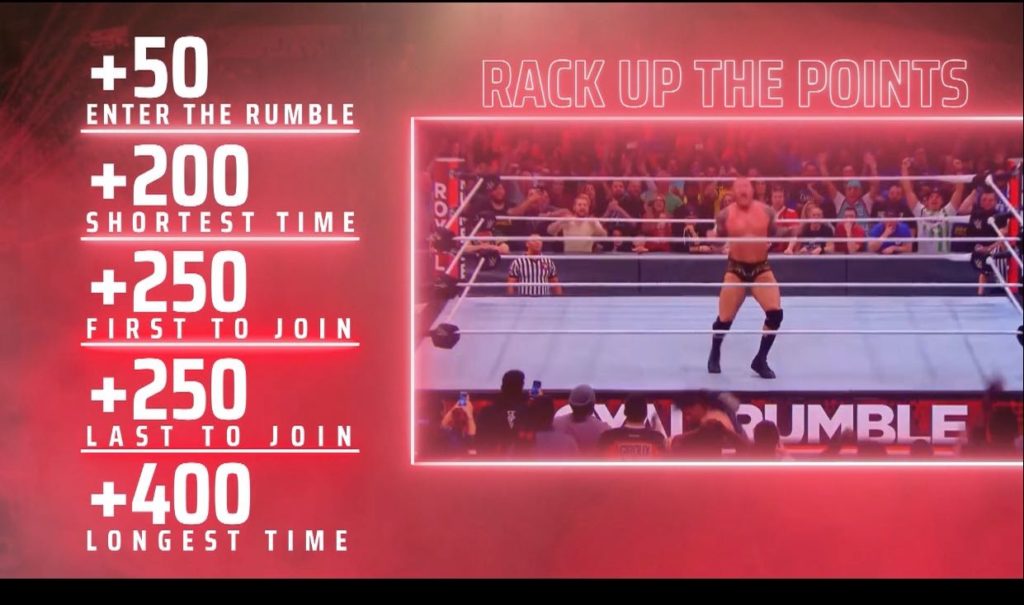 In addition to the points listed above, 600 points are awarded to the outright winner. There are two graded events, the men and women's side of the Royal Rumble. We are tasked with creating the correct 6-wrestler combination to win.
Only 24 men and four women have declared as of this writing, leaving a large number of spots for surprise entry. Expect Vince McMahon to write his script on an Etch A Sketch, while we look to take the six best entries to win all Royal Rumble pools.
Selections for Women's Royal Rumble Match
Charlotte Flair
Taking the queen is a no brainer in any format. Not only is Charlotte one of the few women to declare, she is a candidate to rack up points in every category except shortest time. The betting market has moved Flair from 15/1 to 2/1 in recent weeks.
Charlotte entered last year's Rumble at No. 13, but expect the daughter or Ric Flair to enter at No. 3 and win it all at some point in her career, just like her father in 1992.
Alexa Bliss
Listed at 35/1 to win the Royal Rumble, there is not much of a chance the former Raw and Smackdown women's champion takes home the 600 points. However, Bliss is on the short list of women to declare, earning her 50 points.
She is also a candidate for first enter and longest time. Bliss returned from injury in 2019 and did not last long after entering at No. 26. The WWE loves Bliss and a longer Rumble showing should be in the works.
Shayna Baszler
Listed as the favorite at any betting shop, Baszler dropped the NXT Championship after Christmas. She has not been seen since, creating a buildup to the Rumble event.
The former NXT champion could rack up a ton of points from last to join, longest time and winning the Royal Rumble. Baszler is penciled in to one of the championship slots for Wrestlemania.
The biggest question is if Baszler's best friend, Ronda Rousey, shows up to help eliminate Charlotte Flair.
Kairi Sane
As one half of the tag team champions, Sane is a perfect candidate to enter early and leave late. Her contract situation dictates a big push before her departure. WWE often builds up wrestlers before the end of their contract. This typical script writing is twofold, as the wrestler may look to resign or be written to put over another grappler.
Sane's contract is up in March, but look for her to spend a considerable amount of time in this Rumble dropping Macho Man quality elbows.
Rhea Ripley
It was made clear NXT would have a huge presence at the Rumble, and that puts current champion Ripley in the match. After only two years of women's Royal Rumble matches, the record for number of eliminations is set at four. A handful of women from Nia Jax, Michelle McCool and Charlotte hold that title.
I would bet any prop that Ripley has the most eliminations with at least five. From a points perspective, Ripley will earn points for entry and compete for longest time in the ring.
Liv Morgan
Creative has had a heck of a time rebuilding the character of Morgan. The former Riott Squad member came back to RAW proclaiming a relationship with Lana at a wedding that had Rusev hidden in a cake.
As Chris Jericho would say, "that was a stupid idea from bad creative." This format allows us to predict the shortest time for 200 points and Morgan fits the bill. She was the first person eliminated from the 2019 Royal Rumble, and more of the same will happen Sunday night.
Selections for Men's Royal Rumble Match
Brock Lesnar
Enjoy a free 300 points with this selection, as Lesnar has announced he will be first to enter on the men's side. This does set the current WWE champion up to have the longest attendance, but expect Lesnar to be eliminated by a future Wrestlemania counterpart.
The crowd would go bonkers for "Metalingus" blasting after the buzzer for the return of Edge, but my money is on Kofi Kingston eliminating the Beast.
Roman Reigns
The leader of the betting markets is a must on a fantasy roster. Reigns has been held away from the championship picture since his return from leukemia. WWE would miss a huge opportunity to not make Reigns a record tying 3-time Rumble winner, setting up a Wrestlemania main event. Will the Rock be there to greet Reigns after closing the show?
Aleister Black
Every year, WWE wants to take a rocket and strap it to a wrestler's back. Black has been apart of a core four wrestlers WWE wants to build around, as the list includes Andrade, Ricochet and Drew McIntyre.
While those three wresters each have their own program, Black has purposefully been kept off screen. His gradual reintroduction to the WWE Universe has been against jobbers each week. The Royal Rumble serves as a perfect platform for his awesome intro to come in early and hang around until the final four.
Finn Balor 
As I said with the women, NXT will have a big role in the Royal Rumble. While Keith Lee got all the love at Survivor Series, Balor has plenty of Rumble experience and could be in the ring wire to wire.
His previous matches with Brock Lesnar were held in high regard and an early entry would be celebrated. That may not be in the cards though, as Balor sent a not so cryptic tweet about the Rumble
With the number 30 included in this tweet, speculation has run rampant that Balor will be the last entry into the Rumble. That is good enough for 250 points and a selection on our pool entry.
Ricochet
We mentioned that Ricochet is a wrestler that the WWE is looking to build on, but after this past Monday Night Raw, that may not be the case in this spot.
Ricochet boldly called out Brock Lesnar before heading to suplex city. The Royal Rumble script has been written for the young superstar, and a 200-point shortest time may be the play. Lesnar is expected to annihilate the first few competitors through the curtain. The betting market has moved Ricochet out to 37/1, making him a great candidate for quickest exit.
Kofi Kingston
The pool thins out quick considering Lesnar will scoop first to join and Reigns more than likely takes home the 600 points for winning. A durable long shot for the Rumble is needed, and Kingston can fill so many plot lines after this past year.
Kofi lost the WWE Championship on Smackdown's FOX debut in embarrassing fashion. The New Day member could be written to eliminate Lesnar, last through all 29 other competitors and even secure a Wrestlemania main event spot.
With so much Rumble experience and backstory with the events biggest names, Kingston is the safest long shot on the board despite 45/1 odds in the betting market.
How would you rate this article?