Palmer: What's Next for Manny Pacquiao After Upset vs. Yordenis Ugas?
Credit:
Steve Marcus / Getty Images. Pictured: Manny Pacquiao
Father Time is undefeated.
In the sport of boxing, it creates a particularly harsh cycle that clears out the old to make way for thew new as up-and-coming boxers from a new era gain prominence by defeating boxers from a previous era.
That's exactly what happened Saturday night as Yordenis Ugás (27-4, 12 KOs) upset Manny Pacquiao (62-8-2, 39 KOs) in a fight in which Pacquiao looked all of 42 years old after a two year absence from the ring.
Pacquiao entered the ring as high as -400 at some books in a fight that was expected to be a culmination of his Hall of Fame career; Ugás had other plans.
Despite taking the fight on just just 11 days notice after Errol Spence Jr. pulled out due to an eye injury, Ugás scored the unanimous decision to retain his WBA "super" welterweight title with judges scoring the fight: 116-112, 115-113 and 116-112.
Relying on defense, his jab counter punching and a looping right hand that seemingly landed at will all night, Ugas out-landed Pacquiao 151-130 in total punches while also landing 59% of his power punches, according to CompuBox.
"Manny had trouble reaching Ugas." Freddie Roach said in the post fight press conference. "Manny was not able to solve Ugás's height and reach advantage."
Nonetheless, the clear and decisive win for Ugás left Pacquiao questioning his future. In his attempts to take on all challengers without ducking elite up-and-coming competition, Pacquiao had his fair share of upsets since 2005 with losses to Erik Morales, Timothy Bradley, Juan Manuel Marquez, Jeff Horn and Ugás.
Notable Upsets Pacquiao's Career
| Opponent (Date) | Pacquiao Odds | Opponent Odds |
| --- | --- | --- |
| Yordenis Ugás (8/21/2021) | -400 | +325 |
| Jeff Horn (7/2/2017) | -650 | +475 |
| Juan Manuel Márquez (12/8/2012) | -330 | +260 |
| Timothy Bradley (6/9/2012) | -450 | +325 |
| Erik Morales (4/19/2005) | -130 | +110 |
While Ugas could be had at +500 to win by decision, the loss marks just the third biggest upset of Pacquiao's career behind his losses to Horn in 2017 and Bradley in 2012.
Although both the Horn and Bradley decisions were controversial with many fans and analysts believing that Pacquiao was robbed, this was the first convincing loss since his brutal knockout loss against Marquez in December 2012.
Ugas pulls off the huge upset over Pacquiao!

He was +500 to win on points 😮

— BetMGM 🦁 (@BetMGM) August 22, 2021
What's Next for Pacquiao
Although Ugás mentioned that he would give Pacquiao a rematch in the post fight press conference, there doesn't seem to be an appetite for a second fight between the two, and retirement appears to be on the horizon for Pacquiao, who struggled to mount an offense, landing just 16% of his punches despite throwing 68 punches per round according to CompuBox.
For context, Pacquiao landed 19% of his punches in his 2015 unanimous decision loss to Floyd Mayweather in which he landed just 81 punches over 12 rounds.
Many of Pacquiao's problems in this fight stemmed from calf problems which have plagued him since 2012.  Pacquiao spoke about the issues he had moving around in this fight.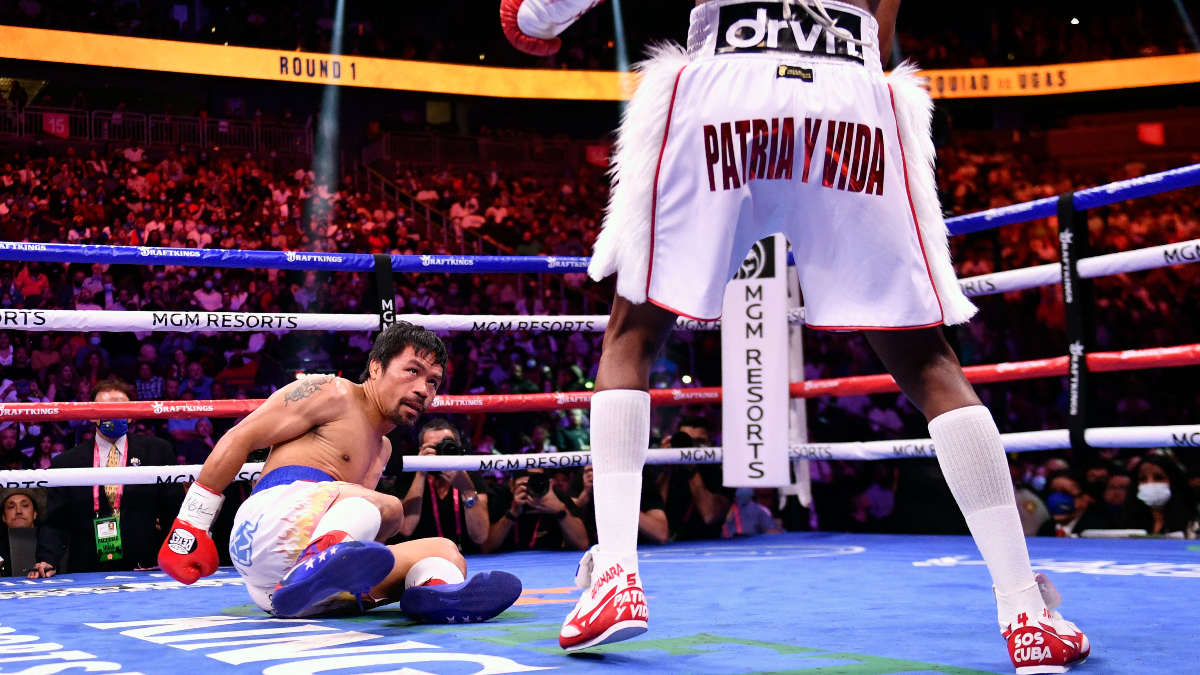 "I'm not saying this is my excuse, but my two legs were cramping. That's why I could not move around. In the early days (of my career), I could easily move and outbox him, but this time around, it was like my two legs were tight and hurting me in the second round until the 12th round."
As far as Ugas goes, his unanimous decision victory of Pacquiao has just given him .
With a victory like this over Pacquiao, Ugás' profile has been raised significantly and he has a number of options for his next opponent. He could look for a rematch against Shawn Porter, or look towards Keith Thurman, or a potential super fight against Spence.
For Pac Man, the future is less certain.
With Pacquiao mulling a Presidential run in the Philippines and set to make an announcement next month, its likely we've seen the last of him in the boxing ring.
"In the future, you might not see Manny Pacquiao again fight in the ring. I don't know. But for how many decades, I'm happy with what I've done in boxing. I contributed a record and brought boxing to the top, and especially, brought honor to my country, the Filipino people.
Whether there's a purse or not, in my heart, I want to fight. I want to continue fighting. But the thing is, I also have to consider my body. I have to consider my work (as a politician) back in my country.
There are a lot of things I need to accomplish and to help people. And I want to be an inspiration to all the people."
How would you rate this article?