Why You Should Consider Albert Okwuegbunam's Upside In Dynasty Rookie Drafts
Credit:
Nick Tre. Smith/Icon Sportswire via Getty Images. Pictured: Albert Okwuegbunam
Albert Okwuegbunam Dynasty Rookie Analysis
Position: TE | School: Missouri
Height: 6'5" | Weight: 258 pounds
40-yard dash: 4.49 seconds
2020 Age: 22 | Class: Redshirt Junior
Recruitment Stars: 3
Draft Position: 4.118 (Broncos)
Albert Okwuegbunam's Fantasy Fit with Broncos
Tight ends take a while to develop anyway, and Albert O. dropped out of Day 2, so … that's not great. Plus, he's buried on the depth chart.
TE Albert Okwuegbunam going to the Broncos at 4.118.

Stuck behind Noah Fant, one of his closest pre-draft comps.

Not ideal.

— Matthew Freedman (@MattFtheOracle) April 25, 2020
Okwuegbunam still has a world of potential, but he seems highly unlikely to be a fantasy-relevant player in 2020, and if he breaks out at all, it will likely be in 2022 at the earliest.
Albert Okwuegbunam: Dynasty Analysis
Oh, baby. And by "Oh, baby," I mean "Albert O., baby!"
Regardless of wherever he is right now in my rankings — wherever he is right this moment, right as I type this very sentence — I need to move him up the board. It will be almost impossible to take Okwuegbunam too high in dynasty rookie drafts.
Let's cut through all the narrative trash and put the bottom line up front: Okwuegbunam is Okwuegbunawesome.
[Easy Money! Get 2-1 Odds on Joe Burrow to Go No. 1 … (Yes, We're Serious)]
At the combine, he blazed an amazing 4.49-second 40-yard dash, which puts him in incredibly elite company. Over the past 15 years — about as far back as the league has reliable combine data — these are the players to run faster than a 4.55-second 40-yard dash and be drafted in the first five rounds.
Vernon Davis (2006, 1.06): 4.38 seconds
Evan Engram (2017, 1.23): 4.42 seconds
Jared Cook (2009, 3.89): 4.50 seconds
Noah Fant (2019, 1.20: 4.50 seconds
O.J. Howard (2017, 1.19): 4.51 seconds
Greg Olsen (2007, 1.31): 4.51 seconds
George Kittle (2017, 5.146): 4.52 seconds
Ladarius Green (2012, 4.110): 4.53 seconds
Mike Gesicki (2018, 2.42): 4.54 seconds
It's hard to find a cohort much better than that.
Athleticism means so much at the tight end position, and Okwuegbunam is rarely gifted with his physical abilities.
Per Mockdraftable, the tight end prospect of the past 20 years to whom Albert O. is most comparable — based only on combine measurables — is two-time All-Pro Travis Kelce. The overall prospect to whom he's most physically similar? Former All-Pro edge rusher Robert Quinn.
In the best of ways, Okwuegbunam is a true freak.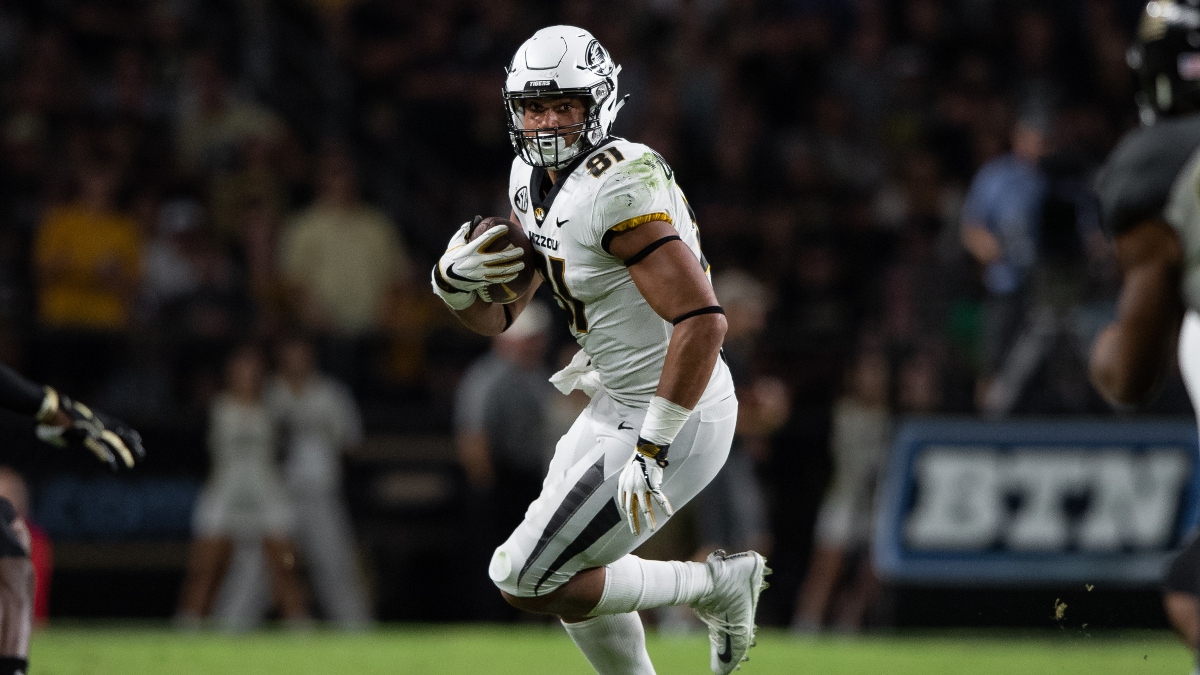 If I go into the RotoViz Prospect Box Score Scout and assign Albert O. to pick No. 118, three of his 10 most comparable players (on the basis of draft position, physical profile and college production) are Kittle, Kelce and Martellus Bennett.
I think Okwuegbunam was underdrafted at No. 118. He is ranked No. 39 in Gil Brandt's Hot 150, and given how connected Brandt is in the league, his Hot 150 usually reflects the NFL's valuation of most rookies.
In Brandt's estimation, Okwuegbunam is a "take-a-chance prospect who is 70% boom and 30% bust."
I totally agree. NFL teams were pigheaded not to make him a top-100 pick.
If he had declared last year, Albert O. might have been a first-rounder as a 21-year-old redshirt sophomore à la David Njoku in 2017. But he instead returned to Missouri, where he missed games and struggled with a shoulder injury for a second consecutive season.
So now instead of entering the draft as a noted high-upside prospect who had 11 touchdowns as a freshman, he's an injury risk who had just 12 touchdowns in his final two seasons. But all it takes is one team to fall in love with Albert O., and he has the raw tools, based on his position-high 99 Draft Score from Next Gen Stats.
Albert O. isn't much of a blocker or route runner, but he has near-elite above-the-rim ability at the catch point and matches up incredibly well with linebackers and defensive backs alike.
A massive boom/bust prospect, Albert O. has No. 1 overall tight end upside and "I can't believe I thought that guy was good" downside.
I'm looking to bet heavily on his upside.
NFL Prospect Comp: Jimmy Graham but more productive and two years younger
More Dynasty Analysis For Freedman's Top Rookies
---
Matthew Freedman is the Editor-in-Chief of FantasyLabs, part of The Action Network.
How would you rate this article?