Our Experts' Favorite Best Ball Targets For 2020 Fantasy Football Drafts
Credit:
Getty Images. Pictured: Kareem Hunt, Mecole Hardman
Best ball is the new frontier of fantasy football.
If you're unfamiliar with the format, here's a quick explainer:
It's all about the draft: There's no in-season roster management in best ball. That means no trades, no waiver wire, no lineup setting. You draft teams then watch them rack up points.
So how do starting lineups work? Your highest-scoring players at a set number of each position are automatically counted toward your starting lineup each week.
With so many new best ball players in the game — DraftKings, Yahoo, etc. — our trio of fantasy football rankers are here to help you gain an edge in these drafts with their favorite targets at each position.
Let's take a look at each of their picks then dig into their analysis.
Best Ball Players To Target In 2020

Click any position or player name in the table below to skip to the corresponding analysis.
QUARTERBACKS
Sean Koerner: Jimmy Garoppolo
Sean is Action's Director of Predictive Analytics and was FantasyPros' No. 1 fantasy football draft ranker of 2019.
Jimmy G doesn't fit the typical best ball profile. He's a pocket passer on a run-heavy team. However, he did rank 12th in my Best Ball Points Added (BBPA) metric last year thanks to some massive games in Weeks 2, 9, 11 and 14.
A lot of his success can be attributed to playing in the Kyle Shanahan system. The 49ers do an incredible job setting up play-action passes — a crucial reason QBs like Jimmy G and Ryan Tannehill can put up substantial numbers in run-heavy offenses.
Garoppolo already had the most passing yards on play-action last season with 1,674 (per SportsInfoSolutions), and first-round rookie WR Brandon Aiyuk should give Jimmy G a deep threat to boost his weekly ceiling even more.

His average draft position (ADP) as the QB23 seems like a steal right now.
Chris Raybon: Gardner Minshew
Chris was the fourth-most accurate FantasyPros ranker in 2019 and has watched every NFL snap since 2010.
Despite starting only 12 games as a rookie, Minshew posted three 25-point games in DraftKings scoring. His upside comes from his dual-threat capabilities as a scrambler (27.5 rushing yards per start) who can post league-average passing efficiency numbers (his 91.2 passer rating ranked 16th of 32 qualifiers).

The Jags have the lowest win total in the NFL (4.5 at DraftKings), which means his performance may not be dictated by defensive matchup, but by how big of a hole his squad finds itself in in a given week.
Matthew Freedman: Ben Roethlisberger
Matthew is the Editor-in-Chief of FantasyLabs and was the sixth-most accurate FantasyPros ranker in 2017.
For this position in best ball, I want to find cheap players likely to provide fantasy QB1 performances at a rate higher than we'd expect given their ADPs. Phrased differently: Late in the draft, I want to find players who can provide as many QB1 performances as most of the players selected far earlier.
Roethlisberger fits that description.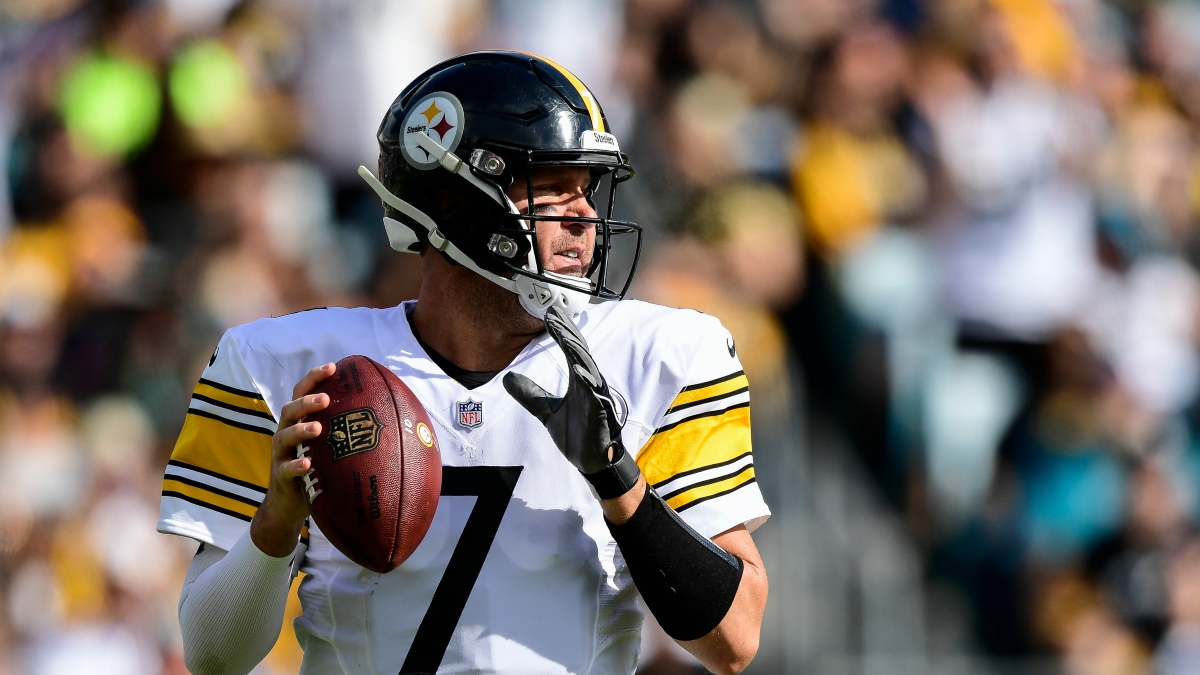 Russell Wilson and Dak Prescott are often the Nos. 4-5 quarterbacks selected in fantasy drafts. Over the past half decade, Wilson has had a QB1 rate of 55% while averaging 22.6 points per game. In his four year career, Prescott has had similar numbers with a 53% rate and 21.2-point average.
Roethlisberger? 54% and 21.7 points per game over the past five years.
Sure, he doesn't have Antonio Brown anymore, but Roethlisberger has four wide receivers who have been selected with top-75 picks over the past three years, including JuJu Smith-Schuster, who had one of the best 22-year-old receiving seasons in NFL history. Roethlisberger also has two above-average receiving backs in James Conner and Jaylen Samuels and an upside tight end in Eric Ebron.
Roethlisberger missed almost all of the 2019 season, but in 2018 he led the league with 5,129 yards passing and 675 attempts. As a mid-range QB2, he provides strong value as a QB1 arbitrage play, and his home/road splits won't be a nuisance in best ball formats.

[Sign Up To Play Best Ball On DraftKings Now]
RUNNING BACKS
Freedman: Zack Moss
Moss works well for best ball because I expect him to have a built-in yet volatile role in the Bills offense. When he provides fantasy-useful performances, they will likely come as the result of either touchdowns or large reception totals, both of which are hard to predict on a week-to-week basis. In best ball, though, you can simply benefit from the points without needing to get the timing right.
And I feel pretty confident that Moss will have a role.
As good as Devin Singletary was in 2019 — especially in the second half of the season when he had 131-603-1 rushing and 20-136-1 receiving — the fact is that dusty 36-year-old Frank Gore, who averaged just 3.6 yards per carry, still managed 10.4 carries per game for the Bills.
Singletary is a smallish back (5-foot-7, 203 pounds), and Buffalo's decision to use the No. 86 pick on Moss this year suggests that the Bills don't intend to give Singletary a voluminous workload. Moss will figure into the team's gameplans.
And it's possible that the role Moss gets will be significant. Even though Singletary was the clear lead back in the second half of 2019, he managed just two touchdowns and 20 receptions. For the season, Singletary had only 4.7 yards per target, and in his final collegiate season, he had just six receptions.
Singletary is not a goal-line bruiser, and he's not much of a receiving option. But Moss is. In his three seasons as a lead back at Utah, Moss scored 39 touchdowns in 35 games, and as a senior he had a 28-388-2 receiving performance.
While Singletary gets the empty calories that come with a bounty of non-red-zone carries, Moss could feast on the protein of touchdowns and receptions. And if Singletary were to suffer an injury, Moss would almost certainly emerge as a high-end three-down back with little competition for work.

With his RB4 acquisition cost, Moss is priced near his floor.
Koerner: Kareem Hunt
Hunt fits the RB profile I typically end up having the most exposure to in best ball. At RB29, he acts as the bridge between Week 1 starters and high-upside backups.
The Browns will likely be a very run-heavy team under new head coach Kevin Stefanski, which should allow Hunt to carve out a role in which he has flex value most weeks. Even if Nick Chubb were to be healthy all 16 games, I would bet the Hunt comes close to paying off his current price. And in the event Chubb was to miss time, Hunt would be able to put up RB1 value.
His current ADP doesn't seem to be pricing his upside.

Last season my highest-owned RB was Latavius Murray, who fit the same profile as Hunt, and finished as the RB18 — a finish mostly fueled by Weeks 7-8 when he started for Alvin Kamara.
Raybon: Tony Pollard
There are so many reasons to like Pollard in best ball:
1. He doesn't need a lot of touches to produce: Pollard forced 26 missed tackles on 101 touches, ranking first among 61 qualified running backs in Pro Football Focus' Elusive Rating. Small-sample yards per carry figures can be misleading, but the underlying metrics support the smooth 5.3 Pollard averaged on 86 totes as a rookie last season.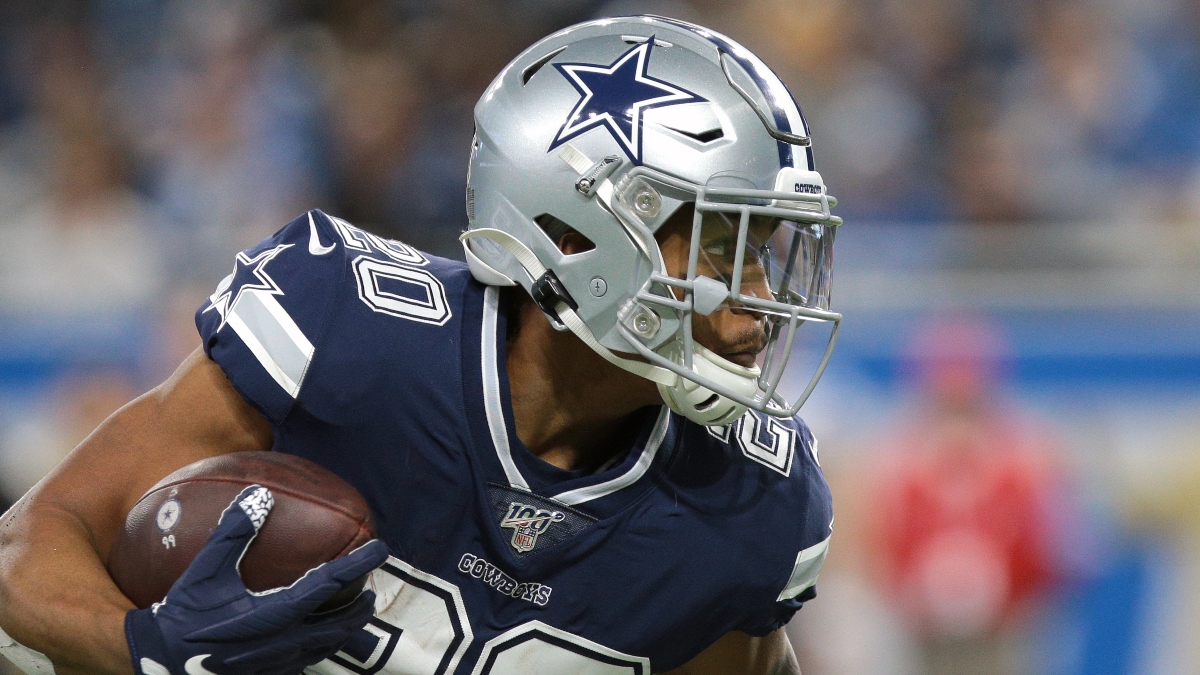 2. He could be used in RB/WR hybrid role: Pollard spent 15% of his snaps lined up as a receiver last season, and new head coach Mike McCarthy gave RB/WR Ty Montgomery 6.4 carries and 3.8 targets per game from 2016 to 2017.
3. The blowout factor: The Cowboys won six games by 18 or more points last season and could be even better this year, and we started to see Ezekiel Elliott cede snaps to Pollard in the last two blowouts, affording Pollard the opportunity to handle 15 touches in Week 15 and 14 in Week 17.
This trend could continue with offensive coordinator Kellen Moore being retained. not to mention McCarthy himself gave longtime backup James Starks 12% more carries per game in two-score games than one-score games over the course of his career in Green Bay.
4. He's Zeke's handcuff: Zeke handled 22.2 touches per game last year and averages 24.3 for his career. You couldn't name a running back on the Cowboys depth chart after Zeke and Pollard if you tried.
If Zeke goes down, Pollard is a league winner.

WIDE RECEIVERS
Raybon: Mecole Hardman
Nobody had more fantasy points per target than Hardman last season (2.77, per Player Profiler).
And now he's about to get a lot more targets.
According to a May report from ProFootballTalk.com, Chiefs special teams coach Dave Toub said that "a bigger offensive role for Hardman may limit his availability for the kicking game."
His increase will presumably come at the expense of Demarcus Robinson, who (inexplicably) played 70% of the snaps last season, and ran 29.3 (too many) routes per game to Hardman's 45% and 18.3, respectively, according to Pro Football Focus. The Chiefs made it clear Robinson wasn't in their plans by allowing him to test his market in free agency, which was unsurprisingly ice-cold, before re-signing him to a one-year deal.
At a minimum, I'd expect those roles to flip, but Hardman nearly doubled up Robinson in yards per route run (1.84-0.96), so it's possible Hardman becomes even more than just a 70% snap player, especially given how his special teams coach is talking.
Either way, he will have massive upside, because that's what you get when you couple a receiver with 4.33-speed — that's in the 99th-percentile, for those not in the 40-yard dash time know — and rifle-armed quarterback Patrick Mahomes.
As a rookie, Hardman was more than halfway to 1,000 yards (538) despite getting only 41 targets. Thanks to a deep-ball connection with Mahomes that produced 5/234/3 on seven targets 20-plus yards downfield, Hardman led all receivers with at least 40 targets in yards per catch (20.79) and yards per target (13.12).

A starting role doesn't guarantee Hardman will be higher than fourth or fifth in the target pecking order, so there will be some down weeks, but he managed to post 10-plus DraftKings points in 8-of-16 games last season despite his limited role. Those could easily turn into 20-point games this year.
Koerner: Will Fuller
Fuller is the ideal WR to draft in best ball at his current ADP (WR33). He finished as the WR30 in my Best Ball Points Added metic last year despite missing five games.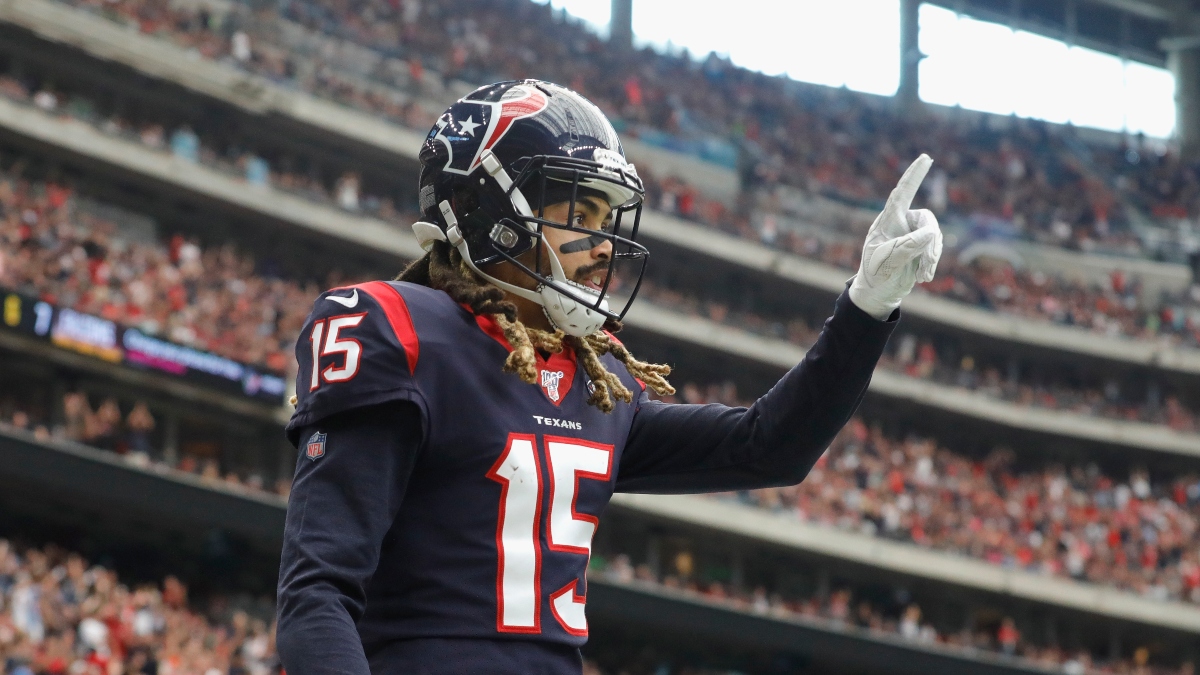 While we can never bank on Fuller staying healthy, we can count on spiked weeks from him. Most of his value in 2019 came in Week 5, when he posted a 14/217/3 receiving line. In re-draft formats, it's not ideal to have so much of a player's production come from only a few games as those extra points lose value if you blow out an opponent. However, in best ball, every point counts.
That gives Fuller's ceiling games even more value in this format.

With DeAndre Hopkins out of the picture, we could see even more spiked weeks from Fuller this season.
Freedman: DeSean Jackson
Jackson is old, and he has missed 17 games plus most of two others since 2018. On top of that, he's an extremely volatile producer.
But in best ball, his volatility is a virtue, and I'm not too worried about his age: Since 2014, Jackson's first non-Eagles season, he ranks No. 1 among all wide receivers with 10.3 yards per target. And over his past two injury-plagued campaigns, Jackson has actually bumped that number up to 11.1.
Dude can still ball.
Is D-Jax likely to miss some games with an injury? Probably.
But drafters are overweighting his recent injury history. Since his age-30 season (2016), Jackson's median number of games played has been 13. Since his age-28 season (2014), his median has been 13 games.
If Jackson plays 13 games this year, he could lead the Eagles in air yards, receiving yards and maybe even receiving touchdowns.
The Eagles have two incredibly strong tight ends in Zach Ertz and Dallas Goedert, but they are uncertain at wide receiver. Alshon Jeffery might start the season on the Physically Unable to Perform list, and Jalen Reagor and J.J. Arcega-Whiteside are both raw.
If Jackson stays healthy, he could crush. Since 2014, D-Jax has averaged 20.7 fantasy points and 99 yards receiving per game when he has scored a touchdown.
What happens if he gets a little lucky this year and happens to score eight touchdowns?

#LeagueWinner.
TIGHT ENDS
Freedman: Eric Ebron
My analysis on Ebron is pretty simple. A lot of tight end scoring is driven by touchdowns, and of all the tight ends going outside the top 12, he might have the best chance to score double-digit touchdowns.
The Steelers should be as prolific as usual with the return of Roethlisberger, and they don't have an established touchdown receiver on the team — other than maybe Ebron, who in 2018 trailed only then-Steelers wide receiver Antonio Brown with 13 touchdowns through the air.

As one of the last tight ends regularly taken in the "point of no return" tier, Ebron has under-appreciated upside, and his touchdown-dependent volatility won't be a pain to navigate in best ball.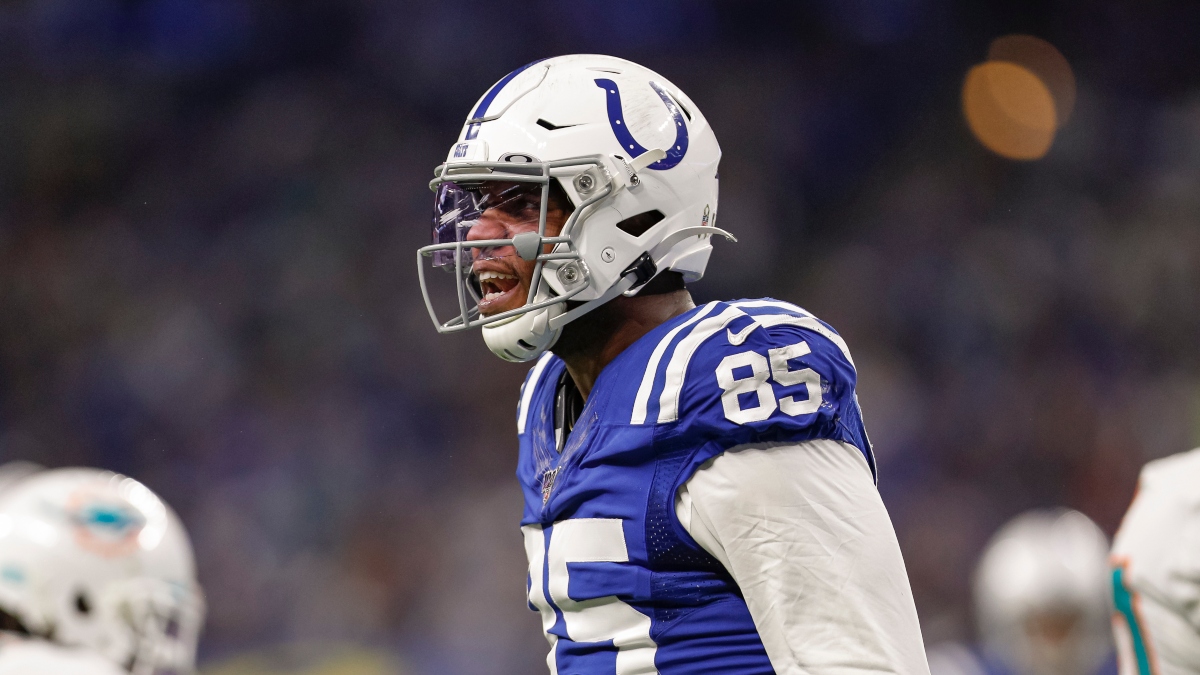 Raybon: Noah Fant
Tight ends tend to struggle in Year 1, but Fant bucked the trend by establishing himself as one of the premier big-play threats at the position. His 14.1 yards per catch ranked second among 44 tight ends with at least 25 targets in 2019, and he ranked eighth at the position in catches of 20-plus yards (10) despite ranking 18th in total receptions (40).
Fant's rookie-year stat line (40/562/3) compares favorably to that of fellow Iowa alum George Kittle (43/515/2), and we all know how that turned out.
Like Kittle, Fant has enough explosiveness to post big weeks even in what's expected to be a low-volume pass offense. Adding wide receivers Jerry Jeudy and KJ Hamler in Rounds 1 and 2, respectively, may cap Fant's targets ceiling compared to if DaeSean Hamilton and Tim Patrick remained the starters, but the rookies should also ensure Fant gets enough single coverage to thrive.

Don't be surprised if Fant doubles up or better on the two 100-yard games be posted as a rookie.
Koerner: Dallas Goedert
I don't care if I sound like a broken record with Goedert — his ADP of TE16 makes him a steal in both re-draft and best ball formats.
Much like Kareem Hunt, Goedert is likely to hit value at his current ADP even if Zach Ertz plays all 16 games. And in the event Ertz does miss time, Goedert would push top-five value.
That is the very profile I try to have a ton of exposure to in best ball.
How would you rate this article?