Why Cam Akers Has A High Fantasy Dynasty Ceiling With Rams
Credit:
Logan Stanford/Icon Sportswire via Getty Images. Pictured: Cam Akers
Cam Akers Dynasty Rookie Analysis
Position: RB | School: Florida State
Height: 5'10" | Weight: 217 pounds
40-yard dash: 4.47 seconds
2020 Age: 21 | Class: Junior
Recruitment Stars: 5
Draft Position: 2.52 (Rams)
Cam Akers' Fantasy Fit with Rams
I've bet on Akers at +5000 to be the 2020 Offensive Rookie of the Year. He might already be a top-12 fantasy back. Get him everywhere.
Cam Akers: Dynasty Analysis
The 2020 class lacks quality depth at running back, but the top six at the position stack up well against the top six from any other class, and Akers is a big reason for that.
If you check out the RotoViz Combine Explorer, you'll see that a high percentage of the 20 players to whom Akers is most physically comparable as a prospect — 50% of the backs, in fact — averaged at least 10 fantasy points per game in their first three seasons.
And that doesn't even take into account Akers' age, production, recruitment grade or draft position.
Entering the NFL draft, I had Akers lower in my rookie rankings than most analysts did, but that was simply because I value wide receivers significantly more than running backs in dynasty. In terms of my overall outlook for Akers — what I expect him to do in the league — I might be the most bullish person in the industry.
I expect him to crush. Absolutely crush.
He entered college as a top-five overall recruit and a five-star all-purpose championship-winning quarterback who passed for 3,128 yards and 31 touchdowns and rushed for 2,105 yards and 34 touchdowns as a high-school senior, and in his three years as a starting running back in college, he did nothing to suggest that the evaluation people had of him as a recruit was wrong or that he won't be able to play in the NFL.
The average college football probably thinks that Akers is overrated. And it's true that he never had an overwhelmingly dominant season. But that's not entirely his fault, given that he ran "behind one of college football's worst offensive lines over the past few seasons" (per Pro Football Focus). To be exact, the fourth-worst Power Five run blocking unit.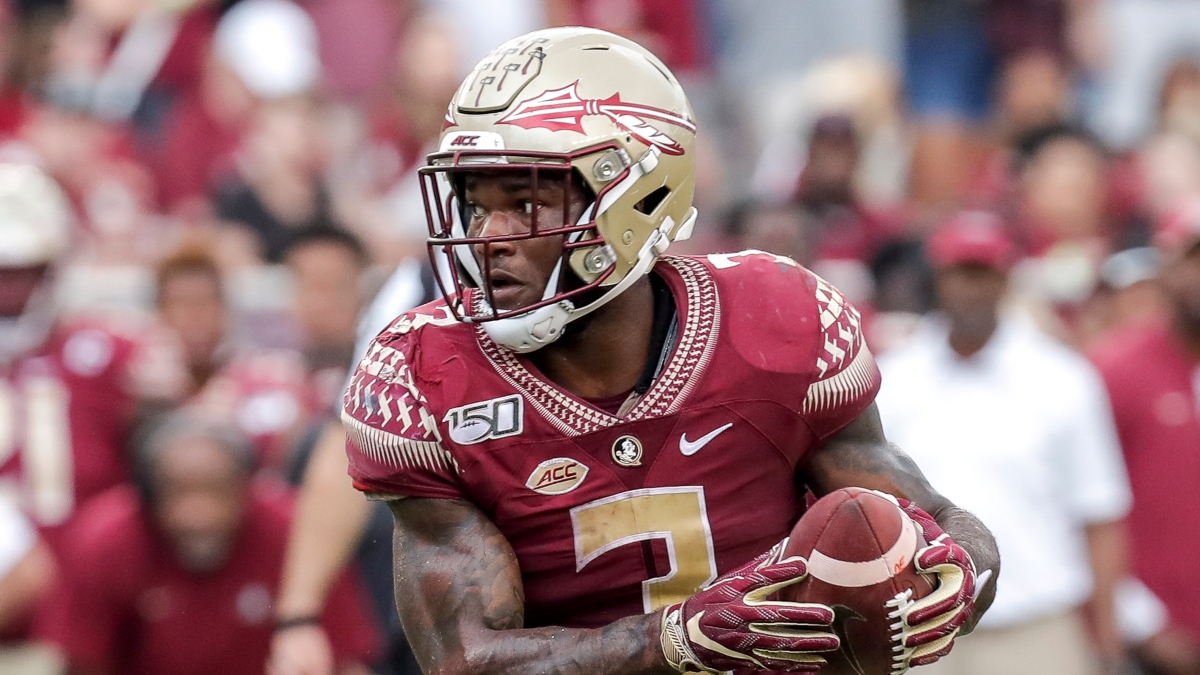 As a point of comparison, some of the other top backs in the class had significant better blocking from their offensive lines in 2019.
De'Andre Swift (Georgia): 1st
Jonathan Taylor (Wisconsin): 6th
Clyde Edwards-Helaire (LSU): 14th
That Akers was productive at all is a minor miracle — and he was productive. Even though he never had a full-on in-your-face campaign, in 2017 he broke Dalvin Cook's FSU rushing record for a freshman, and in 2019 he returned to form after a down sophomore campaign.
2017 (FR): 194-1,015-7 rushing, 16-116-1 receiving in 13 games
2018 (SO): 161-706-6 rushing, 23-145-2 receiving in 12 games
2019 (JR): 132-1,144-14 rushing, 30-225-4 receiving in 11 games
And, in 2019, Akers averaged over 100 yards rushing per game "while facing contact at or behind the line of scrimmage at the highest rate of any FBS back in the country" (per PFF).
Akers is a smooth runner, functional receiver and strong pass protector: In 324 pass-blocking snaps, he allowed only 15 pressures (per PFF).
And it doesn't hurt that in college he was 5-of-8 passing for 97 yards, amirite?
Akers' over/under for LaDainian Tomlinson-esque halfback touchdown passes in the NFL? I'm setting it at 1.5.
Over the past 25 years, there have been six 21-year-old second- and third-round rookie running backs to play at 210-plus pounds and have multiple 1,000-yard seasons in college.
Here's how they've done in the NFL.
Ahman Green (1998, 3.76): Six 1,000-yard seasons
Bernard Pierce (2012, 3.84): Nada
Le'Veon Bell (2013, 2.48): Five 1,000-yard seasons
Joe Mixon (2017, 2.48): Two 1,000-yard seasons
Kerryon Johnson (2018, 2.43): Waiting
Alexander Mattison (2019, 3.102): Waiting
Akers might be Pierce 2.0, but I think its likelier he's a premium version of Green. He looks like a future top-12 back.
NFL Prospect Comp: Marshawn Lynch with less draft capital
More Dynasty Analysis For Freedman's Top Rookies
---
Matthew Freedman is the Editor-in-Chief of FantasyLabs, part of The Action Network.
How would you rate this article?