How Dalvin Cook Holdout Should Impact Your Fantasy Football Draft Strategy
Credit:
Jonathan Bachman/Getty Images. Pictured: Minnesota Vikings star running back Dalvin Cook.
Dalvin Cook — who recently debuted as our fantasy football experts' consensus RB4 in PPR formats — is now threatening to holdout if the Minnesota Vikings don't offer him a "reasonable" extension according to ESPN's Adam Schefter.
So how does this news impact our experts' approach to Cook in re-draft leagues? What about best ball drafts?
Sean Koerner, Matthew Freedman and Chris Raybon analyze the situation as well as how it could impact Alexander Mattison's fantasy value below.
How does it impact how you're approaching Dalvin Cook in drafts?
Chris Raybon: No impact just yet.
It's so early in the process that any adjustment based on projected likelihood of games missed would be minimal. As this plays out, we will see if Cook is willing to put his year of service at risk (an unexcused absence of more than five days could put this in jeopardy), and if the Vikings are willing to prove their offer.
Until we get more concrete news, I am not changing how I draft because I don't feel the risk has changed.
If you're looking for an ultimate projection of how much Cook would fall in rankings in a worst-case scenario in which the season is set to open and we have no resolution, I would view it as if the rankings of Cook and Alexander Mattison were to converge and meet around RB24/25.
Matthew Freedman: I view the recent news of Cook's holdout much the way that Shakespeare's Macbeth views life: "It is a tale / Told by an idiot, full of sound and fury / Signifying nothing."
Cook has zero leverage.
It's easy to say that you're not going to participate in team activities when "team activities" is a fancy phrase for "Zoom meetings." It's not at all hard to say that you're not going to report to training camp when training camp is yet to be scheduled. It's an outright thrill to say that you're not going to play a game without a new contract when you're in the middle of the offseason and professional sports have been on hold for three months.
Because of the new collective bargaining agreement, Cook will put his 2021 unrestricted free agency at risk if he misses as many as five days in a holdout.
Maybe Cook is already #howrich enough to sacrifice the 2020 season and actually sit out, but I doubt it. And if he does sit out, then he will be a restricted free agent next year, and he would be forced once again to deal with the Vikings.
Perhaps I'm being stupidly utopic, but my sense is that Cook and the Vikings will find a way to get a deal done before the season starts.
If he starts to drop in drafts — whether it's redraft or best ball — I'll be investing in him at an above-average rate as early as the back half of Round 1.
Sean Koerner: There are two factors we need to consider here:
How should we handle risk assessment when it comes to our overall draft strategy?
How likely is it that Cook ends up missing games due to a holdout?
First, let's talk about risk assessment and how I view it for the first few rounds.
Rounds 1-3 of the draft often requires the least amount of skill. Your draft position has a significant impact on which players will be available with your first few picks. It's often a narrow range of outcomes for the first few rounds, given your draft position. Most of the skill involved in fantasy football comes in the mid- to late rounds and in-season management.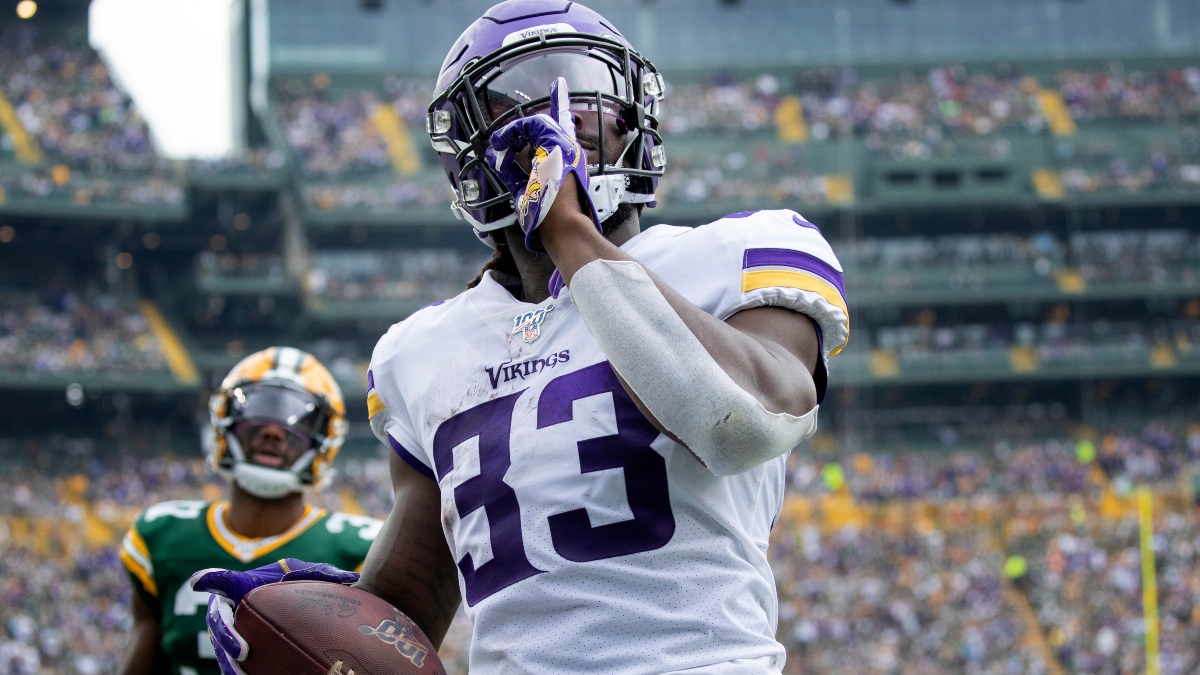 Drafting Cook in the first round would feel a bit like sacrificing my skill to roll the dice on luck. That is something I will try to avoid.
Now, the question of whether Cook will miss games due to the holdout is what will dictate how I'm approaching him in drafts.
As Freedman pointed out, Cook lacks any real leverage given the new CBA. That makes me think it's much less likely that his holdout will spill into the regular season.
This is a great situation in which to leverage the wisdom of the crowds, so I created a Twitter poll, which I've found to be an effective way of getting a rough estimate of the true odds as well as a snapshot of public perception.
Here are the results based on 1,140 votes as of writing:
How many games will Dalvin Cook miss (due to holdout) in 2020?
0 games: 51.1%
1-4 games: 28%
5-8 games: 9.6%
9+ games: 11.2%
If I were to draft a team right now, the toughest scenario would be having the ninth pick and having to decide between Cook and Joe Mixon. I don't think Cook will ultimately miss any games due to his holdout, but I would likely draft Mixon. In doing so, I would be making the conscious decision to play it safe and not let one player have that much impact on how that team ultimately does.
Best ball is a bit different, though — I'm willing to take on more risk and focus on upside in that format, so if I were drafting today, I'd go with Cook over Mixon.
How does it impact Alexander Mattison's fantasy value?
Raybon: As with Cook, it's too early to make any changes.
If we're headed into the season with no resolution, I'd have Mattison bumped up to a low-end RB2, essentially splitting the projection between him and Cook
In Cook's absence, it's not a given that Mattison slots in to Cook's exact role as far as volume is concerned. The Vikings liked their other backups Mike Boone and Ameer Abdullah enough to keep around even though they also carried two other halfbacks and a fullback, so it's possible we'd see Boone handle a few extra carries and Abdullah handle more of the passing down work than you'd expect if simply plugging Cook's usage in for Mattison.
Freedman: After Round 5 or so, I draft almost entirely for upside. And even though I expect Cook to play this year, Mattison probably has more upside now than he did a week ago, so it's probably worth moving him up a tier.
If Mattison is able to play as the lead back in Cook's absence, I think he could do a reasonable Cook impersonation.
Cook for his career has 4.6 yards per carry and 7.1 yards per target. Last year, as a 21-year-old rookie, Mattison matched him as a rusher with 4.6 yards per carry and showed well as a receiver with 6.8 yards per target.
At 220 pounds, Mattison is built to be a lead back, and in his two final college seasons, he put up 2,958 yards and 30 touchdowns from scrimmage in 27 games.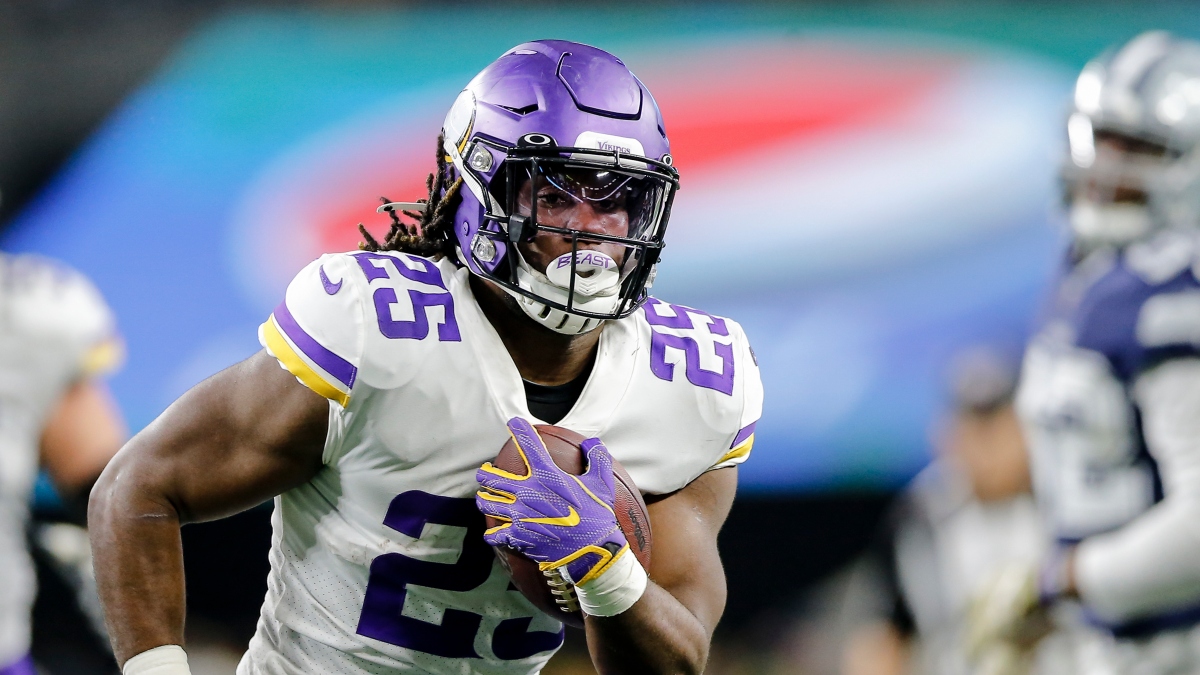 Just last year, Mattison was drafted in Round 3.
One way or another, a big-bodied back with strong college production and a Day 2 draft status tends to break out in the NFL.
If Cook misses more than a couple of games in 2020, Mattison could play like a low-end fantasy RB1.
Koerner: I was already heavily targeting Mattison in early drafts as he'll provide RB1/2 value whenever Cook misses time — I wouldn't let Weeks 16-17 from last season lead you to believe otherwise: The only reason Boone and Abdullah were able to step up when Cook was hurt was Mattison was also out.
I think the Vikings made a statement by drafting Mattison in the third round of last year's draft. They have likely been preparing to move on from Cook once his rookie contract expires, and Mattison is likely who they envisioned would replace Cook.
I'm willing to roll the dice on Mattison and take him inside the top 40 at RB.
Considering Mattison over RBs such as Phillip Lindsay, Latavius Murray or J.K. Dobbins makes sense right now. All four RBs likely need their starting RB to miss time in order for them to see RB1/2 value (for those games). Given Cook's injury history and now the potential of a holdout, I give Mattison a considerable edge over those four backs.
Even if Cook ends up playing all 16 games, it's not like drafting Mattison in this range would have killed your team's chances. That's why I'm willing to take on that level of risk at this point in the draft.
How would you rate this article?