Fantasy Football Rankings & Tiers For QBs, RBs, WRs, TEs, Kickers & Defenses In Week 5
Credit:
Getty Images. Pictured: Panthers WR D.J. Moore, Giants RB Saquon Barkley
FantasyPros' second-most accurate ranker through four weeks reveals the early edition of his fantasy football rankings for Week 5.
Find his rankings for quarterbacks, running backs, wide receivers, tight ends, kickers and defense outlined into tiers below.
Start/sit decisions matter each week of the fantasy football season — that's why I find it vital to outline my rankings into tiers for each position every week, so you can factor in the ever-fluctuating drop-offs in expected production based on matchups and other factors that change week-to-week.
The following tiers are based on my early Week 5 rankings, but I would advise consulting the final version on Sunday morning before locking in your lineups. And, as always, you can see my real-time rankings at any point here.

Fantasy Rankings & Tiers: Week 5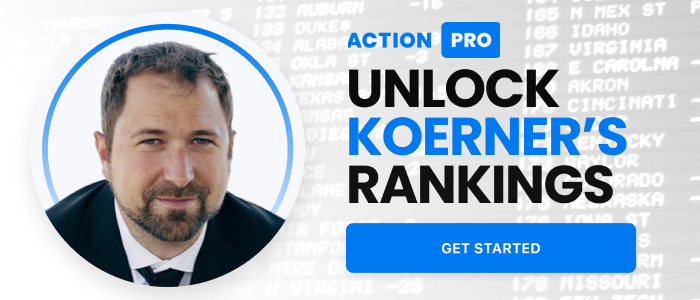 ---
Fantasy QB Rankings & Tiers
Tier 1
Josh Allen (@ KC)
Patrick Mahomes (vs. BUF)
These two face off in the highest totaled game of the week at 56.5 points (check real-time NFL odds here), elevating each other's ceilings as a result.
Tier 2
Kyler Murray (vs. SF)
Lamar Jackson (vs. IND)
Jackson has thrown for 287 and 316 yards over the past two games — and we need to start treating him like the matchup-proof elite QB1 we remember from 2019. Rookie wide receiver Rashod Bateman should be able to make his NFL debut this week, too, which should elevate Jackson's game even more.
Tier 3
Dak Prescott (vs. NYG)
Prescott has buoyed his fantasy value with seven touchdowns passes over the past two games, but he's failed to top 250 yards over the past three with the Cowboys leaning on their run game more.
Tier 4
Matthew Stafford (@ SEA)
Tom Brady (vs. MIA)
Jalen Hurts (@ CAR)
Justin Herbert (vs. CLE)
Russell Wilson (vs. LAR)

Hurts continues to be a cheat code at the position and is the QB3 through four weeks. His 66.2% completion percentage is 2.3% higher than his expected completion percentage, per NFL NextGenStats. The concerns over his accuracy issues appear to have been overblown.
Tier 5
Aaron Rodgers (@ CIN)
Trey Lance (@ ARI)
Kirk Cousins (vs. DET)
Assuming Jimmy Garoppolo ends up missing Week 5, Trey Lance should be treated as a low-end QB1. Lance was able to finish as the QB13 last week despite playing only one half — his dual-threat ability makes him an elite fantasy QB, even if his real-life play needs improvement.
Tier 6
Daniel Jones (@ DAL)
Sam Darnold (vs. PHI)
Ryan Tannehill (@ JAX)
Derek Carr (vs. CHI)
Jones' value continues to climb as the Giants start to lean on him even more. They rank eighth in early-down pass rate and Jones has been responsible for 28% of their total rush attempts, so fire him up as a high-end QB2 against a Cowboys defense that's allowed 300+ passing yards in every game so far.
Tier 7
Matt Ryan (vs. NYJ)
Joe Burrow (vs. GB)
Taylor Heinicke (vs. NO)
Trevor Lawrence (vs. TEN)
Lawrence is starting to lean on his rushing ability more, resulting in a 8/36/1 rushing line last week. It helps elevate him into the low-end QB2 discussion this week. However, losing D.J. Chark to a season-ending ankle injury will prevent Lawrence from ever becoming a high-end QB2 option this season, I'm afraid.
Tier 8
Mac Jones (@ HOU)
Jared Goff (@ MIN)
Baker Mayfield (@ LAC)
Justin Fields (@ LV)
Jacoby Brissett (@ TB)
Brissett is a sneaky low-end QB2 with upside this week since he's likely going to need to throw a ton to keep up with the Buccaneers' high-scoring offense. It also helps that the Bucs secondary has been decimated and is one of the easier matchups for QBs right now.
Tier 9
Teddy Bridgewater (@ PIT)
Zach Wilson (@ ATL)
Jameis Winston (@ WAS)
Ben Roethlisberger (vs. DEN)
Carson Wentz (@ BAL)
Wilson flashed his high-end QB2 upside last week, but it's going to be difficult trusting the rookie week-to-week. So despite the easy matchup against the Falcons (28th in Football Outsiders' DVOA vs. the pass), we have to view him as a low-end QB2/3 option.
One of the most frustrating aspects of Wilson's rookie season has been his lack of rushing stats. He's topped three rushing yards only once this season (3/19/0 in Week 2), despite having the skills to average 15-20 yards a game.
Tier 10
Davis Mills (vs. NE)
Mills doesn't stand a chance going up against Bill Belichick this week.
Tier 11
Taysom Hill (@ WAS)
---
Fantasy RB Rankings & Tiers
Tier 1
Derrick Henry (@ JAX)
King Henry is unstoppable right now. The Titans should lean on him heavily again this week.
Tier 2
Alvin Kamara (@ WAS)
Kamara's fantasy value is being held back by Jameis Winston this season. Despite averaging a healthy 72% routes run rate on the season, Kamara has catch totals of 3, 4, 3 and 0. His production has mainly come on the ground, where he has seen 20+ carries in three of four games.
Tier 3
Austin Ekeler (vs. CLE)
Saquon Barkley (@ DAL)
Dalvin Cook (vs. DET)
Najee Harris (vs. DEN)
Cook's ankle injury limited him to nine rushes for 34 scoreless yards on the ground last week. It's unlikely he will be 100% for Week 5, but even a 70-90% Cook would make him an RB2 play. I will monitor his practice reports closely this week — his rank could fall 1-2 Tiers if it seems like he'll be limited again.
Tier 4
Aaron Jones (@ CIN)
Nick Chubb (@ LAC)
Jonathan Taylor (@ BAL)
Ezekiel Elliott (vs. NYG)
James Robinson (vs. TEN)
Robinson's value shot way up once Carlos Hyde (shoulder) was ruled out of Week 4. Robinson parlayed that into a 18/78/2 rushing line, and there is a chance he'll be a true workhorse back even when Hyde returns to action. And despite the lackluster 1/-2/0 receiving line last week, it was encouraging to see Robinson's routes run shoot up to 82%.
He'll provide low-end RB1 value if his underlying usage maintains near those levels.
Tier 5
Darrell Henderson (@ SEA)
D'Andre Swift (@ MIN)
Chuba Hubbard (vs. PHI)
Leonard Fournette (vs. MIA)
Henderson and Swift are two RBs ready to explode, and I wouldn't be surprised to see both ranked Tier 4 or higher in the coming weeks. Both backs have been limited due to injuries to begin the season, but their underlying usage will put them on the RB1 map whenever they are 100% healthy.
Tier 6
Joe Mixon (vs. GB)
Chase Edmonds (vs. SF)
Antonio Gibson (vs. NO)
Kareem Hunt (@ LAC)
Clyde Edwards-Helaire (vs. BUF)
Cordarrelle Patterson (vs. NYJ)
Chris Carson (vs. LAR)
Josh Jacobs (vs. CHI)
Damien Harris (@ HOU)
Damien Williams (@ LV)
Joe Mixon is shaping up to be a game-time decision, so Samaje Perine needs to be scooped up in all leagues in case Mixon is ruled out. Perine would rank toward the bottom-half of Tier 6 if Mixon were to miss Week 5.
(Fun fact: Mixon was Perine's backup at Oklahoma!)
Cordarrelle Patterson has been the biggest surprise of 2021 so far. The time to sell high is now, though — especially coming off a three-touchdown game.
One of the most remarkable aspects of Patterson's season has been how productive he's been in limited playing time. He's averaging only 30% of the team's rush attempts and running a route on 30% of dropbacks. Something has to give, though, as we will see his efficiency regress, but that could easily be offset with increased playing time.
I'm projecting Patterson as a low-end RB2, but I imagine you could trade him for a high-end RB2 right now.
Tier 7
Miles Sanders (@ CAR)
Kenneth Gainwell is starting to get more involved in the offense, which should alarm anyone rostering Sanders. There is no question that Gainwell will become the team's primary pass-catching back, but he's also talented enough to usurp Sanders to become the team's lead back.
Tier 8
Mike Davis (vs. NYJ)
Jamaal Williams (@ MIN)
Zack Moss (@ KC)
Melvin Gordon (@ PIT)
Michael Carter (@ ATL)
Javonte Williams (@ PIT)
Latavius Murray (vs. IND)
Trey Sermon (@ ARI)
Devin Singletary (@ KC)
Tony Pollard (vs. NYG)
Melvin Gordon and Javonte Williams continue to be locked into a 50/50 timeshare, limiting both of their ceilings. Right now, we have to treat each of them as RB3/Flex options, but it's unlikely both play all 17 games this season.
If one of them were ever to miss time, the other back would likely become a mid to high-end RB2. It makes this a situation worth buying into, and I would try to pry either RB away if I could get them at a RB30-35 value.
Tier 9
Myles Gaskin (@ TB)
James Conner (vs. SF)
Nyheim Hines (@ BAL)
J.D. McKissic (vs. NO)
Elijah Mitchell (@ ARI)
Kenneth Gainwell (@ CAR)
Alexander Mattison (vs. DET)
A.J. Dillon (@ CIN)
Tier 10
Ronald Jones II (vs. MIA)
Alex Collins (vs. LAR)
Kenyan Drake (vs. CHI)
Darrel Williams (vs. BUF)
Brandon Bolden (@ HOU)
Jeremy McNichols (@ JAX)
David Johnson (vs. NE)
Mark Ingram (vs. NE)
Malcolm Brown (@ TB)
Sony Michel (@ SEA)
Khalil Herbert (@ LV)
Kyle Juszczyk (@ ARI)
Samaje Perine (vs. GB)
Ty Johnson (@ ATL)
---
---
Fantasy WR Rankings & Tiers
Tier 1
Davante Adams (@ CIN)
Tier 2
Tyreek Hill (vs. BUF)
Cooper Kupp (@ SEA)
Tier 3
D.J. Moore (vs. PHI)
D.J. Moore has entered the elite WR1 chat
Tier 4
Calvin Ridley (vs. NYJ)
Stefon Diggs (@ KC)
Justin Jefferson (vs. DET)
D.K. Metcalf (vs. LAR)
Terry McLaurin (vs. NO)
Keenan Allen (vs. CLE)
Rams cornerback Jalen Ramsey hasn't been shadowing as much this season, so he may see an even split of D.K. Metcalf and Tyler Lockett on Thursday night. Either way, fire up Metcalf this week.
Tier 5
Deebo Samuel (@ ARI)
CeeDee Lamb (vs. NYG)
DeAndre Hopkins (vs. SF)
Chris Godwin (vs. MIA)
Adam Thielen (vs. DET)
Tyler Lockett (vs. LAR)
Ja'Marr Chase (vs. GB)
Amari Cooper (vs. NYG)
Mike Williams (vs. CLE)
Mike Evans (vs. MIA)
Chris Godwin and CeeDee Lamb have slowed down over the past two weeks, but there's no reason to believe they won't bounce back with a huge Week 5. DeAndre Hopkins should also bounce back this week, but hopefully you were able to "sell high" back in Week 2 when I floated the idea.
The Cardinals have spread the ball around this season, and considering they are off to a 4-0 start, I expect them to continue that approach. Therefore, I view Hopkins as a high-end WR2 instead of a top-five WR rest-of-season (where he was drafted).
Tier 6
A.J. Brown (@ JAX)
Antonio Brown (vs. MIA)
Marquise Brown (vs. IND)
Diontae Johnson (vs. DEN)
Marvin Jones (vs. TEN)
Jakobi Meyers (@ HOU)
Robert Woods (@ SEA)
Courtland Sutton (@ PIT)
Hollywood Brown is the WR10 after four weeks and would be inside the top five if he didn't drop three potential TDs in Week 3. He has a great matchup this week against the Colts (26th in pass DVOA).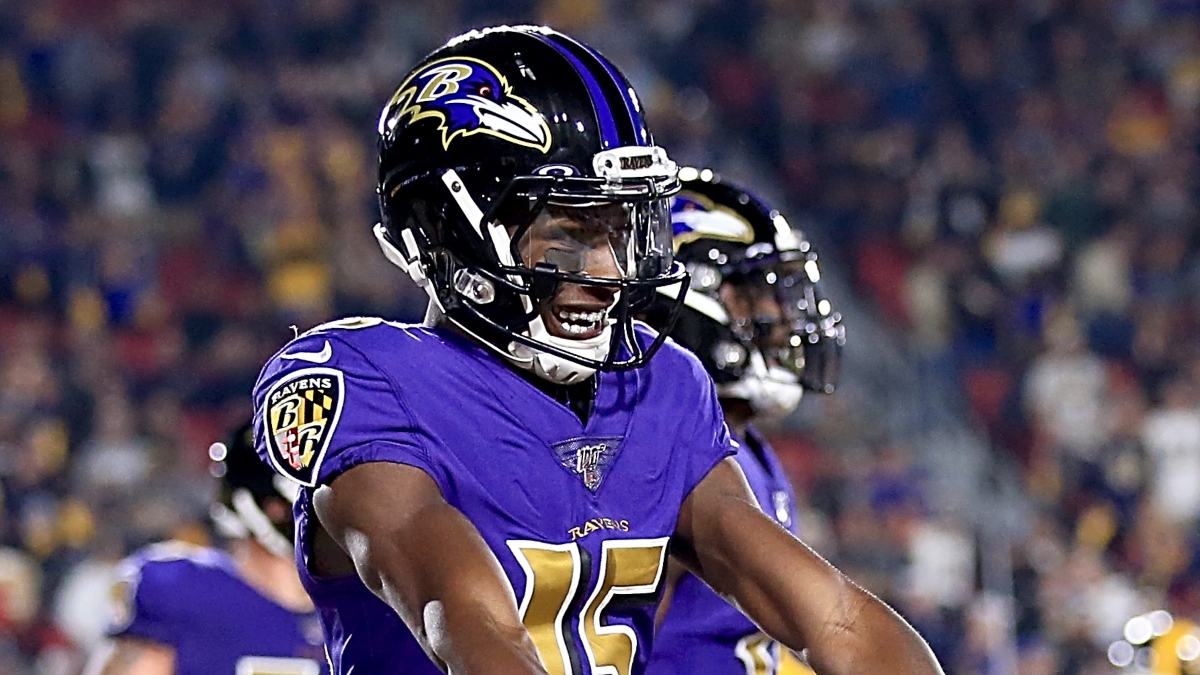 Tier 7
Tee Higgins (vs. GB)
Brandin Cooks (vs. NE)
Odell Beckham Jr. (@ LAC)
Devonta Smith (@ CAR)
Julio Jones (@ JAX)
Kenny Golladay (@ DAL)
Tyler Boyd (vs. GB)
Allen Robinson (@ LV)
Michael Pittman Jr. (@ BAL)
Corey Davis (@ ATL)
Cole Beasley (@ KC)
Robby Anderson (vs. PHI)
Laviska Shenault (vs. TEN)
Jaylen Waddle (@ TB)
Emmanuel Sanders (@ KC)
DeVante Parker (@ TB)
Anderson posted another mediocre (5/46/0) line despite having the 14th-most air yards (141) in Week 4. Big games are coming for Robby in the future, but it's tough to trust him as a WR3 right now given his inconsistency, so it may be best to wait for him to have a massive game on your bench then attempt to sell high.
Tier 8
Hunter Renfrow (vs. CHI)
Darnell Mooney (@ LV)
Jamison Crowder (@ ATL)
Sammy Watkins (vs. IND)
Chase Claypool (vs. DEN)
Juju Smith-Schuster (vs. DEN)
Henry Ruggs (vs. CHI)
Mooney waited a week after I said he was ready for takeoff to erupt for five catches and 125 yards. It was promising to see Fields connect with Mooney on a 64-yard pass that traveled about 50 air yards, considering my theory that Fields' deep ball would unlock Mooney's upside.
Oh, and Mooney is also just really good at catching footballs:
Tier 9
A.J. Green (vs. SF)
Christian Kirk (vs. SF)
Tim Patrick (@ PIT)
Rondale Moore (vs. SF)
Curtis Samuel (vs. NO)
Brandon Aiyuk (@ ARI)
Van Jefferson (@ SEA)
Bryan Edwards (vs. CHI)
K.J. Osborn (vs. DET)
Zach Pascal (@ BAL)
Randall Cobb (@ CIN)
Terrace Marshall (vs. PHI)
Mecole Hardman (vs. BUF)
Kalif Raymond (@ MIN)
Nelson Agholor (@ HOU)
Quintez Cephus (@ MIN)
Marquez Callaway (@ WAS)
Sterling Shepard (@ DAL)
Tier 10
Jalen Reagor (@ CAR)
Kadarius Toney (@ DAL)
Kendrick Bourne (@ HOU)
Deonte Harris (@ WAS)
Amon-Ra St. Brown (@ MIN)
Freddie Swain (vs. LAR)
Toney will shoot up to around Tier 8 if Sterling Shepard and Darius Slayton are both ruled out again for Week 5.
Toney is very similar to Rondale Moore in terms of their after-the-catch ability. The Giants need to get Toney the ball more and more involved going forward:
Giants WR Kadarius Toney had a career-best 6 catches for 78 yards in Week 4. Here is a look at 3 of them.

This dude has rare change of direction and is absolutely electric with the football in his hands ⚡️⚡️

More of this please. pic.twitter.com/5jpBsWpcai

— Field Yates (@FieldYates) October 4, 2021
---
---
Fantasy TE Rankings & Tiers
Tier 1
Travis Kelce (vs. BUF)
Kelce had a rare "dud" in Week 4 with a 4/23/0 line. However, smart money is on him bouncing back with a top-10 finish in Week 5.
Tier 2
Darren Waller (vs. CHI)
Tier 3
George Kittle (@ ARI)
Mark Andrews (vs. IND)
T.J. Hockenson (@ MIN)
Kyle Pitts (vs. NYJ)
Tyler Higbee (@ SEA)
Kittle is currently playing through a calf injury. If he struggles over the next couple weeks, I would be interested in buying low.
Pitts has settled in as providing an average stat line of around 4/50/0, which is a solid floor. But the big games are coming, which means the window to buy low is coming to a close soon. The problem is that anyone who drafted Pitts believes in the generational talent and is unlikely to part ways with him.
Tier 4
Noah Fant (@ PIT)
Fant is going to benefit from wide receivers Jerry Jeudy and K.J. Hamler being out. It's allowed the Broncos to concentrate their targets for Courtland Sutton, Tim Patrick and Fant.
Fant's routes run rate jumped up to 86% in Week 4, which resulted in a 6/46/1 line — a very encouraging sign. We have to remember that Fant entered the season with an ankle injury limiting him, so it's no surprise that his role is increasing as he's closer to 100% health.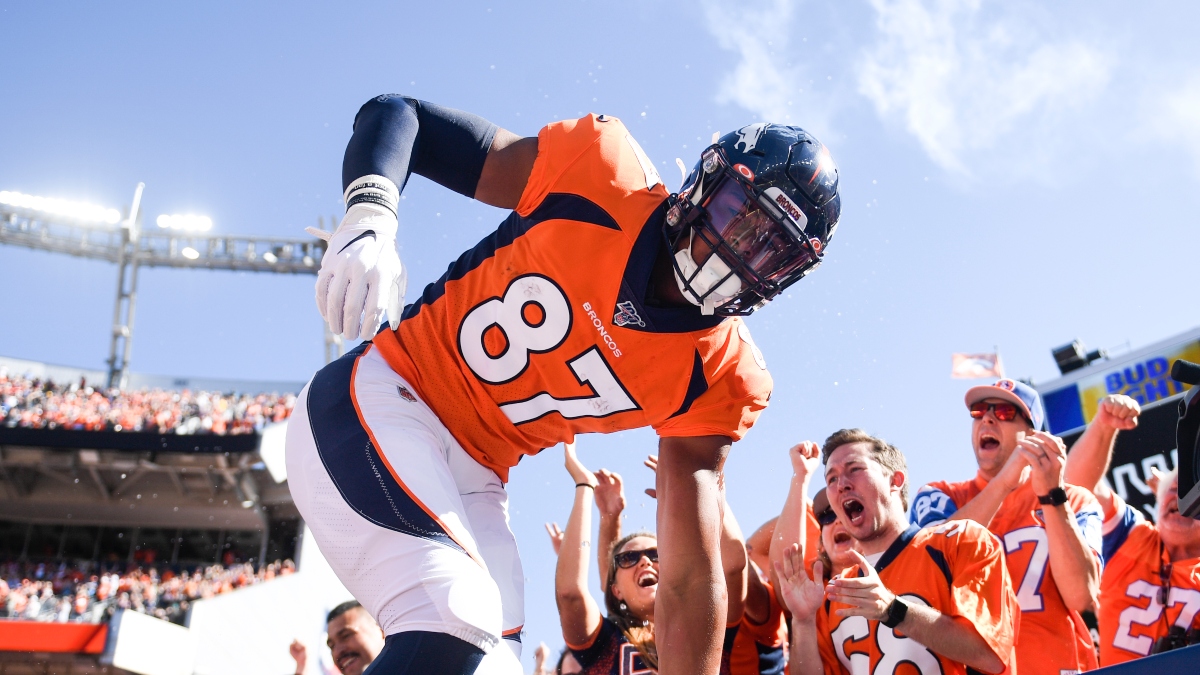 Tier 5
Dalton Schultz (vs. NYG)
Robert Tonyan Jr. (@ CIN)
Mike Gesicki (@ TB)
Jared Cook (vs. CLE)
Hunter Henry (@ HOU)
Dawson Knox (@ KC)
Tyler Conklin (vs. DET)
Dallas Goedert (@ CAR)
Schultz needs to be added if you need help at TE. He nearly doubled Blake Jarwin's routes run (76% vs. 36%) in Week 4 and is one of Prescott's favorite targets right now. Schultz is a top 10 TE option for Week 5.
Tier 6
Jonnu Smith (@ HOU)
Ricky Seals-Jones (vs. NO)
Evan Engram (@ DAL)
Austin Hooper (@ LAC)
Maxx Williams (vs. SF)
C.J. Uzomah (vs. GB)
Zach Ertz (@ CAR)
Dan Arnold (vs. TEN)
Cameron Brate (vs. MIA)
Anthony Firkser (@ JAX)
Tier 7
Cole Kmet (@ LV)
Mo Alie-Cox (@ BAL)
Blake Jarwin (vs. NYG)
Gerald Everett (vs. LAR)
---
---
Fantasy Kicker Rankings & Tiers
Tier 1
Harrison Butker (vs. BUF)
Greg Zuerlein (vs. NYG)
Matt Gay (@ SEA)
Matt Prater (vs. SF)
Ryan Succop (vs. MIA)
Younghoe Koo (vs. NYJ)
Justin Tucker (vs. IND)
Tyler Bass (@ KC)
Tier 2
Jason Myers (vs. LAR)
Daniel Carlson (vs. CHI)
Graham Gano (@ DAL)
Greg Joseph (vs. DET)
Nick Folk (@ HOU)
Evan McPherson (vs. GB)
Mason Crosby (@ CIN)
Tristan Vizcaino (vs. CLE)
Zane Gonzalez (vs. PHI)
Randy Bullock (@ JAX)
Matt Ammendola (@ ATL)
Tier 3
Robbie Gould (@ ARI)
Austin Seibert (@ MIN)
Chase McLaughlin (@ LAC)
Jason Sanders (@ TB)
Matthew Wright (vs. TEN)
Dustin Hopkins (vs. NO)
Aldrick Rosas (@ WAS)
Brandon McManus (@ PIT)
Cairo Santos (@ LV)
Chris Boswell (vs. DEN)
Rodrigo Blankenship (@ BAL)
Jake Elliott (@ CAR)
Ka'imi Fairbairn (vs. NE)
---
---
Fantasy Defense Rankings & Tiers
Tier 1
New England Patriots (@ HOU)
Tier 2
Atlanta Falcons (vs. NYJ)
Denver Broncos (@ PIT)
Las Vegas Raiders (vs. CHI)
Baltimore Ravens (vs. IND)
Carolina Panthers (vs. PHI)
Pittsburgh Steelers (vs. DEN)
Tennessee Titans (@ JAX)
Minnesota Vikings (vs. DET)
Tampa Bay Buccaneers (vs. MIA)
Arizona Cardinals (vs. SF)
Tier 3
Dallas Cowboys (vs. NYG)
New Orleans Saints (@ WAS)
Philadelphia Eagles (@ CAR)
Houston Texans (vs. NE)
New York Jets (@ ATL)
Los Angeles Chargers (vs. CLE)
Tier 4
Chicago Bears (@ LV)
Washington Football Team (vs. NO)
Green Bay Packers (@ CIN)
Cleveland Browns (@ LAC)
San Francisco 49ers (@ ARI)
Los Angeles Rams (@ SEA)
Jacksonville Jaguars (vs. TEN)
Tier 5
Indianapolis Colts (@ BAL)
Miami Dolphins (@ TB)
Seattle Seahawks (vs. LAR)
Kansas City Chiefs (vs. BUF)
Cincinnati Bengals (vs. GB)
Detroit Lions (@ MIN)
New York Giants (@ DAL)
Buffalo Bills (@ KC)
How would you rate this article?
This site contains commercial content. We may be compensated for the links provided on this page. The content on this page is for informational purposes only. Action Network makes no representation or warranty as to the accuracy of the information given or the outcome of any game or event.