Why I'm Low On Jacob Eason For Dynasty Rookie Drafts
Credit:
Getty Images. Pictured: Jacob Eason
Jacob Eason Dynasty Rookie Analysis
Position: QB | School: Washington
Height: 6'6" | Weight: 231 pounds
40-yard dash: 4.89 seconds
2020 Age: 23 | Class: Redshirt Junior
Recruitment Stars: 4-5
Draft Position: 4.122 (Colts)
Jacob Eason's Fantasy Fit with Colts
My unofficial over/under for games Eason starts this season: 0.5. And that's probably my over/under for Eason starts in 2021 as well.
Eason is a developmental prospect behind and backup to quarterback Philip Rivers. That is all.
Jacob Eason: Dynasty Analysis
If you're looking for a strong-armed quarterback who looks the part, that's Eason. But that doesn't mean he's actually an NFL quarterback.
Eason was the No. 1 pro-style quarterback recruit when he enrolled at Georgia in 2016, and as a true freshman he had an adequate season as the starter, completing 55.1% of his passes for 2,430 yards with 6.5 adjusted yards per attempt (AY/A) and a 16-8 TD:INT ratio.
Not great, but for a 19-year-old true freshman, pretty good.
In 2017, though, he suffered a knee injury in the season opener and lost his starting job to freshman backup Jake Fromm, who gave Eason the straight-up Wally Pipp treatment as he led the Bulldogs to the national title game.
As a result of his injury-induced demotion, Eason left Georgia and transferred back home to Washington (he grew up in the Seattle area), and after redshirting in 2018 due to NCAA rules, he started 13 games for the Huskies last year, completing a respectable 64.2% of his passes for 3,132 yards and a 23-8 TD:INT ratio.
For his 2019 effort, Eason earned a strong 84.3 Pro Football Focus grade.
But for a peak season, 2019 wasn't all that special.
What Eason did in his best season doesn't compare at all to what Joe Burrow (LSU), Tua Tagovailoa (Alabama), or Jalen Hurts (Oklahoma) did in 2019 or to what Jordan Love (Utah State) did in 2018, based on AY/A, independent quarterback rating (IQR) and expected points added (EPA) per dropback (per the 2020 Sports Info Solutions Football Rookie Handbook).
Eason (2019): 8.0 AY/A | 109.7 IQR | 0.04 EPA
Burrow (2019): 12.5 AY/A | 145.3 IQR | 0.39 EPA
Tagovailoa (2019): 13.4 AY/A | 146.6 IQR | 0.49 EPA
Hurts (2019): 12.2 AY/A | 134.5 IQR | 0.38 EPA
Love (2018): 9.4 AY/A | 120.3 IQR | 0.22 EPA
Despite his talent, it's clear that Eason never belonged in the Day 1 conversation.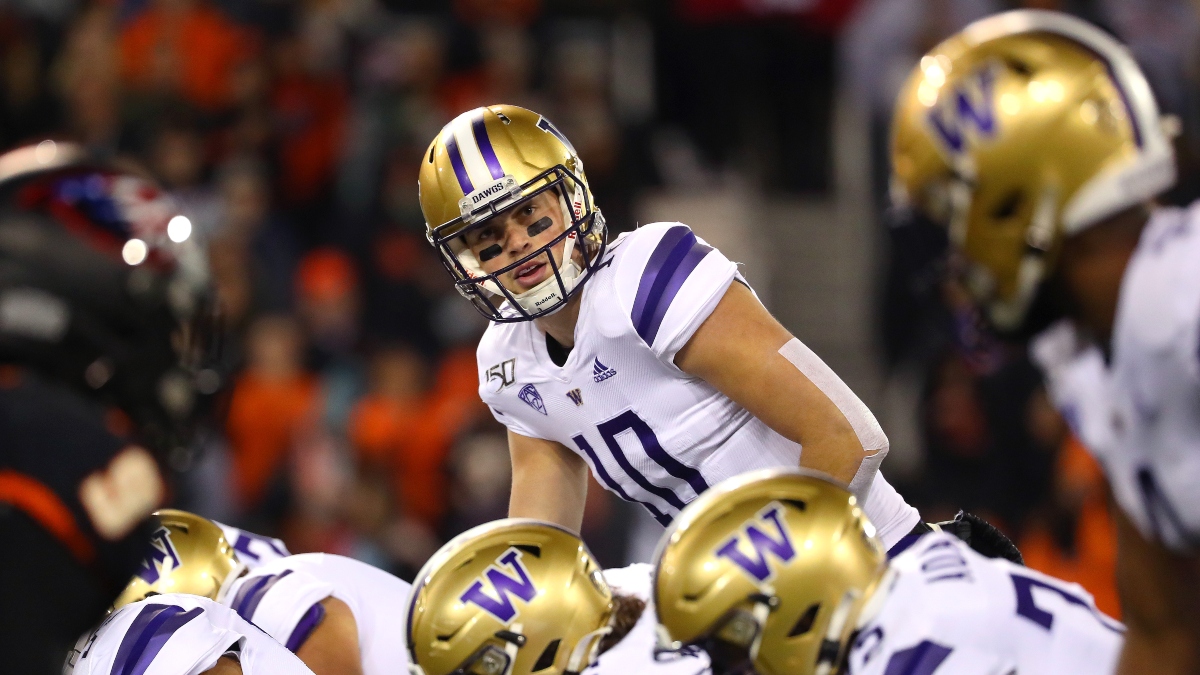 When everything around him is perfect and he can get in the groove, he is as good as anyone, per PFF: "Eason's 91.7 clean-pocket passing grade led the Pac-12 in 2019." He has elite arm strength and is unafraid to make throws other quarterbacks wouldn't attempt. He can throw it all over the field. But he's a garden statue.
He has no speed and even less agility. His 7.50-second three-cone (3rd percentile) and 4.75-second 20-yard shuttle (2nd percentile) speak to his utter inability to navigate that pocket (per Mockdraftable).
On top of that, Eason is inconsistently accurate. He stares down receivers. He is slow to progress through his reads. He is often too willing to trust his arm strength. And he falls apart under pressure, per PFF: "Has not handled pressure well whatsoever. One of the lowest grades in country."
In fact, Eason is such a pressure-sensitive passer that at times in 2019 he bailed from the pocket simply because he imagined pressure that wasn't there.
I think NFL Media's Lance Zierlein puts it best: "His elite size and arm talent are reminiscent of Carson Palmer, but issues with pocket poise and getting through progressions cleanly are more reminiscent of Brock Osweiler."
For at least 2020 and maybe 2021 as well, Eason will play the Osweiler role to Philip Rivers' late-career Peyton Manning as the backup and potential future starter-in-waiting.
And Rivers might be an ideal guy for Eason to back up: Stylistically, he's pretty similar to Rivers, who himself opened up his career with two straight years on the bench behind Drew Brees.
But I'm still skeptical that Eason will develop into an NFL starter.
NFL Prospect Comp: Tom Savage but taller
More Dynasty Analysis For Freedman's Top Rookies
---
Matthew Freedman is the Editor-in-Chief of FantasyLabs, part of The Action Network.
How would you rate this article?