Ravens RB J.K. Dobbins Isn't Far Behind the Top Tier of This Dynasty Rookie Class
Credit:
Christian Petersen/Getty Images. Pictured: J.K. Dobbins
J.K. Dobbins Dynasty Rookie Analysis
Position: RB | School: Ohio State
Height:

 5'9" |

 Weight:

 209 pounds

2020 Age: 22 | Class: Junior
Recruitment Stars: 4
Draft Position: 2.55 (Ravens)
J.K. Dobbins' Fantasy Fit with Ravens
In 2020, Dobbins will likely replace both Gus Edwards and Justice Hill in Baltimore's committee backfield as the complement to Mark Ingram, but even as a No. 2 option, he could have occasional fantasy relevance with how frequently the Ravens run the ball.
And next year, Dobbins might take over as the lead back, given that after the 2020 season, Ravens have a fairly painless out in their contract with Ingram, who turns 31 in December.
Whenever Dobbins becomes the lead back in Baltimore, he will have top-eight upside playing next to quarterback Lamar Jackson.
J.K. Dobbins: Dynasty Analysis
My approach to Dobbins is a smidgen idiosyncratic. I'm almost certainly lower on him than most analysts are, but that has less to do with him and more to do with how I value running backs, wide receivers and draft position.
If you pick in the top half of Rounds 1-2 and you absolutely want to take a running back and wide receiver with your top selections in the rookie draft, then you should go with a back in Round 1 and receiver in Round 2. And if some of the top backs are off the board by the time you pick in Round 1, then Dobbins is a great fallback option.
[Easy Money! Get 2-1 Odds on Joe Burrow to Go No. 1 … (Yes, We're Serious)]
I have Dobbins maybe half a tier below some of the other backs and could see how he might be the most productive back in the class three years from now.
But in a vacuum, I don't want to put him near the top of my draft board, because in dynasty I value wide receivers ahead of running backs: Receivers in general are longer-lived assets, and their success is easier to project because it's less tied to the vicissitudes of workload.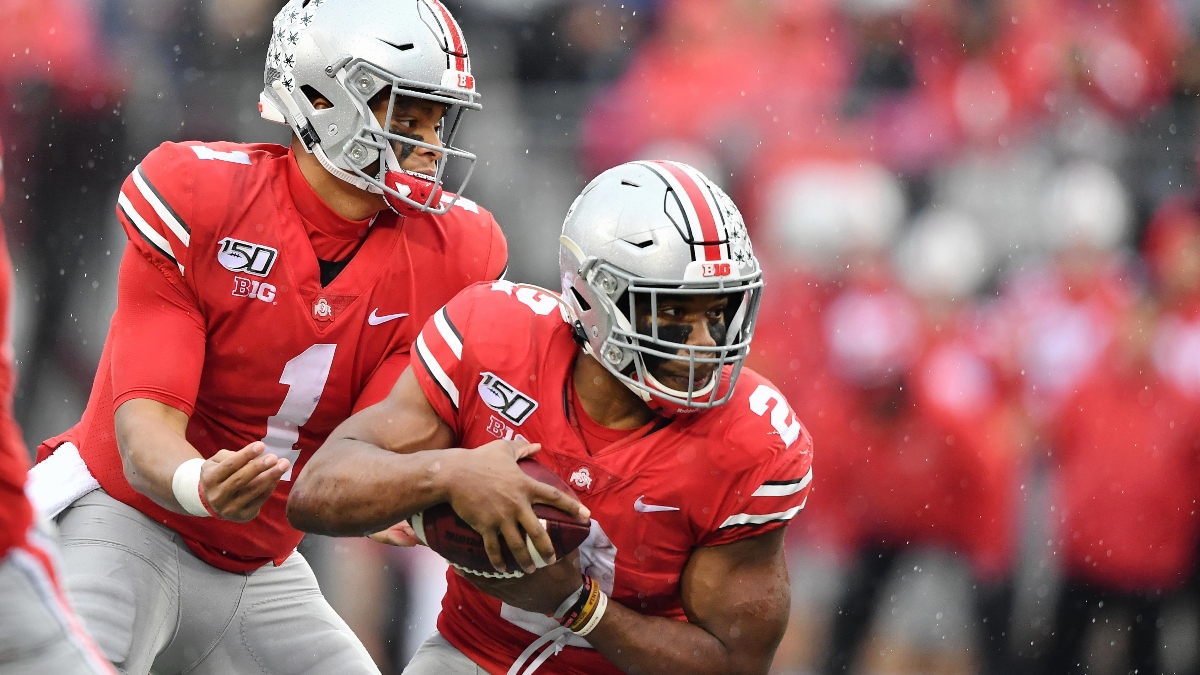 Essentially, I can't put Dobbins as high on my board as I otherwise might because this class is so stacked at receiver, and in 95% of situations, I'm going to rank wide receivers selected in Rounds 1-2 of the NFL draft ahead of running backs selected in Rounds 2-3.
That's just how I do business.
But that doesn't mean I don't like Dobbins: I like him a lot. Of the backs in this class, he probably provides the most bang for your dynasty buck, because he could arguably be a top-two pick but he almost certainly won't be selected there in rookie drafts.
Dobbins isn't as young or as big as D'Andre Swift and Jonathan Taylor.
D'Andre Swift: 21 years old, 212 pounds
Jonathan Taylor: 21 years old, 226 pounds
J.K. Dobbins: 22 years old, 209 pounds
But he entered college as a highly desired recruit, and in his three years with the Buckeyes, he put up numbers.
2017 (FR): 194-1,403-7 rushing, 22-135-1 receiving
2018 (SO): 230-1,053-10 rushing, 26-263-2 receiving
2019 (JR): 301-2,004-21 rushing, 23-247-2 receiving
As a runner, Dobbins is comparable to Swift and Taylor with his breakaway percentage and yardage after contact per attempt (per Pro Football Focus).
D'Andre Swift: 37.5%, 3.55 yards
Jonathan Taylor: 39.3%, 3.93 yards
J.K. Dobbins: 47.6%, 4.01 yards
And although he's not the natural receiver Swift is, Dobbins is more than just a checkdown option: On almost 10% of his snaps last year, he lined up outside of the backfield, and he holds his own as a pass-catching threat, based on his career marks for catch rate, yardage per target and expected points per target (per the 2020 Sports Info Solutions Football Rookie Handbook).
D'Andre Swift: 81.1%, 7.1 yards, 0.14 EPA per target
Jonathan Taylor: 61.8%, 6.0 yards, -0.07 EPA per target
J.K. Dobbins: 80.7%, 7.3 yards, 0.19 EPA per target
Aesthetically, some film-grinding enthusiasts probably don't like Dobbins' running style. To my untrained eye, he's a one-cut upright downhill runner more than a shake-and-bake juker, which means that he's not likely to create a lot of yards on his own with great vision and creativity.
That lack of free-lancing improvisation doesn't bother me. In general, I tend to like the runners who seek to maximize what their blockers give them within the structure of each designed play.
Dobbins' size also might bother some potential investors. At 209 pounds, he's not built like a traditional lead back even though he runs with workmanlike mindset. But I'm not worried about his size. He packs a lot of power in his frame, and he has good functional strength. At the combine, he had a top-five mark with 23 reps on the bench press.
Even though Dobbins did literally nothing at the combine besides the bench, I have absolutely no questions about his athleticism. As a recruit in 2016, Dobbins had the No. 1 overall athletic score at The Opening, where he competed alongside all the other top recruits in the country.
Ranking in the 99th-percentile with his size-adjusted speed (4.45-second 40-yard dash), explosiveness (43.1-inch vertical jump) and agility (4.09-second 20-yard shuttle), Dobbins is one of the most elite all-around athletes in the 2020 class.
Given his productive consistency, receiving ability and elite physicality, it wouldn't have been a stretch for Dobbins to be the first back selected in the draft.
Dobbins has a good shot to have multiple top-20 finishes in his career.
NFL Prospect Comp: Jerick McKinnon, but a running back instead of a running college quarterback
More Dynasty Analysis For Freedman's Top Rookies
---
Matthew Freedman is the Editor-in-Chief of FantasyLabs, part of The Action Network.
How would you rate this article?