Why I Wouldn't Take Jordan Love In Any Dynasty Rookie Draft
Credit:
Gregory Shamus/Getty Images. Pictured: Jordan Love
Jordan Love Dynasty Rookie Analysis
Position: QB | School: Utah State
Height: 6'4" | Weight: 224 pounds
40-yard dash: 4.74 seconds
2020 Age: 22 | Class: Redshirt Junior
Recruitment Stars: 2-3
Draft Position: 1.26 (Packers)
Jordan Love's Fantasy Fit with Packers
The circle of life in one tweet.
Jordan Love to the Packers at No. 26.

Aaron Rodgers just got Favre'd.

— Matthew Freedman (@MattFtheOracle) April 24, 2020
If Love starts a game in 2020 outside of Week 17, the Packers will probably not be pleased.
Jordan Love: Dynasty Analysis
Dana Carvey impersonating President George H.W. Bush puts it best: "Not gonna do it. Wouldn't be prudent at this juncture." Or any juncture.
At no point, in the history of this universe or any other universe, is Love likely to be on a fantasy team of mine.
Sure, he has great "tools." His arm is strong. He can make all the throws required of an NFL quarterback … except for the accurate ones.
Love looked great as a sophomore in 2018, completing 64.0% of his passes with 9.4 adjusted yards per attempt (AY/A) and a 32-6 touchdown-to-interception ratio. But he massively regressed in 2019.
[Easy Money!Get 2-1 Odds on Joe Burrow to Go No. 1 … (Yes, We're Serious)]
There are, of course, extenuating circumstances. There always are. After the 2018 season, head coach Matt Wells left for Texas Tech, and new head coach Gary Andersen tried to run Wells' offense so that Love wouldn't need to learn a new scheme.
Basically, that meant Love was playing for a coach who didn't know what he was doing. And most of the offensive starters from the 2018 season graduated, so Love was playing with new guys in 2019.
It's easy to see why and how Love's final college season underwhelmed.
But here's the thing about postmortem analysis: The body is still dead.
Love was bad in 2019. There's no getting around it. His completion percentage dropped to 61.9%. His AY/A plummeted to 6.4. And his interception total screamed up to a nation-high 17 as his touchdown total sagged to 20.
And here's what's most disqualifying in all of this: His 2018 season — his breakout campaign — wasn't all that good anyway.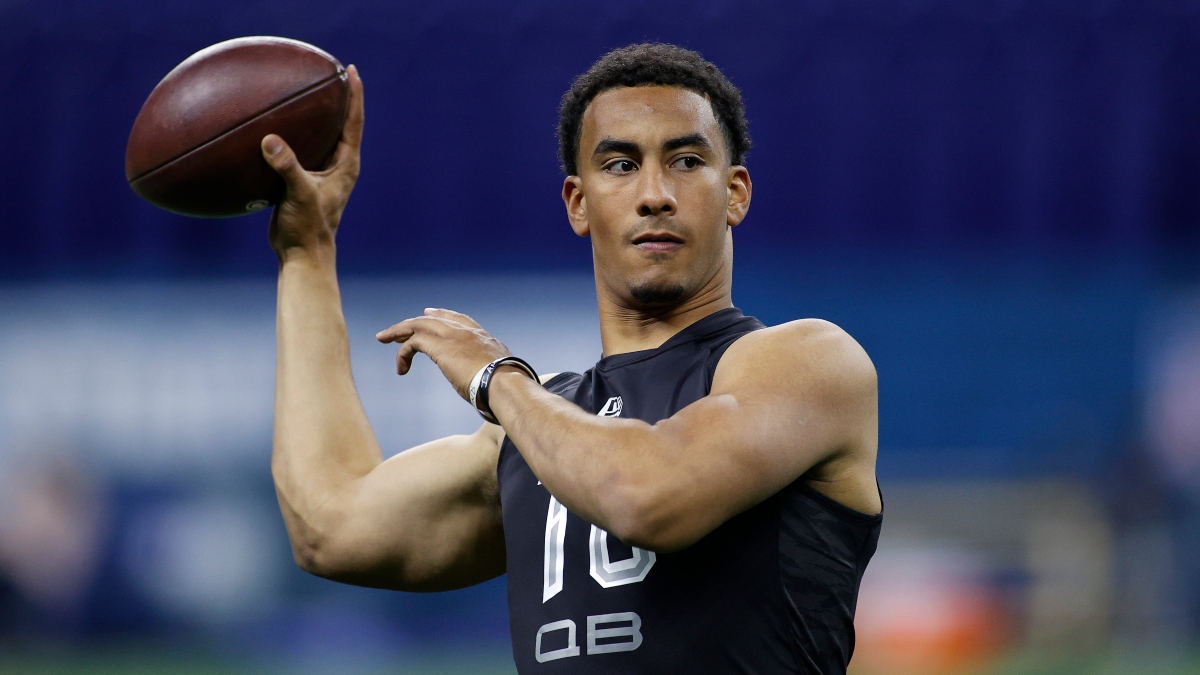 What Love did in his best season doesn't compare at all to what Joe Burrow (LSU) did in 2019. Or what Tua Tagovailoa (Alabama) did in 2018-19. Or Jalen Hurts (Oklahoma) in 2019 — at least based on a number of metrics, including adjusted yards per attempt (AY/A), average depth of target (aDOT), independent quarterback rating (IQR), catchable ball rate (Cbl%) and expected points added (EPA) as a passer, runner and per dropback (per the 2020 Sports Info Solutions Football Rookie Handbook).
Love (2018): 9.4 AY/A | 8.8 aDOT | 120.3 IQR | 80% Cbl% | 95.4 paEPA | 6.7 ruEPA | 0.22 EPA/db
Burrow (2019): 12.5 AY/A | 9.1 aDOT | 145.3 IQR | 91% Cbl% | 215.1 paEPA | 26.0 ruEPA | 0.39 EPA/db
Tagovailoa (2019): 13.4 AY/A | 8.3 aDOT | 146.6 IQR | 87% Cbl% | 133.8 paEPA | 3.4 ruEPA | 0.49 EPA/db
Tagovailoa (2018): 12.8 AY/A | 9.5 aDOT | 140.6 IQR | 83% Cbl% | 150.0 paEPA | 12.3 ruEPA | 0.43 EPA/db
Hurts (2019): 12.2 AY/A | 10.6 aDOT | 134.5 IQR | 85% Cbl% | 132.9 paEPA | 53.9 ruEPA | 0.38 EPA/db
It's wrong even to compare Love to Burrow and Tagovailoa, and there's a strong case to be made that Hurts should be drafted ahead of him.
And remember that 2018 was him at his best. In 2017 and 2019, when he was decidedly not his best, it was ugly.
2017: 6.5 AY/A | 9.2 aDOT | 91.0 IQR | 83% Cbl% | -26.7 paEPA | -2.5 ruEPA | -0.08 EPA/db
2019: 6.4 AY/A | 9.6 aDOT | 81.3 IQR | 78% Cbl% | -28.2 paEPA | -0.2 ruEPA | -0.04 EPA/db
Throughout his college career, when he has been less than his best, whether he's been throwing the ball or running it, Love has cost his team points.
Here's an excerpt from his profile in the SIS Rookie Handbook — it's so long and detailed that I feel I can't help but quote it.
He isn't consistent when it comes to his decision making. He locks onto his first read far too often and tends to bail out before continuing through his progressions. He sometimes pulls the trigger late, due to his slightly slower processing ability, and relies on his arm strength to bail him out. When it comes to his performance under pressure, Love is a bit of a mixed bag. When he is hemmed up in the pocket, he tends to get a bit sloppy with his footwork and needs to do a better job of throwing the ball away as opposed to trying to force something.
Riddle me this: Does that sound like someone who was worthy of being selected in Round 1 of the NFL draft? More importantly, does that sound like someone you want on your fantasy football team?
President Laura Roslin: "No. Not now. Not ever. Do you hear me?" By the way, I definitely don't have Battlestar Galactica playing in the background as I write this. Wouldn't be prudent.
Here's what Pro Football Focus has to say about Love: "Most of Love's best throws came in favorable situations, but when throwing into tight windows, he led the FBS in interceptions."
Can I interest you in a barrel of crude oil?
If we're all being honest, it's generous to call Love even a project. When optimistic evaluators see him, they think of a raw Patrick Mahomes. But that's not who Love is. He lacks Mahomes' improvisational wizardry — his consistent ability to turn a near sack into a long completion. For Mahomes, a broken play is an opportunity to throw a touchdown. For Love, it's the excuse to throw an interception.
Because of his athleticism and willingness to run, I expect that Love will have fantasy utility at some point, just as Josh Allen and Daniel Jones do for the Buffalo Bills and New York Giants. Just as Blake Bortles did with the Jacksonville Jaguars.
But that doesn't mean Love will be a good NFL quarterback. I'm betting that he won't be. He might randomly luck into a top-12 fantasy finish, but he looks a lot like the kind of passer who will be out of the league in half a decade.
It's going to be incredibly painful for me in 30 years when he's inducted into the Hall of Fame.
NFL Prospect Comp: Blaine Gabbert but smaller and slower and with less draft capital
More Dynasty Analysis For Freedman's Top Rookies
---
Matthew Freedman is the Editor-in-Chief of FantasyLabs, part of The Action Network.
How would you rate this article?
This site contains commercial content. We may be compensated for the links provided on this page. The content on this page is for informational purposes only. Action Network makes no representation or warranty as to the accuracy of the information given or the outcome of any game or event.