5 Late-Round QB Targets for the 2020 Fantasy Football Draft Season
Credit:
Michael Reaves/Getty Images. Pictured: New York Giants quarterback Daniel Jones.
Who are the best late-round quarterback targets of 2020?
Our panel of award-winning fantasy football rankers highlight their five favorites below.
Note: Rankings and FantasyPros' Average Draft Position (ADP) data are as of Aug. 18. Find our experts' up-to-the-minute rankings here.
Late-Round QB Targets
Click on a quarterback's name to skip to their analysis.
Before we dig into their picks, here's a quick introduction to our trio of experts:
Sean Koerner is Action's Director of Predictive Analytics and was FantasyPros' No. 1 fantasy football draft ranker of 2019.
Chris Raybon was the fourth-most accurate FantasyPros ranker in 2019 and has watched every NFL snap since 2010.
Matthew Freedman is the Editor-in-Chief of FantasyLabs and was the sixth-most accurate FantasyPros ranker in 2017.

[Create Custom Cheat Sheets Using Our Experts' Rankings]
Joe Burrow, Bengals
| | |
| --- | --- |
| Current ADP | QB15 |
| Raybon's Rank | QB13 |
Raybon: Investing in rookie QBs who went No. 1 overall in the draft tends to be a winning proposition. The five quarterbacks picked first overall over the past decade who have gone on to start all 16 games in Year 1 have posted a median QB10 finish:
Kyler Murray (2019): QB8
Jameis Winston (2015): QB13
Andrew Luck (2012): QB10
Cam Newton (2011): QB4
Sam Bradford (2010): QB20
There are two key factors working in Burrow's favor:
1) His rushing upside: In his two seasons with LSU, Burrow averaged 27.4 rushing yards (which includes sack yardage, because college football) and 0.43 touchdowns per game.
It's no coincidence that scrambling ability is a trait shared universally among the top-seven QBs by ADP — Lamar Jackson, Patrick Mahomes, Deshaun Watson, Dak Prescott, Russell Wilson, Kyler Murray and Josh Allen — as those extra points are what separate consistent every-week fantasy starters from matchup-based streaming options.
2) A bad defense: The Bengals were a lowly 30th in Football Outsiders' defensive DVOA in 2019, resulting in a top-six finish in pass attempts (616) despite Andy Dalton and Ryan Finley residing atop their QB depth chart. If Zac Taylor threw 616 times with Dalton and Finley, the sky should be the limit for Burrow, even as a rookie.

Burrow should have enough passing volume to compete with the interchangeable tier of veteran pocket passers who go outside the top-seven, and enough rushing upside to put him over the top.
Daniel Jones, Giants
| | |
| --- | --- |
| Current ADP | QB16 |
| Raybon's Rank | QB8 |
Raybon: Like Burrow, Jones couples rushing upside with a bad defense.
Jones scampered for 22.8 yards per game in his 12 starts as a rookie while his defense allowed 28.2 points per game, 30th in the NFL. Free agent cornerback James Bradberry and second-round safety Xavier McKinney should help, but the defense has a long way to go up to reach even average status.
This is why Jones may be a better value than Josh Allen, who is coming off the board as the QB7. Over the past two seasons, Allen's defense has allowed the fourth-fewest points per game (19.8), which is at least in part responsible for the fact that he has never thrown for 300 yards in a game — something Jones did five times in 12 starts as a rookie. Jones also threw four or more TDs in a game on three separate occasions, and had a multi-rushing TD game as well.

The upside is there heading into Year 2, and the price is right.
Cam Newton, Patriots
| | |
| --- | --- |
| Current ADP | QB18 |
| Freedman's Rank | QB6 |
Freedman: Is it fair to call a former MVP with five top-five fantasy finishes a sleeper? When he's being drafted outside the top 12, yes.
There are two main concerns with Newton: 1) Is he healthy? 2) Will he be the Week 1 starter for the Patriots? The answer to both questions is probably yes.
There's very little correlation between the number of games a guy has played per year in past seasons and the number of games he plays in future seasons. Newton played just two games last year because of a foot injury, and he missed the final two games of the 2018 season with a shoulder injury, but his rotator cuff was successfully repaired before the 2019 campaign, and he has been rehabbing his foot for almost a year.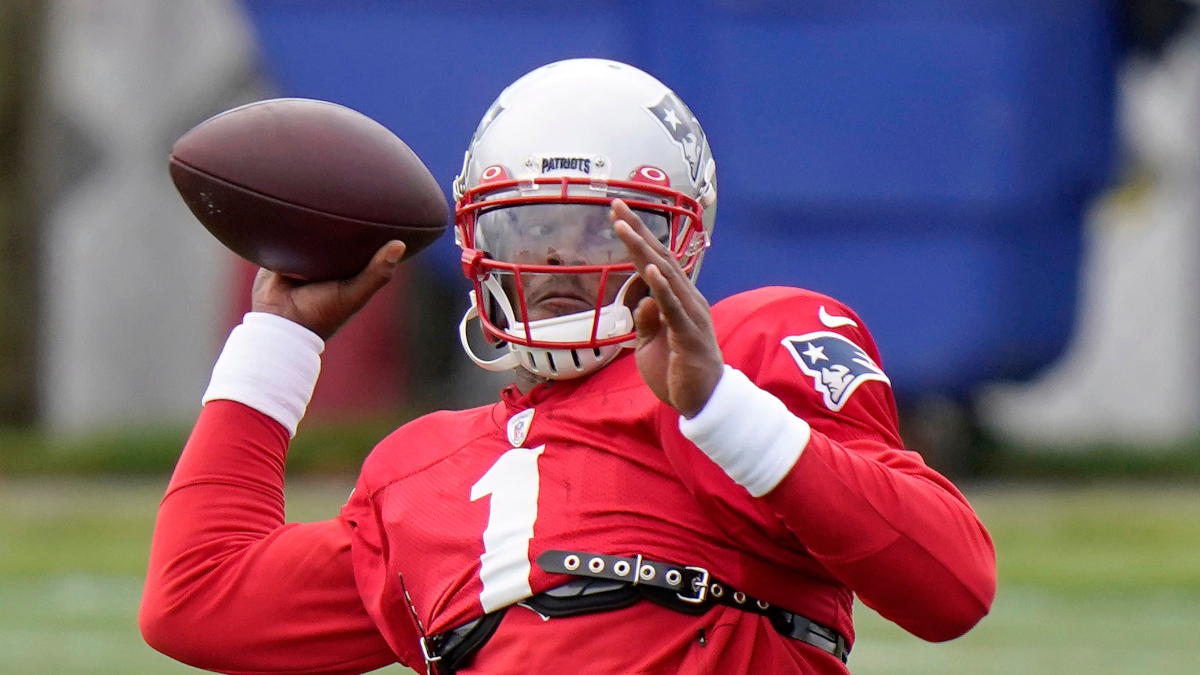 There's little reason to expect him not to be healthy entering the season, and if that's the case, it's probable that he will play 14-16 games, just as he has done every year of his career except for one.
Of course, that's assuming that he's able to win the starting job in a competition against second-year quarterback Jarrett Stidham, who has just four passes in his career and an average of -7.8 adjusted yards per attempt. (That's not a typo.)

How will Cam not win this starting job?
Ben Roethlisberger, Steelers
| | |
| --- | --- |
| Current ADP | QB19 |
| Freedman's Rank | QB15 |
Freedman: For the quarterback position, I want to find cheap players likely to provide fantasy QB1 performances at a rate higher than we'd expect given their average draft positions. Phrased differently: Late in the draft, I want to find players who provide as many QB1 performances as most of the players selected far earlier.
Roethlisberger I think fits that description.
Russell Wilson and Dak Prescott are often the Nos. 4-5 quarterbacks selected in fantasy drafts. Over the past half decade, Wilson has had a QB1 rate of 55% while averaging 22.6 points per game. In his four year career, Prescott has had similar numbers with a 53% rate and 21.2-point average.
Roethlisberger? 54% and 21.7 points per game over the past five years.
Sure, he doesn't have wide receiver Antonio Brown anymore, but he has four wide receivers selected with top-75 picks over the past three years — including a player in JuJu Smith-Schuster with one of the best 22-year-old receiving seasons in NFL history — and he also has two above-average receiving backs in James Conner and Jaylen Samuels and an upside tight end in Eric Ebron.
Roethlisberger missed almost all of the 2019 season, but in 2018 he led the league with 5,129 yards passing and 675 attempts.

As a mid-range QB2, Roethlisberger provides strong value as a QB1 arbitrage play.
Gardner Minshew, Jaguars
| | |
| --- | --- |
| Current ADP | QB27 |
| Koerner's Rank | QB24 |
Koerner: Minshew is my favorite late-round flier this season.
Opposing teams should be able to score with ease against the Jaguars' defense, which is currently in rebuild mode, creating plenty of pass-happy game scripts for Minshew. Offensive coordinator Jay Gruden should also recognize that they need to let Minshew attempt more deep throws, specifically to D.J. Chark, who had a 67% Positive% on deep throws from Minshew, ranked first among 41 qualifiers.
The Jags also added TE Tyler Eifert, who could provide Minshew with another red-zone weapon (when healthy).
Then there's Minshew's sneaky rushing upside. He had five games with 30 or more rushing yards last season, which ranked fifth among QBs (more than even Wilson or Prescott).
Given his skillset and the likelihood of the Jaguars tanking, Minshew has a chance to imitate 2019 Ryan Fitzpatrick.
How would you rate this article?