What Makes Jaguars WR Laviska Shenault Jr. An Appealing Dynasty Rookie Prospect
Credit:
Matthew Stockman/Getty Images. Pictured: Laviska Shenault Jr.
Laviska Shenault Jr. Dynasty Rookie Analysis
Position: WR | School: Colorado
Height: 6'1" | Weight: 227 pounds
40-yard dash: 4.58 seconds
2020 Age: 22 | Class: Junior
Recruitment Stars: 3
Draft Position: 2.42 (Jaguars)
Laviska Shenault Jr.'s Fantasy Fit with Jaguars
I'm happy that Shenault went early in the top half of Round 2, but the landing spot is subpar. The Jags are a run-focused team with a second-year sixth-rounder as the starting quarterback. I like Gardner Minshew as much as the next self-proclaimed psuedo-redneck — but maybe he's not the quarterback Shenault would've chosen?
On top of that, Shenault will have to compete with wide receivers D.J. Chark, Chris Conley and Dede Westbrook for playing time and targets. I expect Shenault to start right away, but who really knows?
For 2020, our expectations should be tempered, although Shenault might be worth a few speculative late-round adds in best ball if you play in lots of leagues.
Laviska Shenault Jr.: Dynasty Analysis
When asked in a post-game interview about playing through an injury, Shenault said, "When I do something, I feel the pain. But, it's pain. (Laughs.) It's just pain. That's all it is."
To Shenault, pain ain't nothing. This dude is a pain factory. He's the physical embodiment of a Nine Inch Nails song. Of all the receivers in this class, he's the most punishing one with the ball in his hands. When Shenault is on the attack, defenders aren't defending just their end zone. They're defending themselves.
I don't want to be hyperbolic, but in his free time, Shenault is Chuck Norris' personal trainer. (Probably.)
[Easy Money! Get 2-1 Odds on Joe Burrow to Go No. 1 … (Yes, We're Serious)]
In his debut game at Colorado, Shenault scored his first college touchdown on an untouched 55-yard special teams fumble recovery return. That's the kind of stuff that happens only to players destined for Action Network rookie write-ups.
When it comes to Shenault, I struggle to maintain my objectivity.
He's not without flaws.
He's an average-at-best route runner. He has a limited route tree. Much of his production — especially as a scorer — was manufactured for him via screens, short patterns and wildcat carries. In his two final seasons, he dealt with significant injuries that limited his availability and effectiveness (toe, 2018; abdominal, 2019).
In his final season, he was a limited producer with just 56-764-4 receiving and 23-161-2 rushing in 11 games.
And at the combine, despite being widely expected to run faster than 4.50 seconds in the 40-yard dash, he had a time of just 4.58, which tanked his draft stock. Before the combine, Shenault was universally expected to go in Round 1.
But his combine performance needs to be put in proper context. First, Shenault actually has an above-average 40 time for a guy of his size. As a point of comparison: If Davante Adams looked at himself shirtless in the mirror and said, "Nah, I can get buffer," and then he put on 15 pounds of muscle without losing any speed, he'd be Shenault.
Given his size and 40 time, Shenault had a 78th-percentile 103.2 speed score at the combine (per Player Profiler). In no universe is that a bad number.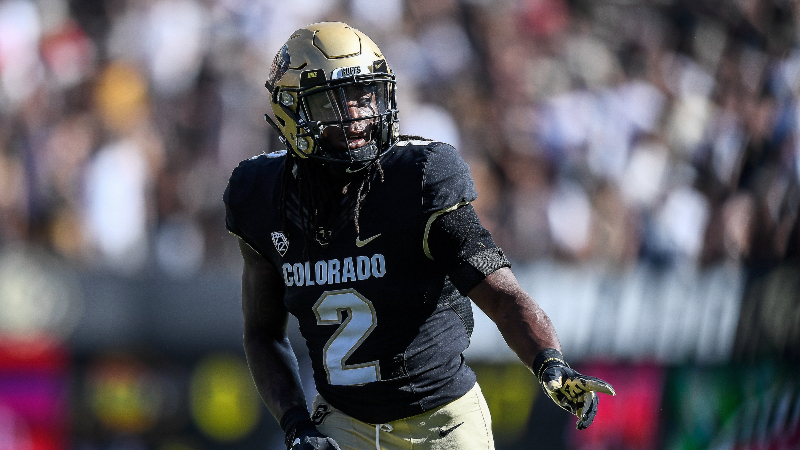 Secondly, Shenault intentionally ran the 40 with a core injury that he knew needed surgery and in fact was operated on a few days after the combine. Why did he work out despite the injury?
To Shenault, pain ain't nothing. Don't forget it.
He's not a speedster, but Shenault is an Anquan Boldin-esque tackle-breaking bully whom Pro Football Focus ranked as the No. 1 after-the-catch receiver in the class.
He underwhelmed last year, but he was dealing with the core injury, a new coaching staff and poor quarterback play. As a sophomore in 2018, he had a breathtakingly dynamic campaign, amassing 86-1,011-6 receiving and 17-115-5 rushing in just nine games.
And if you peruse the 2020 Sports Info Solutions Football Rookie Handbook — a great resource, by the way — it becomes apparent that what Shenault did over his college career, especially in 2018-19, places him in the top tier of his peers.
SIS has tracked yards per route (YPR) for the past two years and positive play rate vs. man coverage (PVM) for the past three years. Over those periods of time, Shenault has distinguished himself in those respective metrics.
Laviska Shenault Jr.: 0.35 YPR | 62% PVM
Jerry Jeudy: 0.34 YPR | 53% PVM
CeeDee Lamb: 0.35 YPR | 58% PVM
Justin Jefferson: 0.25 YPR | 55% PVM
Henry Ruggs III: 0.22 YPR | 50% PVM
Tee Higgins: 0.34 YPR | 56% PVM
Brandon Aiyuk: 0.30  YPR | 36% PVM
Jalen Reagor: 0.21 EPA | 39% PVM
Shenault didn't score an unholy number of receiving touchdowns because his offense simply wasn't that good, but since 2018, he's been as good as the best receivers in this class at turning routes into yards — and he has outright dominated against man coverage since his freshman year.
Additionally, he leads all receivers in the class with 44 missed tackles forced since 2018 (per PFF). This guy is a juggernaut.
Even with his subpar 2019, Shenault looks like he might be the most dominant receiver in the class — and, remember, he chipped in 40-276-7 rushing over the past two years.
Whether he's taking a direct snap as a wildcat quarterback, catching a screen pass at the line of scrimmage or running a deep slant, Shenault is simply a playmaker.
That doesn't mean he'll have NFL success. Shenault feels a lot like a slower, non-return man version of Cordarrelle Patterson. That said, we should remember that C-Patz had 479 scrimmage yards and seven touchdowns in the final eight games of his rookie year. There's a universe in which Patterson becomes an NFL star — and that universe might be Shenault's.
NFL Prospect Comp: A.J. Brown with less receiving production and speed but more rushing production and attitude
More Dynasty Analysis For Freedman's Top Rookies
---
Matthew Freedman is the Editor-in-Chief of FantasyLabs, part of The Action Network.
How would you rate this article?