Week 4 Fantasy Tiers: Make Your Start/Sit Decisions With These Rankings
Credit:
Andy Lyons/Getty Images. Pictured: Jonathan Taylor
Editor's note: A lot has changed since we published the following rankings, so go check out Sean Koerner's latest fantasy tiers here.
---
If you want to contend for your fantasy football championship, you have to be diligent about in-season management. And a big part of that is making start/sit decisions.
To help you start strategizing for Week 4, I've outlined the early version of my fantasy football rankings into tiers so you can better visualize the drop-off in expected production at each position.
As always. there will be a ton of volatility in how I adjust my rankings up until kickoff, so be sure to check my updated rankings before making final decisions. I'll also publish an updated version of these tiers on Saturday, But for now, let's dive into the first version of my Week 4 tiers!
Week 4 Fantasy Tiers
QUARTERBACKS
Tier 1
Russell Wilson (@ MIA)
I mentioned all offseason that Wilson carried the most value at his ADP. The reasoning was that he had a high floor, even if Pete Carroll continued to keep the offense balanced. I was pessimistic that #LetRussCook would finally happen but was confident he would have QB1 upside if it did. It's safe to say Seattle is letting Russ cook, and he is the clear QB1 this week against Miami.
Tier 2
Josh Allen (@ LV)
Dak Prescott (vs. CLE)
Lamar Jackson (@ WAS)
Kyler Murray (@ CAR)
Patrick Mahomes (vs. NE)
The QB position now has six players at the top that will be interchangeable week-to-week. It's a big reason Lamar Jackson's value has taken quite a hit. He should bounce back with a massive game against Washington, but he won't be the consensus QB1 as often from now on.

Tier 3
Deshaun Watson (vs. MIN)
Aaron Rodgers (vs. ATL)
Cam Newton (@ KC)
Joe Burrow (vs. JAX)
It's hard to be too critical of Deshaun Watson's slow start considering his first three opponents were the Chiefs, Ravens and Steelers. Facing the Vikings this week could draw out his high-end QB1 potential. Start him with confidence.
Joe Burrow has made a seamless transition to the NFL and should be a low-end QB1 from now on. His offensive line and A.J. Green will have to improve to unlock the rookie's full potential.
Tier 4
Matt Ryan (@ GB)
Jared Goff (vs. NYG)
Ryan Fitzpatrick (vs. SEA)
Matthew Stafford (vs. NO)
Jared Goff is a high floor/low ceiling option this week, as the Rams should beat the Giants with ease. Los Angeles has run the ball at the seventh-highest rate with the lead this year. That makes it critical for Goff to have a huge first half because the Rams will likely lean on the run heavily in the second half, lowering Goff's ceiling.
Ryan Fitzpatrick is my top streamer this week, as he's likely to channel "Fitzmagic" in a potential shootout with Seattle.
[Access Sean Koerner's Full Week 4 Fantasy Rankings]
Tier 5
Gardner Minshew (@ CIN)
Drew Brees (@ DET)
Teddy Bridgewater (vs. ARI)
Ben Roethlisberger (@ TEN)
Tom Brady (vs. LAC)
Brees, Big Ben or Brady should all be viewed as mid-range QB2 options this week. Michael Thomas, Diontae Johnson and Chris Godwin could all miss Week 4, which lowers their respective projections a tad.
Tier 6
Nick Mullens (vs. PHI)
Ryan Tannehill (vs. PIT)
Kirk Cousins (@ HOU)
Baker Mayfield (@ DAL)
Derek Carr (vs. BUF)
Baker Mayfield is a sneaky QB2/Superflex play, as the Browns could be forced into a pass-heavy game script to keep up with the Cowboys.
The Vikings defense has allowed 43, 28 and 31 points to start the 2020 season. Kirk Cousins' value could go up over the coming weeks, as I expect the Vikings to become more pass-heavy.
Tier 7
Daniel Jones (@ LAR)
Nick Foles (vs. IND)
Carson Wentz (@ SF)
Philip Rivers (@ CHI)
Justin Herbert (@ TB)
Sam Darnold (vs. DEN)
You know things are going wrong for Carson Wentz when he shares the same tier as Sam Darnold. Wentz is droppable in one-QB leagues, but there's a chance we might see Doug Pederson bench him for Jalen Hurts very soon. I would even be worried about him in QB2/Superflex formats as well.
Tier 8
Brett Rypien (@ NYJ)
Dwayne Haskins (vs. BAL)
Hopefully, you don't need any analysis here, but neither of these QBs are guaranteed to play all four quarters this week. Haskins is in danger of being benched for Kyle Allen, and the blowout potential against the Ravens only increases those chances this week.
---
Return to the table of contents
---
RUNNING BACKS
Tier 1
Alvin Kamara (@ DET)
Ezekiel Elliott (vs. CLE)
Kamara will continue to see an increase in targets as long as Michael Thomas is out. He has a plus-matchup against the Lions and is my top-ranked RB this week.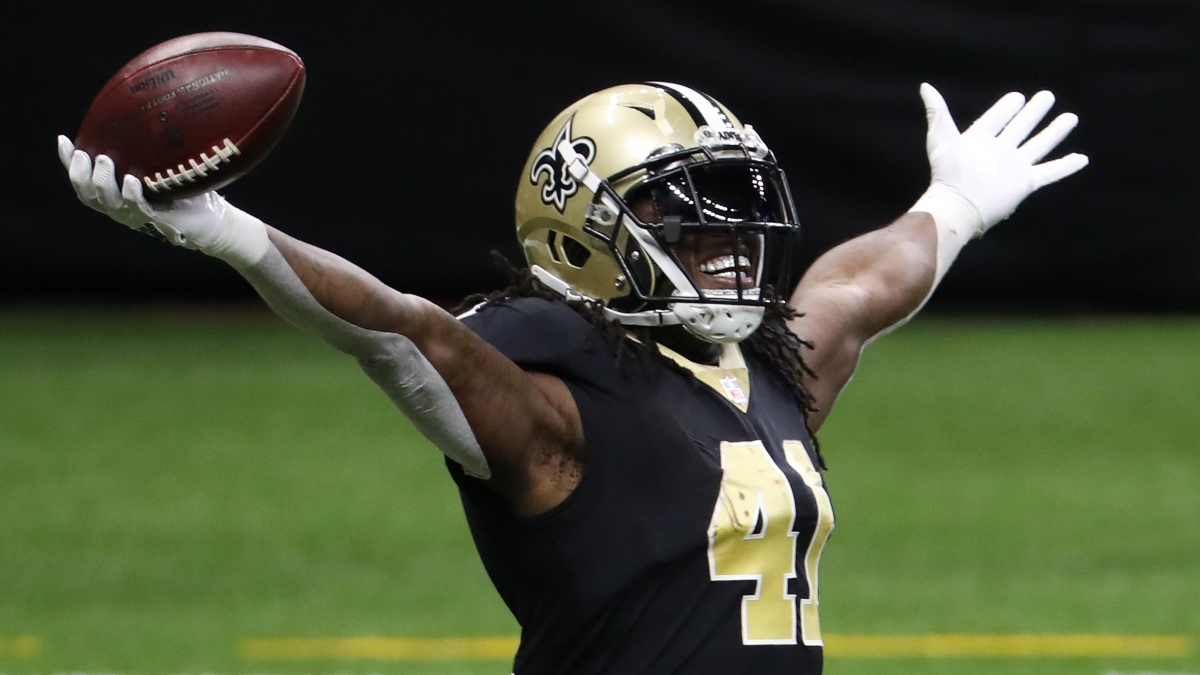 Tier 2
Aaron Jones (vs. ATL)
Dalvin Cook (@ HOU)
Derrick Henry (vs. PIT)
Aaron Jones is in a potential eruption spot against the Falcons.
Dalvin Cook is coming off a season-high 181 rushing yards, but I worry that the Vikings defense could prevent him from seeing many 20-carry games.
Derrick Henry has a brutal matchup with the Steelers, so we need to lower expectations this week.
Tier 3
Clyde Edwards-Helaire (vs. NE)
Josh Jacobs (vs. BUF)
Jonathan Taylor (@ CHI)
I love this trio of backs and their outlooks for the rest of the season. Fire them up in all formats this week.
Tier 4
Miles Sanders (@ SF)
Joe Mixon (vs. JAX)
Kenyan Drake (@ CAR)
We need to treat Joe Mixon as nothing more than an RB2. Giovani Bernard has continued to sabotage his passing game usage, making it difficult for Mixon to put up RB1 numbers whenever the Bengals play from behind. However, we could see a Mixon blow-up game this week, as the Bengals are 3-point home favorites against the Jaguars (find real-time live odds here).
I would consider attempting to sell high on Mixon if he goes off this week.
Tier 5
David Johnson (vs. MIN)
Austin Ekeler (@ TB)
James Robinson (@ CIN)
Devin Singletary (@ LV)
James Conner (@ TEN)
Nick Chubb (@ DAL)
Mike Davis (vs. ARI)
David Montgomery (vs. IND)
David Johnson is in a similar position as Joe Mixon this week. The Texans' 0-3 start has forced them to abandon the run game to begin the season. As a result, DJ has yet to see more than 13 carries in an outing. That should change this week with the Texans listed as 4.5-point home favorites against the Vikings.
James Robinson has been one of the biggest surprises of 2020 and should keep rolling against the Bengals' porous run defense.
Mike Davis looked great in his first start in place of Christian McCaffrey. He now has eight catches in each of the past two games. Players who spent a No. 1 waiver hoping to get a 4-6 week rental of a RB2 love their investment so far.
Devin Singletary will be a high-end RB2 again this week if Zach Moss misses his second straight game.
Tarik Cohen's season-ending injury should result in David Montgomery seeing an increase in targets going forward.
Tier 6
Carlos Hyde (@ MIA)
Kareem Hunt (@ DAL)
Darrell Henderson (vs. NYG)
Todd Gurley (@ GB)
Melvin Gordon (@ NYJ)
Myles Gaskin (vs. SEA)
Carlos Hyde is likely to start for the injured Chris Carson in Week 4. He has a mouth-watering matchup against the Dolphins and has multi-touchdown potential.
Darrell Henderson is the Rams' clear lead back (for now) and should be an auto-start this week against the Giants.
Tier 7
Ronald Jones II (vs. LAC)
Jerick McKinnon (vs. PHI)
Adrian Peterson (vs. NO)
It's hard to trust Ronald Jones and Adrian Peterson, but they both sit atop their RBBC for the time being. Jerick McKinnon will continue to be a RB2/Flex option as long as Raheem Mostert remains out.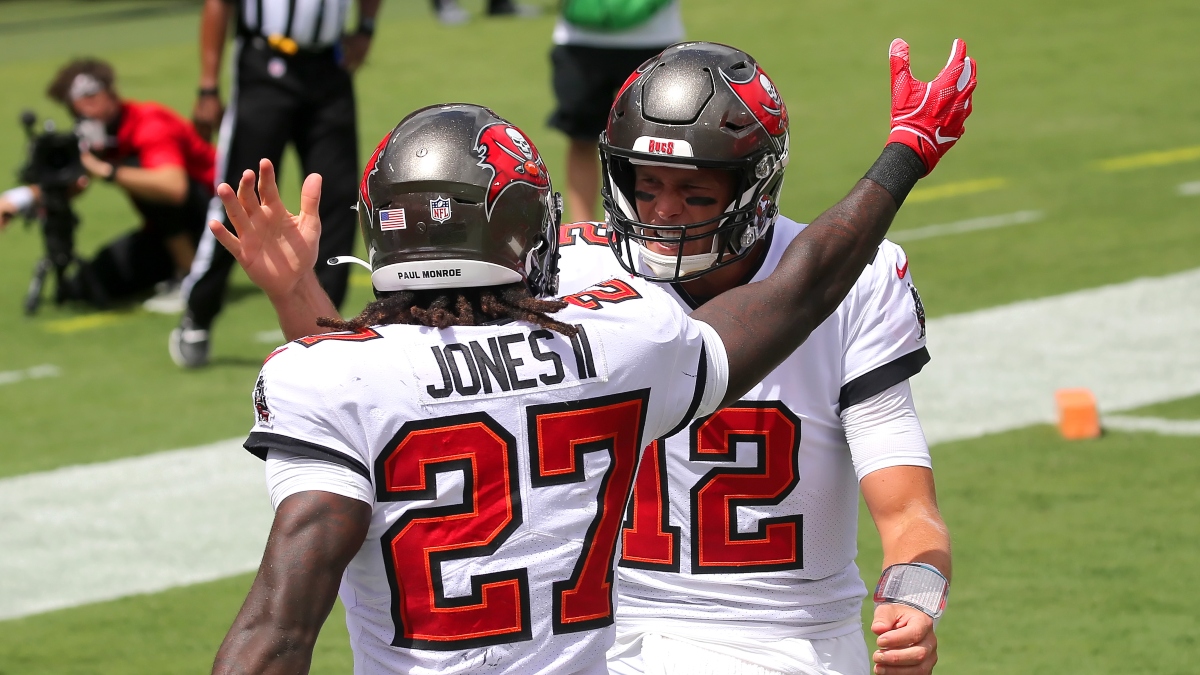 Tier 8
Mark Ingram (@ WAS)
Leonard Fournette (vs. LAC)
Frank Gore (vs. DEN)
Antonio Gibson (vs. BAL)
Latavius Murray (@ DET)
Malcolm Brown (vs. NYG)
Mark Ingram's Monday Night Football flop had more to do with the Ravens falling behind early than anything else. He should bounce back this week in an easy matchup against the Washington Football Team.
Frank Gore is a what-the-heck Flex play this week for people in desperate situations. The Jets may be in a game that's "competitive" for all four quarters, which should give Gore a real shot at 15-20 touches.
Tier 9
J.K. Dobbins (@ WAS)
Jeff Wilson (vs. PHI)
Sony Michel (@ KC)
Rex Burkhead (@ KC)
Nyheim Hines (@ CHI)
Joshua Kelley (@ TB)
Travis Homer (@ MIA)
Raheem Mostert (vs. PHI)
Jamaal Williams (vs. ATL)
Devonta Freeman (@ LAR)
I'm projecting Mostert for a handful of touches, keeping Wilson's rank a bit low. If Mostert is ruled out, expect Wilson to jump up into Tier 8. Be sure to check back with my updated tiers on Saturday for all of my updated ranks.
Tier 10
Alexander Mattison (@ HOU)
Chase Edmonds (@ CAR)
Dion Lewis (@ LAR)
J.D. McKissic (vs. BAL)
D'Andre Swift (vs. NO)
Kerryon Johnson (vs. NO)
Gus Edwards (@ WAS)
Brian Hill (@ GB)
Chris Thompson (@ CIN)
Giovani Bernard (vs. JAX)
James White (@ KC)
It's hard to trust any of these backs outside of deeper leagues. Many of them will need the starting back to get injured to become fantasy relevant.
Keep an eye on Chase Edmonds over the next couple of weeks. If Kenyan Drake continues to struggle, we could see Edmonds' role expand. He's one of the top backups to own right now.
---
Return to the table of contents
---
WIDE RECEIVERS
Tier 1
DeAndre Hopkins (@ CAR)
Hopkins has at least eight receptions in all three games so far. He's the unquestioned WR1 until Davante Adams and Michael Thomas return to health.
Tier 2
Davante Adams (vs. ATL)
Tyler Lockett (@ MIA)
D.K. Metcalf (@ MIA)
Tyreek Hill (vs. NE)
Calvin Ridley (@ GB)
Tyler Lockett and D.K. Metcalf are both top-five WRs this week. The Dolphins don't stand a chance at slowing down either one.
Julio Jones' Week 4 availability shouldn't impact Calvin Ridley's rank much in either direction. Without Julio, we can expect Ridley to see more targets and more attention from the defense. Both dynamics tend to cancel each other out a bit. The best-case scenario for Ridley is if Julio plays at less than 100%.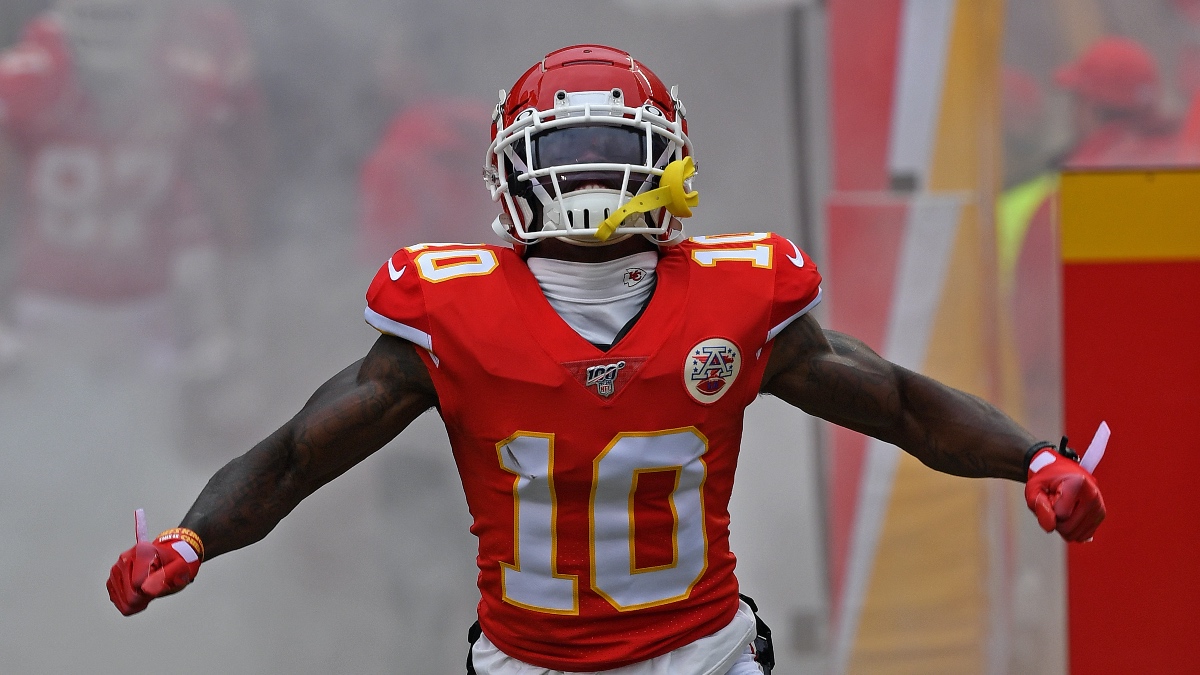 Tier 3
Adam Thielen (@ HOU)
Cooper Kupp (vs. NYG)
Mike Evans (vs. LAC)
Amari Cooper (vs. CLE)
Stefon Diggs (@ LV)
Mike Evans had one of the more bizarre stat lines of the week with two 1-yard touchdown grabs. Chris Godwin has been ruled out for Week 4, which should elevate Evans' floor/ceiling.
Fire up Stefon Diggs this week as a WR1.
Tier 4
Allen Robinson (vs. IND)
D.J. Moore (vs. ARI)
Keenan Allen (@ TB)
Robert Woods (vs. NYG)
Allen Robinson gets a boost from Matt Nagy turning the offense over to Nick Foles. Let's hope this gives him more week-to-week stability going forward.
D.J. Moore had a quiet Week 3 (2/65/0) due to the Panthers playing with the lead for much of the game. I expect him to bounce back with at least five grabs against the Cardinals this week.
[Play NFL DFS? Access Our Industry-Leading Tools & Projections For Just $4.95]
Tier 5
Julian Edelman (@ KC)
Tyler Boyd (vs. JAX)
Odell Beckham Jr. (@ DAL)
DeVante Parker (vs. SEA)
Kenny Golladay (vs. NO)
Terry McLaurin (vs. BAL)
Will Fuller V (vs. MIN)
Robby Anderson (vs. ARI)
Kenny Golladay, who missed the first two games due to a hamstring injury, escaped Week 3 without any setbacks. We can trust him as a solid WR2 this week.
Odell Beckham has potential WR1 upside this week, considering the Browns will have to try to match blows with the Cowboys' high-octane offense.
Tier 6
Michael Gallup (vs. CLE)
JuJu Smith-Schuster (@ TEN)
A.J. Green (vs. JAX)
Brandin Cooks (vs. MIN)
Marquise Brown (@ WAS)
Justin Jefferson (@ HOU)
Marvin Jones (vs. NO)
T.Y. Hilton (@ CHI)
CeeDee Lamb (vs. CLE)
Tre'Quan Smith (@ DET)
Jarvis Landry (@ DAL)
Julio Jones (@ GB)
Darius Slayton (@ LAR)
Curtis Samuel (vs. ARI)
Jerry Jeudy (@ NYJ)
Corey Davis (vs. PIT)
Justin Jefferson broke out for 7/175/1 and is now the unquestioned No. 2 WR for the Vikings.
We need to be careful in casting aside players too quickly after a three-game sample size. Brandin Cooks is a player I think we can expect to bust out of his early-season slump this week. The Texans had a brutal opening schedule but should move the ball with ease against the Vikings this week. Cooks entered the season dealing with an injury and was learning a new offense in an abbreviated offseason. I can see it all come together for him this week and view him as a low-end WR3.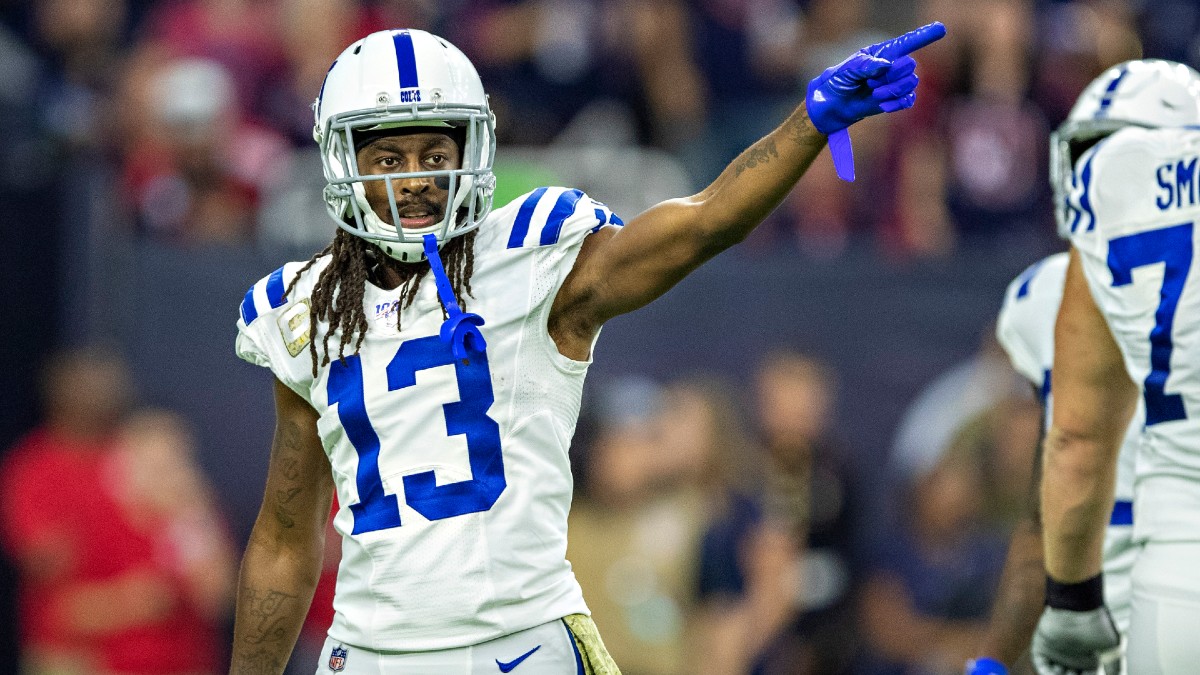 Tier 7
Hunter Renfrow (vs. BUF)
D.J. Chark (@ CIN)
N'Keal Harry (@ KC)
Jamison Crowder (vs. DEN)
John Brown (@ LV)
Henry Ruggs and Bryan Edwards are expected to miss Week 4, resulting in Hunter Renfrow being the Raiders' top WR this week. It's unclear whether D.J. Chark, Jamison Crowder, or John Brown will play this week. Let's monitor their status and check back in with my updated tiers on Saturday once we know more.
Tier 8
Marquez Valdes-Scantling (vs. ATL)
Keelan Cole (@ CIN)
Emmanuel Sanders (@ DET)
Laviska Shenault (@ CIN)
Preston Williams (vs. SEA)
Cole Beasley (@ LV)
Sammy Watkins (vs. NE)
Allen Lazard (vs. ATL)
Brandon Aiyuk (vs. PHI)
Diontae Johnson (@ TEN)
Golden Tate (@ LAR)
Tee Higgins (vs. JAX)
Brandon Aiyuk had a breakout performance in Week 3, posting a 3/31/1 rushing line and a 5/70/0 receiving line. It will be tough for us to trust him once George Kittle and Deebo Samuel return in the coming weeks.
Tee Higgins' stock is on the rise after his 5/40/2 performance in Week 3. The Bengals decided to make John Ross a healthy scratch, and it's clear they now view Higgins as their No. 3 WR going forward.
Tier 9
Zach Pascal (@ CHI)
Scott Miller (vs. LAC)
Randall Cobb (vs. MIN)
Kendrick Bourne (vs. PHI)
Chase Claypool (@ TEN)
Braxton Berrios (vs. DEN)
James Washington (@ TEN)
Damiere Byrd (@ KC)
Danny Amendola (vs. NO)
Anthony Miller (vs. IND)
Desean Jackson (@ SF)
Greg Ward Jr. (@ SF)
Larry Fitzgerald (@ CAR)
Zach Pascal is worth a flier in deeper leagues, as the Colts have now lost Parris Campbell and Michael Pittman to significant injuries. He takes over as the clear No. 2 WR for the Colts.
James Washington and Chase Claypool will see a considerable boost if Diontae Johnson misses Week 4. Damiere Byrd is a sneaky upside play this week and is worth a flier if you're in a desperate situation.
Tier 10
Mike Williams (@ TB)
Mecole Hardman (vs. NE)
Miles Boykin (@ WAS)
Adam Humphries (vs. PIT)
Nelson Agholor (vs. BUF)
K.J. Hamler (@ NYJ)
I know that people who own Mecole Hardman are dying to plug him into their lineups, but I'm not so sure we can trust him yet. Demarcus Robinson out-snapped him for the third straight game. Until that trend changes, he's nothing more than a boom or bust option.
---
Return to the table of contents
---
TIGHT ENDS
Tier 1
Travis Kelce (vs. NE)
We should lower expectations for Kelce this week after the Patriots kept Darren Waller in check (2/9/0). However, the Chiefs are an offense that makes it impossible for the Patriots to focus on shutting down one player. He gets Tier 1 all to himself until George Kittle is back to 100% health.
Tier 2
Zach Ertz (@ SF)
Darren Waller (vs. BUF)
George Kittle (vs. PHI)
Ertz should see a boost in targets with Dallas Goedert out indefinitely. Waller should bounce back this week with both Ruggs and Edwards expected to sit out. Kittle sounds like he will be able to give it a go this week. Even if he's limited in his first game back, he's an auto-start.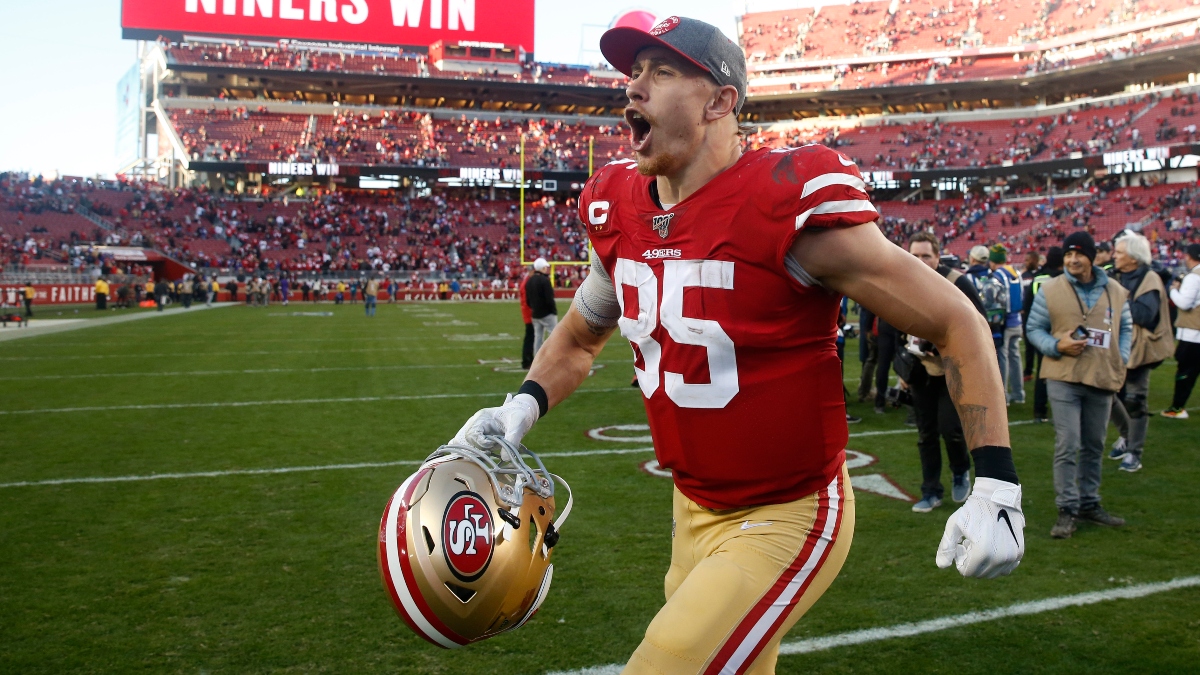 Tier 3
Mark Andrews (@ WAS)
Mike Gesicki (vs. SEA)
Mark Andrews has put up two duds in a row. It's not time to panic quite yet, but another sub-30 yard game this week will raise some red flags.
Tier 4
Tyler Higbee (vs. NYG)
T.J. Hockenson (vs. NO)
Hunter Henry (@ TB)
Jonnu Smith (vs. PIT)
Noah Fant (@ NYJ)
Evan Engram (@ LAR)
I warned last week that Tyler Higbee could be turning into more of a touchdown-dependent option. He ran a route on only 40% of pass plays last week, while Gerald Everett ran a route 34% of the time. It's a huge concern for Higbee's long term stock, but his chances of scoring are high this week. If he has a good game this week, it would be a great time to sell high.
Tier 5
Hayden Hurst (@ GB)
Jared Cook (@ DET)
Hayden Hurst could become Matt Ryan's No. 2 target if Julio Jones and Russell Gage end up missing this week. He could shoot up to Tier 4 before lineups lock on Sunday.
Tier 6
Dalton Schultz (vs. CLE)
Logan Thomas (vs. BAL)
Austin Hooper (@ DAL)
Chris Herndon (vs. DEN)
Eric Ebron (@ TEN)
Greg Olsen (@ MIA)
I would consider most of these TEs high-floor options this week. Eric Ebron and Greg Olsen have the most upside given their potential to score touchdowns. If Diontae Johnson is ruled out, it could bump Ebron to the top of this tier.
Tier 7
Jordan Akins (vs. MIN)
Jimmy Graham (vs. IND)
Drew Sample (vs. JAX)
Rob Gronkowski (vs. LAC)
Gronk's Week 3 outburst (6/48/0) could have been the squeaky wheel treatment. He had made comments earlier in the week, saying he came out of retirement to block for Tom Brady. I want to see if this trend lasts for at least another game before we trust him in our lineups.
Tier 8
Mo Alie-Cox (@ CHI)
Tyler Eifert (@ CIN)
Robert Tonyan Jr. (vs. ATL)
O.J. Howard (vs. LAC)
Ian Thomas (vs. ARI)
Dan Arnold (@ CAR)
Kyle Rudolph (@ HOU)
Jack Doyle (@ CHI)
Darren Fells (vs. MIN)
Irv Smith Jr. (@ HOU)
I'm urging a bit of caution when it comes to Mo Alie-Cox.
He has the potential to be a red-zone force with his massive 6-foot-6, 267-pound frame. I was high on him in Week 3 once Jack Doyle was ruled out. However, when Doyle returned to the lineup last week, it snapped Cox's usage. You wouldn't know just by looking at the box score, as Doyle finished without a catch while Alie-Cox put up a 3/50/1 receiving line, but a more in-depth look at playing time tells a different story: Doyle dominated playing time, running a route on 60% of the pass plays compared to Alie-Cox's 28%.
Until the Colts allow Alie-Cox to run a route on 50% or more of pass plays, he's a touchdown-or-bust option.
---
Return to the table of contents
---
KICKERS
Tier 1
Justin Tucker (@ WAS)
Harrison Butker (vs. NE)
Mason Crosby (vs. ATL)
Jason Myers (@ MIA)
Greg Zuerlein (vs. CLE)
Ka'imi Fairbairn (vs. MIN)
Wil Lutz (@ DET)
Sam Sloman (vs. NYG)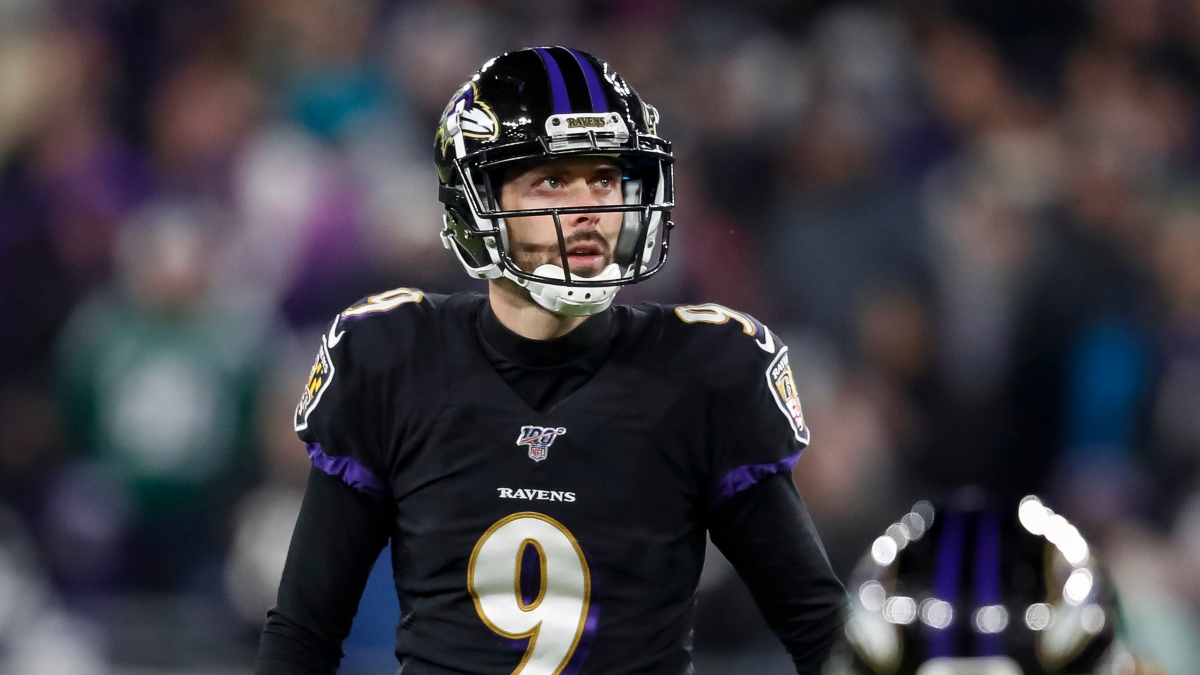 Tier 2
Zane Gonzalez (@ CAR)
Matt Prater (vs. NO)
Tyler Bass (@ LV)
Robbie Gould (vs. PHI)
Cody Parkey (@ DAL)
Randy Bullock (vs. JAX)
Ryan Succop (vs. LAC)
Chris Boswell (@ TEN)
Dan Bailey (@ HOU)
Nick Folk (@ KC)
Jason Sanders (vs. SEA)
Joey Slye (vs. ARI)
Falcons Kicker (Younghoe Koo is injured) (@ GB)
Daniel Carlson (vs. BUF)
Stephen Gostkowski (vs. PIT)
Rodrigo Blankenship (@ CHI)
Stephen Hauschka (@ CIN)
Tier 3
Brandon McManus (@ NYJ)
Cairo Santos (vs. IND)
Michael Badgley (@ TB)
Jake Elliott (@ SF)
Sam Ficken (vs. DEN)
Dustin Hopkins (vs. BAL)
Graham Gano (@ LAR)
---
Return to the table of contents
---
DEFENSES
Tier 1
Baltimore Ravens (@ WAS)
Los Angeles Rams (vs. NYG)
Tier 2
Tampa Bay Buccaneers (vs. LAC)
San Francisco 49ers (vs. PHI)
Tier 3
Denver Broncos (@ NYJ)
Indianapolis Colts (@ CHI)
Seattle Seahawks (@ MIA)
New York Jets (vs. DEN)
Tier 4
Kansas City Chiefs (vs. NE)
Cincinnati Bengals (vs. JAX)
Pittsburgh Steelers (@ TEN)
New Orleans Saints (@ DET)
Arizona Cardinals (@ CAR)
Chicago Bears (vs. IND)
Houston Texans (vs. MIN)
Green Bay Packers (vs. ATL)
Dallas Cowboys (vs. CLE)
Philadelphia Eagles (@ SF)
Jacksonville Jaguars (@ CIN)
Tier 5
Carolina Panthers (vs. ARI)
Tennessee Titans (vs. PIT)
Buffalo Bills (@ LV)
Los Angeles Chargers (@ TB)
Las Vegas Raiders (vs. BUF)
Minnesota Vikings (@ HOU)
Tier 6
New York Giants (@ LAR)
Cleveland Browns (@ DAL)
Miami Dolphins (vs. SEA)
New England Patriots (@ KC)
Detroit Lions (vs. NO)
Washington Football Team (vs. BAL)
Tier 7
Atlanta Falcons (@ GB)
---
Return to the table of contents
---
How would you rate this article?