Legends of Montreal: Michael Schumacher Tops All-Time Leaderboard at Circuit Gilles Villeneuve
Credit:
Photo Courtesy of https://www.gpcanada.ca/en/
Circuit Gilles Villeneuve hosts its 42nd Grand Prix this weekend as the F1 circus arrives in Montreal for the Canadian Grand Prix.
The track has been a perennial fixture on the F1 calendar, hosting races since 1978 (except when it was dropped in 2009, and because of COVID cancellations in 2020 and 2021) and has been the site of some iconic moments in F1 history.
With the track having such a rich history, we have attempted to quantitatively compare all 214 F1 drivers to have raced at the circuit, by creating an all-time Canadian GP leaderboard.
Points distribution methodology
To create this leaderboard we made adjustments to the point scoring system so as to attain uniform points distribution. F1 scoring systems have changed over the years and we have applied the current points scoring system to all 41 Canadian GPs.
Take the 1986 Canadian GP as an example. Nigel Mansell won the race, putting nine points on board in the drivers' championship. Unlike today, where the top 10 finishers are awarded points, only the top six were awarded points then. So, to be fair to drivers of this era, in our analysis, we awarded points to the top 10 from this race, as per today's scoring standard – 25, 18, 15, 12, 10, 8, 6, 4, 2, 1 and an additional point for the fastest lap.
This was done for all races that used a different scoring system from the one in use today, and we then produced the leaderboard.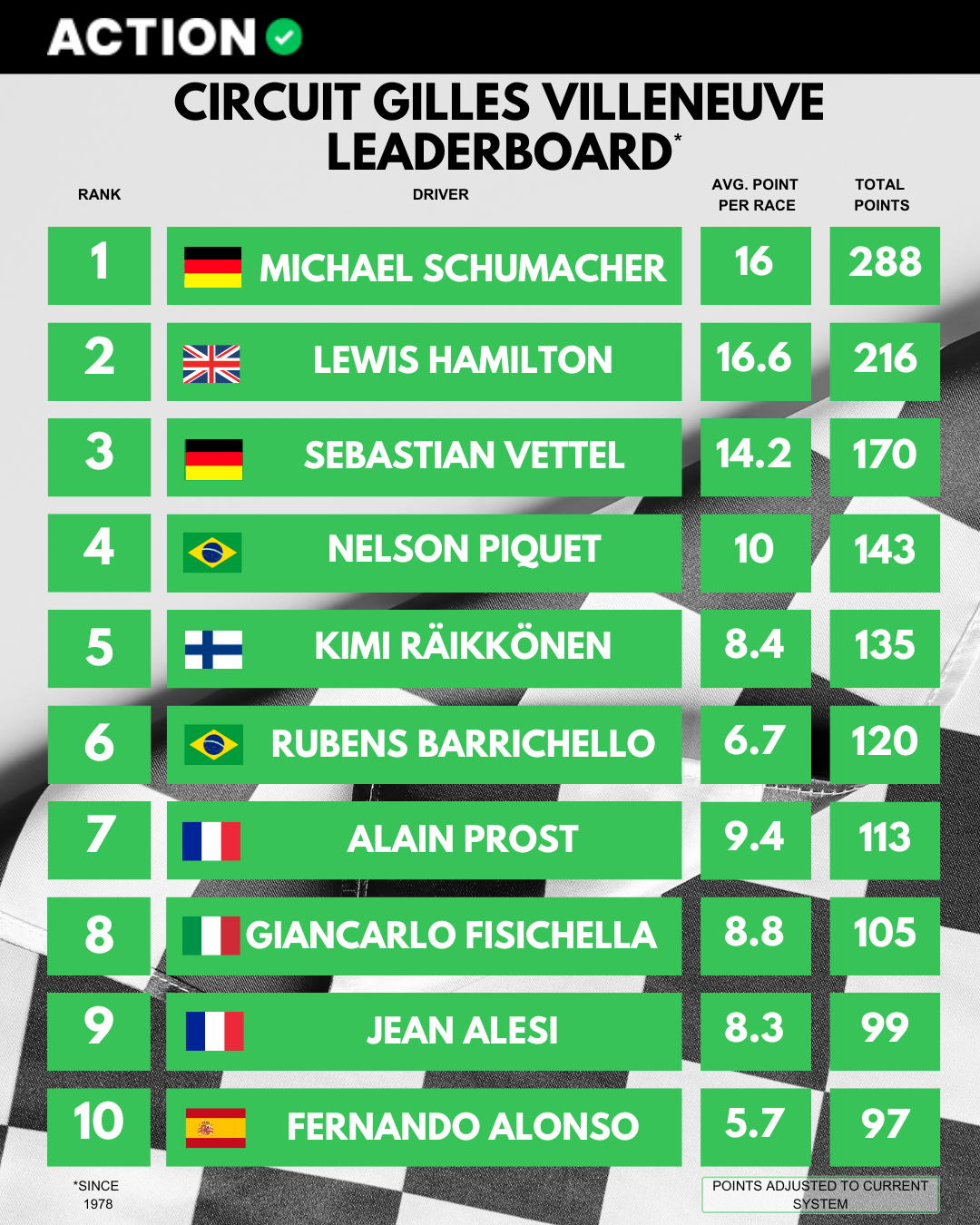 Michael Schumacher is the ultimate champion in Montreal
Seven-time World Champion Michael Schumacher came out on top in our analysis, with 288 points from 18 races.
Lewis Hamilton, who shares the all-time win record at Montreal with Schumacher, is second with 216 points from 13 races, followed by Sebastian Vettel with 170 points from 12 races.
Fernando Alonso has 97 points from 17 races. He is likely to leapfrog both Jean Alesi and former Renault teammate Giancarlo Fisichella this Sunday.
Two-time world champion Emerson Fittipaldi mentioned both Hamilton and Alonso as some of the best performing drivers he's seen at Montreal.
"The track requires a lot of precision, with skill required in applying brakes. The track has high speed zones with quick braking points."
"Only precise drivers have done very well and that's why, Lewis and Fernando -- two 'racers' -- have always done well in Montreal, in my opinion."
Defending champion Max Verstappen is 22nd on the all-time leaderboard with 63 points from six races.
When it comes to points per race, Gilles Villeneuve, the man after whom the circuit is named, tops the list with 17.25 points per race. The Canadian motorsport icon only raced in Montreal four times before his tragic death, winning once and being on the podium three times.
Most podiums and wins
Schumacher shares the record for most wins with Hamilton, but when it comes to podiums, he stands all alone with 12 from 18 races.
Hamilton is second with nine podiums from 13 races -- seven of them being wins. Nelson Piquet is third on the all-time wins list with three from 14 wins and had a podium finish five times -- a record he shares with Alain Prost, Jean Alesi and Rubens Barrichello.
Sebastian Vettel is third when it comes to most podium finishes in Montreal -- six from 12 races, posting a 50% podium rate.
Pole-to-win conversions
Pole position has produced the highest number of winners at Montreal with 20, but the pole-to-win conversion isn't extremely high, as 48.78% of polesitters have won the Grand Prix.
Since 2015, however, pole position has been crucial, as only one winner -- Lewis Hamilton in 2019 -- was not on pole. That itself has a big caveat, as Vettel, who was the polesitter, was given a five-second penalty and had to concede the winning position to Hamilton.
Five drivers -- Alan Jones, Fernando Alonso, Rene Arnoux, Damon Hill, Nigel Mansell and Max Verstappen -- have a 100% pole-to-win conversion rate at Montreal, but all of them have been on pole only once. Verstappen is likely to be on pole again and could surpass the others.
Among drivers with multiple pole positions, Hamilton has the best conversion rate, having driven to victory five times from six pole positions. Senna is second with two wins from three poles, while Schumacher converted three of his six pole positions to wins.
How would you rate this article?
This site contains commercial content. We may be compensated for the links provided on this page. The content on this page is for informational purposes only. Action Network makes no representation or warranty as to the accuracy of the information given or the outcome of any game or event.