October Football Madness Betting Contest: Semifinal Selections
Welcome to the third round of Month 2 of our first of many internal monthly football betting contests.
Sixteen started off in the bracket and four now remain, but only one will be left standing at the end of the month.
Three picks (sides or totals) are required each weekend, including at least one from NFL and NCAA.
The four entrants who lost last week certainly put up a fight, but the four October semifinalists (Sean Koerner, Travis Reed, Ken Barkley and I) combined to go 11-1. Take a look at the updated bracket below before we get into the matchups and bets for this month's semis.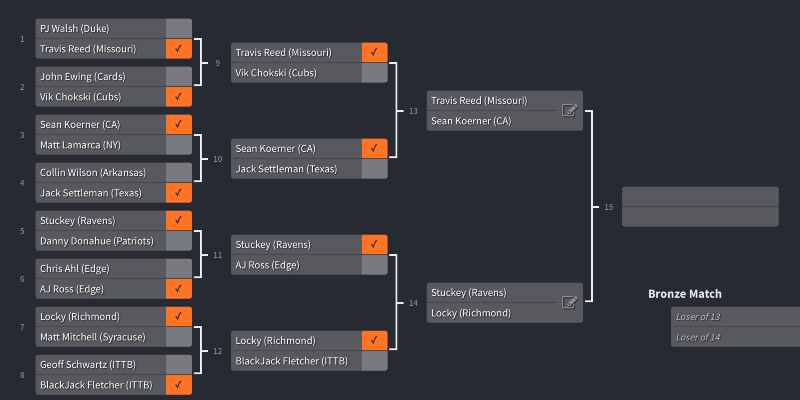 ---
For those unfamiliar with the format or looking for a refresher, please refer to the rules below for our monthly 16-team single-elimination betting bracket contest.
RULES
Each person must submit three weekend picks by Friday each week.
They can only be sides or totals — based on the lines set each Wednesday.
One pick must be from the NFL, one from NCAA and the third from either.
You get +1 for a win, -1 for a loss and 0 for a push.
Each head-to-head winner advances to the next weekend.
In the event of a tie, the person with the greatest margin of cover advances.
Side action is encouraged.
*Each month, I will hold a random contest on Twitter to select two members who will receive a free entry into our monthly betting contest. A risk-free shot at glory and a nice little prize if you can't make it through the 16-team bracket unscathed.
---
Now, let's take a look at the semifinal matchups and selections. The record listed in parentheses next to each participant represents his lifetime contest record.
Could Travis win the tourney without a win?
Reed (4-2): Maryland +10, Illinois/Wisconsin Under 56.5, Titans +7
Koerner (9-3): Syracuse -10, Bears +3, Redskins PK
These two both come in red hot after sweeping their three picks last round. Koerner has gone with two in the NFL, while Travis has two of his bets kicking off on Saturday.
NCAA vs. NBA
Stuckey (12-6):  Miami (Ohio) +7.5, Bears +3, Redskins PK
Locky (6-2-1): Cincinnati +3.5, USC +7, Titans +7
We'll both have our eyes on the state of Ohio on Saturday, and Locky's weekend will be complete before the NFL 1 p.m. games kick off.